In 2007, the critically acclaimed television series "The Sopranos" ended with a finale of suspense, confusion, and above all else, a desire for more. Series creator David Chase is adamant about not elaborating on the ending of the show, but with the tragic death of lead actor James Gandolfini — who portrayed mob boss (and psychiatric mess) Tony Soprano through all six seasons — a follow-up was made impossible. 
However, with the rich backstory of "The Sopranos," a prequel was always in the cards. Now, 14 years after the last cut to black, "The Many Saints of Newark" is here with the same characters (plus some new ones) and the same problems. Now, they're just younger.
Set in the late 1960s and '70s, "The Many Saints of Newark" surrounds the lives and destinies of three principal characters: Dickie Moltisanti, played by Alessandro Nivola, as the father of "Sopranos" character Christopher, Harold McBrayer, played by Leslie Odom Jr., and Tony Soprano, played by Gandolfini's son Michael. 
Moltisanti is a charismatic and charming sociopath, in direct contrast to his bumbling, sometimes idiotic son as seen in "The Sopranos." In fact, Moltisanti reminds me the most of grown-up Tony — he is almost entirely responsible for the troubles he faces in life, yet still bemoans the cruelty of the world and the feebleness of his own attempts at betterment. He, like the older Tony, is a man of contradictions; it's easy to see the effect that Moltisanti had on the future of Tony Soprano.
"When we first started filming [Chase] told me that I shouldn't pay any attention to anything anyone said about the character because 'They're all liars,'" Nivola said. "It was really liberating to not feel that I had to honor something that had been said about him or ways that he'd been described in the show, and that I had total freedom to invent the character."
Odom Jr. as McBrayer was a surprise for me — this was the first central character of color in the "Sopranos" universe, and his story is a refreshing departure from the constant pandemonium of the Italian mob. Starting out as a work associate of Moltisanti, McBrayer grows disillusioned by the violence and discrimination faced by the Black communities of Newark. Tensions between the two men grow until it reaches an explosive head. As a new addition to the "Sopranos" story, I found myself rooting for McBrayer throughout the whole conflict — he's probably the most relatable character in the film. 
"I think my experience would have been something akin to the actors in the original series, in that they weren't comparing themselves to any others," Odom Jr. said regarding his entry into the "Sopranos" mythos. "They were just trying to get better from season to season, week to week, getting these original David Chase scripts … that was my experience. I knew it was an amazing opportunity … I just wanted to hopefully offer a character that was as psychologically rich and interesting as [the fans] had grown accustomed to." 
Being set in the 1960s in Newark, "Many Saints'' does cover the 1967 Newark Riots, though not as prominently as the marketing implies. That being said, the imagery the film provides is visceral, terrible, and most of all, tragic. Any viewer can watch the sequences and be reminded of last year's protests driven by the needless killings of Black men and women and the necessity of systemic betterment. Back in the '60s, the need for social change was far greater, and yet today it seems like so little has been accomplished.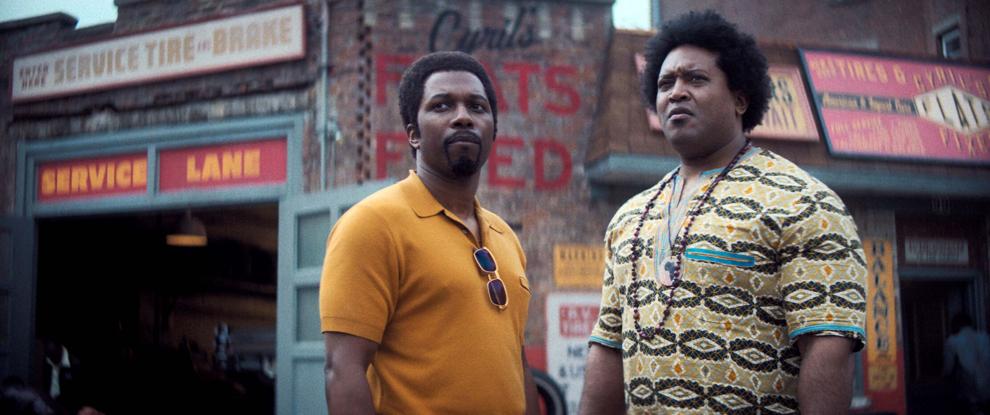 "My feeling is: do not clean it up, not for me," Odom Jr. said. "The bravest thing you can do [in art] is to knock out the fourth wall and let us see you live as you are, to show us the ugly parts, because you showing me that forces me to look at the ugliness within myself … [The film] is a look into the kitchens and into the living rooms and dining rooms that I'm not privy to." 
The Newark Riots in "Many Saints" are used as a backdrop to shine a light on the characters. For Moltisanti (and other members of the mob), he uses it as an opportunity to commit wanton crimes knowing that everything will be blamed on the Black communities; for Tony, it ties into a subplot from the episode "Down Neck" of "The Sopranos" — his development was shown back in 1999 on HBO; for McBrayer, it is a personal turning point, a sign that a change of direction is needed in his life. 
"I find it fascinating that this riot happens in [downtown] Newark, and then you get to the Soprano family, and it doesn't touch them," Gandolfini said. "Tony never talks about anything — [he's] fine. I find it important that they're just so sheltered from it."
Going into the film I was the most nervous about Gandolfini. Stepping into the shoes of one of the most well-known and acclaimed characters in media is one thing, but Tony Soprano was crafted by his very own father — the character is almost synonymous with him. It pleases me to say that in "Many Saints" Gandolfini's performance is a fantastic tribute, not just to the character and its legacy, but to his father's as well. Gandolfini portrays the young Tony with all the chaos and confusion that the character will embody in the future, but incorporates an innocence that had been wrung out by the time of "The Sopranos." 
"If I thought about playing Tony Soprano, or an iconic character — or even my dad, I think I would have become overwhelmed," Gandolfini said. "So I didn't think about it too much … When I watched the movie for the first time I felt so much pride that me and him got to do it together, as two Gandolfinis and also as two actors … I felt that I [gained] a new respect for all that he accomplished and a new respect [for him] as an actor." 
In fact, most, if not all, of the actors playing younger versions of "Sopranos" characters did an amazing job. Billy Magnussen and Corey Stoll give excellent renditions of what I imagined the young Paulie Walnuts and Uncle Junior to be like. Vera Farmiga is also amazing as Tony's mother Livia. The only performance that fell short in my mind was John Magaro's Silvio Dante. As impossible as it is to replicate Steven Van Zandt's original performance as Dante, Magaro almost seems to be doing a parody of the character — which proves to be distracting during the more serious moments of the film. 
It is clear from the starting minutes of the film that even if you aren't caught up with all 86 episodes of "The Sopranos," you aren't going to enjoy "The Many Saints of Newark" as much as you ought to. There are spoilers for the show that will either ruin parts of the final season or make no sense if you haven't seen "The Sopranos." While an unfamiliar viewer could watch "Many Saints" and enjoy it as a crime film, all the references and nods will be lost on them.
On the topic of references, there are certain moments in the film that calls back to lines of dialogue or anecdotal stories in the show. Without spoilers, some of them retcon what was described in the show, albeit to a middling effect. I found some of them to be needless, distracting, and strangely self-referential. 
The lack of agency in the female characters of "Many Saints" was concerning as well, especially considering how amazingly characters like Carmela Soprano and Dr. Jennifer Melfi were written in "The Sopranos." In "Many Saints," we have the aforementioned Livia, who doesn't play as large of a role in the story as the new addition: Michela De Rossi's Giuseppina Bruno. She exists almost exclusively to further the character of Dickie Moltisanti — unfortunate, though, since she could have been so much more. 
That being said, you can't ignore Ray Liotta's amazing performance, almost serving as this film's "Dr. Melfi" character. Liotta's later scenes with Nivola are so eerily reminiscent of the many therapy sessions that Tony embarks on in "The Sopranos," but with a futility that's more apparent with every chat. 
"I see a lot of the violence that Dickie perpetrates as crimes of passion, these outbursts of rage," Nivola said. "He's just baffled by his own inability to control those violent urges, and the growing awareness of that is what starts to undo him. He keeps coming back to Ray Liotta in prison, trying to unburden himself … just my being there in some way is confessional."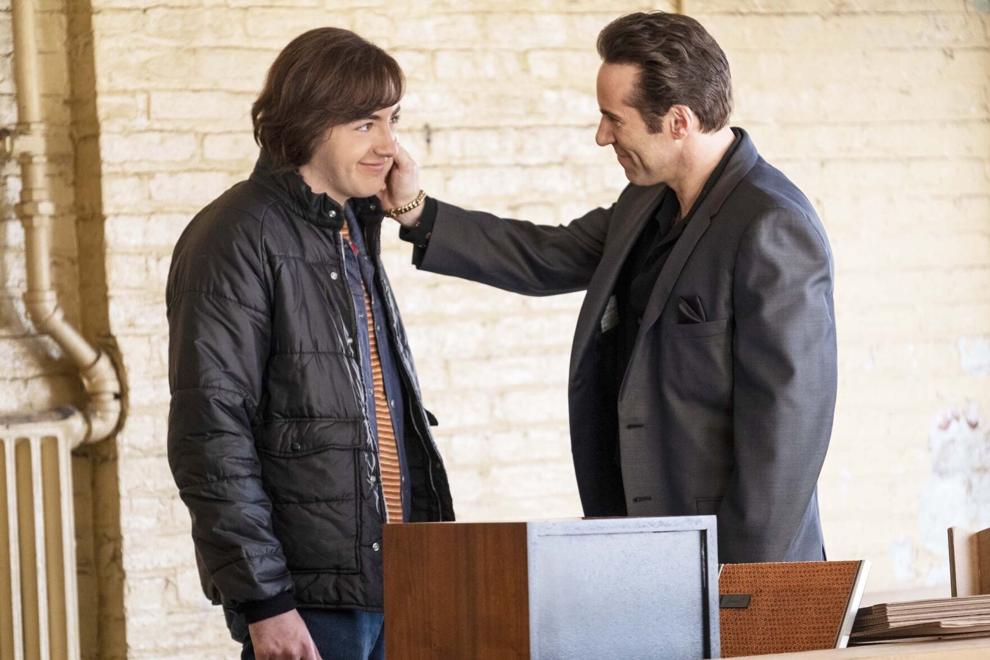 There is a magic and timeliness to "The Sopranos" that "The Many Saints of Newark" fails to wholly replicate, but that goes without saying. "The Sopranos" was lightning in a bottle for those six seasons, a show that used itself to unravel not just organized crime, but also the decline of the modern American experience. Ultimately, both of these elements are mostly intact in "The Many Saints of Newark," which serves as a great companion piece to the show made for fans (like me) who have been aching for more "Sopranos" content. 
My recommendation? Binge all 86 episodes of "The Sopranos" on HBO then go out and see "The Many Saints of Newark" in theaters. It's a good time that you can't refuse. 
Reach Co-Arts + Culture Editor Joshua Lee at arts@dailyuw.com. Twitter: @theleejosh
Like what you're reading? Support high-quality student journalism by donating here.