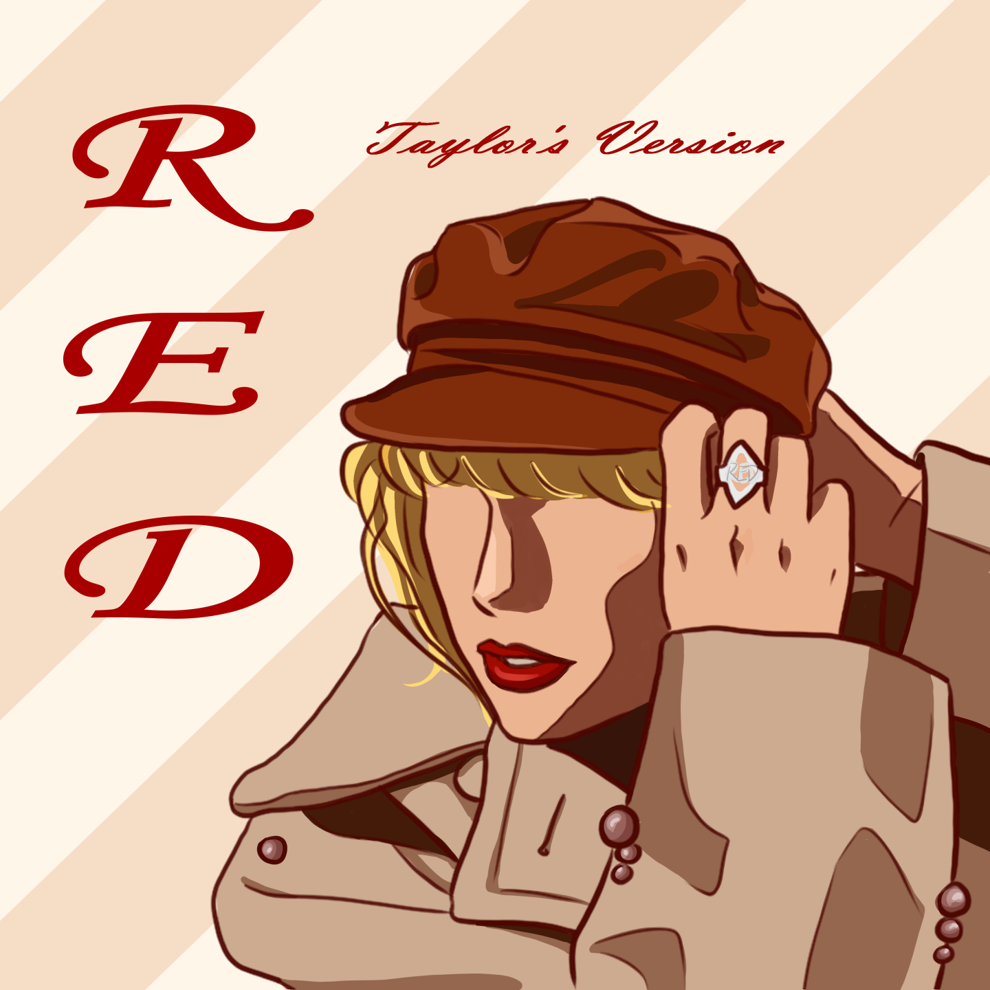 When my phone read 9 p.m. on Nov. 11, I was kneeling next to my roommate's bed eagerly awaiting the arrival of Taylor Swift's voice radiating from my speakers. My roommate, not being a Swiftie like myself, was humoring me in this euphoric moment. Melodic drums opened "State of Grace (Taylor's Version)," and I instantly knew this album would be at the forefront of my playlist for the rest of autumn quarter. 
"Red (Taylor's Version)" consists of 30 tracks — 20 from 2012's "Red (Deluxe Edition)," the charity single "Ronan (Taylor's Version)," and nine tracks from "From The Vault," including the much anticipated 10-minute version of "All Too Well," which was accompanied by a short film starring actors Sadie Sink and Dylan O'Brien. 
"Even with that many songs, the album blends together well and holds the same flare as the original," Rexford Curtiss, a second-year student and musician, said. 
The album comes after Swift decided to re-record her first six studio albums to own the rights to all of her music. So far, "Fearless (Taylor's Version)" and "Red (Taylor's Version)" have been re-recorded, each with "From The Vault" tracks — unreleased songs written at the same time as the rest of the album. The next re-recording is still unknown, but fans have their theories. 
"Taylor re-recording all of her studio albums … is an extremely important step forward in the music industry that sets an example to all upcoming artists on the importance of independence," Curtiss said. "What many musicians do not understand is that when they sign a major label contract, they often lose both power and financial freedom over their music. This happened to Taylor at a young age, and she is now taking all of that power back into her own hands in a pretty awesome way."
"Red (Taylor's Version)" offers a transcendent experience, made more powerful in the context of the journey Swift took to re-record the album. 
Since 30 songs is a bit much to review, I have narrowed it down to my top three tracks from the original album, and my three favorite "From The Vault" songs. 
"All Too Well (10 Minute Version) (Taylor's Version) (From The Vault)" holds the top spot. Swift expertly summarized an entire relationship into 10 heart-wrenching minutes. From secluded vacations and family get-togethers to screaming fits and overthinking, a multitude of feelings were wrapped up in this revamped classic. 
"Run (feat. Ed Sheeran) (Taylor's Version) (From The Vault)" offers a catchy and upbeat melody about the height of a relationship, while "Nothing New (feat. Phoebe Bridgers) (Taylor's Version) (From The Vault)" provides a look into the sexist undertones of the music industry. 
From the original "Red" album, "The Last Time (feat. Gary Lightbody of Snow Patrol) (Taylor's Version)," "The Lucky One (Taylor's Version)," and "The Moment I Knew (Taylor's Version)" all share a similar familiarity with a hint of aged wisdom that I find appealing.
The catchy hits — "We Are Never Ever Getting Back Together (Taylor's Version)" and "22 (Taylor's Version)" — are notably absent from my top ten list, for I am an unabashed lover (pun intended) of melancholy tunes. However, I appreciate the variety of sounds offered on this album; it caters to almost every music taste, so surely there is a song for everyone to enjoy. 
"Musically and lyrically, 'Red' resembled a heartbroken person," Swift wrote in an Instagram post on June 18. "It was all over the place, a fractured mosaic of feelings that somehow all fit together in the end. Happy, free, confused, lonely, devastated, euphoric, wild, and tortured by memories past."
So go ahead and listen to "Red (Taylor's Version)." Your ears will thank you. 
Reach Arts + Culture Editor Anna Ergeson at arts@dailyuw.com. Twitter: @annaergeson
Like what you're reading? Support high-quality student journalism by donating here.