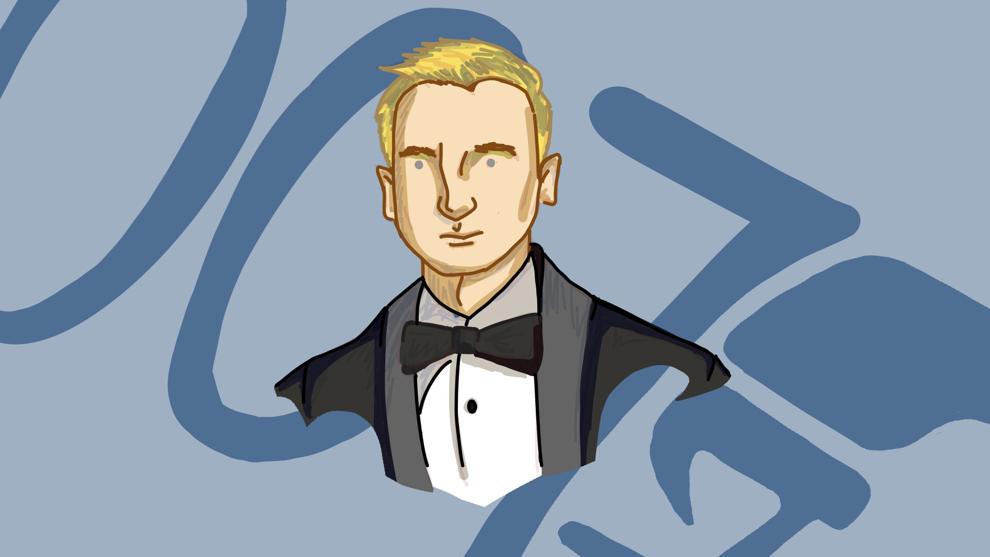 In 2015, following the release of the 24th Bond film "Spectre," actor Daniel Craig was interviewed by Time Out magazine; in the interview, Craig was asked, "Can you imagine doing another Bond movie?" In response, he dropped the famous line, "I'd rather break this glass and slash my wrists."
Six years and multiple delays later, Craig returned to the screen for the 25th (and his final) Bond film "No Time to Die."
The film, which co-stars Léa Seydoux and Lashana Lynch, follows Bond five years post-retirement. Instead of hunting down the world's most dangerous criminals, he devotes his time to hunting fish from his village home and enjoying the Jamaican nightlife.
This retirement is soon interrupted by the appearance of old friend Felix Leiter, played by Jeffrey Wright, and Lynch's character Nomi, the new 007 for MI6. Both approach Bond with the similar goal of tracking down a missing scientist held captive by the remaining members of Spectre. 
From there, the film follows a dangerous trail that leads to Rami Malek's Lyutsifer Safin — a "hyper-intelligent" terrorist hellbent on releasing the aforementioned scientist's deadly, DNA-based toxin upon the world.
While "No Time to Die" is a watchable film, it is merely that — acceptable. By devoting most of its runtime to tying up loose ends from the vapid "Spectre," the film fails to stand on its own two feet. 
For a nearly three-hour-long film, it consistently struggles to find a proper pace, which in turn makes the film feel incredibly disjointed and awkward. While the first half is frenetic and engaging, the second is clumsy, rushed, repetitive, and fitted with a non-rewarding, unjustified ending.
Granted, the directing team had quite a few issues to clean up for the film to be a proper send-off to Craig's Bond portrayal, but every retcon and callback feels overdone and invasive.
Additionally, the young talent, newcomers Malek and Ana de Armas, are provided with such little screen time that it is borderline frustrating. Both characters, one with a significantly larger role in the film, are barely in it. The latter, Armas, is introduced for one incredible sequence that harkens back to classic Bond moments, but is effectively dumped for the rest of the film.
Malek, on the other hand, is by no means a convincing villain. Although he does well with the screen time allocated to him, he isn't given the character depth needed for him to be a genuinely menacing figure. 
Returning performers, including Craig, seemingly phone in their performances. No one is noticeably exceptional, which correlates with Craig's sentiment that "If [he] did another Bond movie, it would only be for the money" — a statement from the same Time Out article. 
While I have quite a few grievances with the film, I do have to commend director Cary Joji Fukunaga and cinematographer Linus Sandgren. "No Time to Die" is an often beautiful film, with gorgeous underwater moments, impressive one-shot sequences, and stunning uses of fog and smoke. 
That being said, you cannot make a great film with just a bunch of pretty scenes, and without a competent narrative structure, the film feels like the action movie equivalent of a highlight reel.
Not to mention, "No Time to Die" often feels like a cash grab for a film series that should have ended with 2012's "Skyfall." The aforementioned highlight reel feeling is backed up by the consistent use of distracting product placement from companies like Land Rover and Smirnoff. 
While "No Time to Die" features incredible sequences, the 25th Bond film is plagued with mediocre writing and weighed down by the insurmountable task of wrapping up an already messy five-film narrative arc.
Its groggy, inappropriate pace, mediocre performances, and blatant use of advertisement drag down what should have been a home run for the beloved British agent. Instead, Bond goes out not with a bang, but with a sad, laughable whimper. 
Save your time, money, and health, and rewatch "Skyfall" instead.
Reach Engagement Editor Jacob Renn at arts@dailyuw.com. Twitter: @jakemrenn
Like what you're reading? Support high-quality student journalism by donating here.