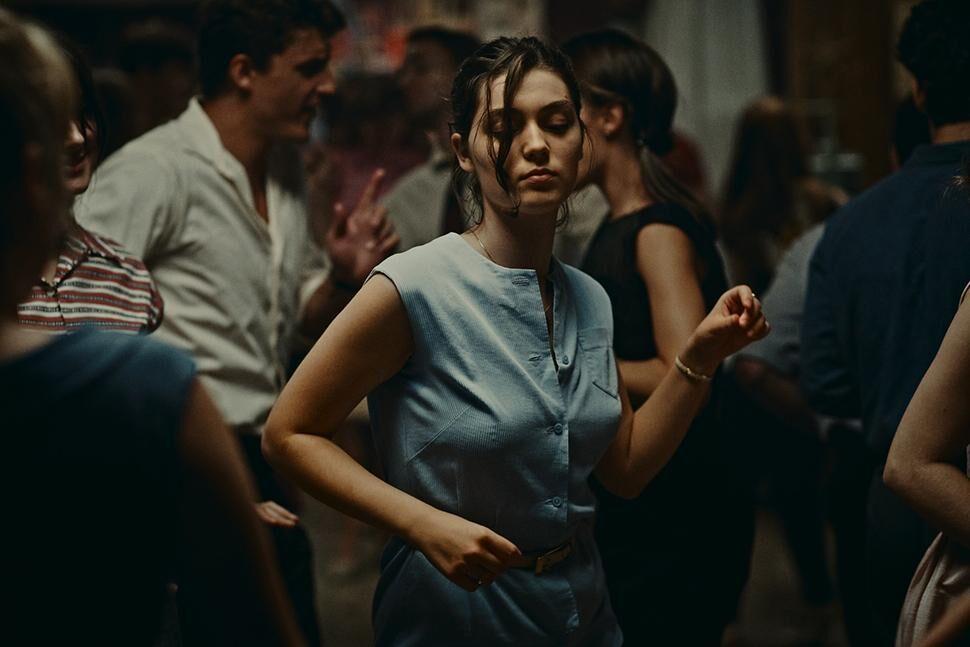 Warning: Spoilers ahead.
"Happening," writer and director Audrey Diwan's marvelous adaptation of Annie Ernaux's memoir, is a troubling movie to behold. Set in midcentury France, it is a story about secrets, self-making, and social support. It is also a story about abortion.
Anne (Anamaria Vartolomei) is in college studying literature when she learns that she is pregnant. Abortion is illegal in France in 1963, but Anne, disbelievingly, pleads with her doctor to make the pregnancy go away. His face tightens, but he prescribes her a round of shots to help. This help, it is later exposed, is deceptive. Another physician tells Anne that she has, in fact, been injecting her thigh tissue with an embryo-strengthening substance for weeks. 
That physician, like the others in the film, fears the legal repercussions of being associated with abortion more than he values the safety of his young female patient and refuses to provide Anne with abortion services. Turned away from the professional medical system, Anne spends weeks working around the law to try to end her pregnancy.
An abortion narrative defined by such prohibitive legal complications might bring to mind Eliza Hittman's exquisitely unforgiving "Never Rarely Sometimes Always," a 2020 movie that centered on a contemporary American 17-year-old, Autumn, who is obliged to travel to multiple clinics and across state lines to secure a legal abortion for herself. Autumn and Anne share circumstances, temperaments — a kind of choking placidity — and convictions, but "Happening" is more than a minimalist, episodic drama. "Never Rarely" chances its power from a dreary series of openings and refusals; "Happening" borrows that structure, stretches it, and fills in what exists in between.
Between Anne's trials for an abortion, Diwan shows us her life. Anne attends lectures, studies, visits home on the weekends, and goes dancing at night. She is also fringed by a menagerie of people: Brigitte and Hélène, the sedate, friend-like girls who keep her company; the fellow students in her lectures; Professeur Bornec (Pio Marmaï), her close-to-despotic literature instructor; a couple of lovers; the snobbish sea of girls from her dormitory; and her mother and her father. She is one of many, one within. 
Ernaux's memoir — a diaristic collage of events ("happenings") as they were, wallpapered with elliptical, self-reactive musings on reality and memory — though certainly personal, is much more distant. It rarely expands beyond introspection and only peripherally shades in its milieu. (Other people are present, but without background or full names — each is whittled down to a single capitalized letter.) Informed by philosophies of documentation and thoroughly invested in what was real, the memoir also cares little about how things felt.
Diwan cares, and she wants us to care, too. These are months characterized by spectacular emotional disorder. We feel Anne's frustration when she frantically connects with a male peer for assistance and is met only with betrayal and assault. We feel the horror-glee of watching Brigitte (Louise Orry-Diquéro), who is waiting until she is married to have sex, remove her clothes, without prompting, to show Anne and Hélène how she orgasms without a man. We feel Anne's grim relief at her encounter with a fellow student, Laëtitia (Alice de Lencquesaing), who finally discloses the address of a woman, Madame Rivière (Anna Mouglalis), who administers backdoor abortions.
Strikingly, Diwan demands that we witness Anne's physical experience, too. Without the abortion technologies of today, Anne undergoes an unexpected two visits with Madame Rivière — each time, splayed out on a kitchen table as Rivière inserts a slender metal rod, still warm from its bath in a sanitizing basin, inside her — and eventually labors agonizingly in the shared bathroom of her dormitory. Shored by Vartolomei's indelible performance, not once does Diwan direct our gaze away from Anne as she contorts, contracts, and convulses with pain. Anne is undrugged, unanesthetized, and alone. Everything, including the eventual clotted pregnancy and snarled string of the umbilical cord, is harshly visible. 
While these scenes are indeed viscerally distressing, the visuals they supply are far from indiscriminate gore or body horror. They have an agenda. Onscreen abortion stories are rare; onscreen abortion is even rarer. Diwan, like Ernaux, wants us to know what it means to have an abortion — before, during, and after the experience itself.
But even with this direction, "Happening" is a commendable abortion drama for the very reason it needn't exclusively be referred to as such. It is a movie about abortion, surely, but it is equally a movie about a woman — what happens to her and what she makes happen, what she wants and why she wants it. The first and final frames of the movie show a young woman, bright and ambitious, engaged in the magically quotidian process of creating herself. "Happening" encourages you to think about abortion legality, access, politics, and experience — but first, it invites you to think about her.
"Happening" is currently playing in select theaters.
Reach writer Kelly Hunter-Lynch at arts@dailyuw.com. Twitter: @khunterlynch7
Like what you're reading? Support high-quality student journalism by donating here.