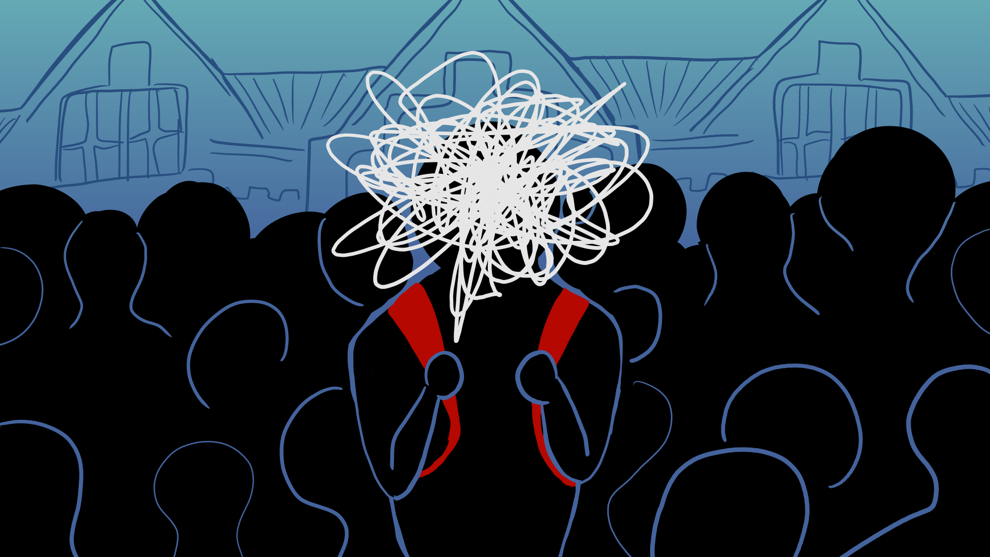 Though UW classes have returned to in-person for autumn quarter, the coronavirus pandemic is far from over. According to The Seattle Times, current confirmed and probable cases in Washington state have reached numbers of about 1,000 cases higher than the number of confirmed and probable cases last December and January.
But how has the return to in-person classes and the stress of fall quarter taken a toll on students? For 36-year-old third-year student Ken Brummage, coming back to campus has been a lonely experience.
"I can't just smile at someone and get that interaction," Brummage said. "I'm starved of it."
Brummage, who attended Shoreline Community College for two years prior to transferring to UW, said that missing out on the college experience was a big fear.
"The biggest stress for me was not … my classmates giving me COVID-19, my fear was [the college experience] being taken away again," Brummage said.
Returning to in-person classes can also have a major effect on students' mental health. According to Dwayne Stone, a therapist based in Wallingford, students are possibly losing out on the muscle memory of operating in person and will have to relearn old habits that weren't exercised during remote learning.
"There was muscle memory for starting a class, starting a term, or meeting new people," Stone said. "After the pandemic, we got out of that. We came up with other ways of connecting or being in touch with people. Now as we get started again, there's this loss of muscle memory for how to actually show up and be in the room, the lecture hall, the group."
While every student is dealing with the stress of a return to campus and the start of a new quarter, students who already struggle with their mental health are at a significantly higher risk.
According to Freda Liu, an attending psychologist at Seattle Children's Hospital and assistant professor within the department of psychiatry and behavioral science, connecting with other people in person could be difficult for students where this is their first time on campus.
"Going back to in-person could be really difficult, especially if there's not family members there to push them or even enough support in their environment to notice they're struggling," Liu said. "This is where we want folks to be connected, we don't want anyone suffering in silence because this is how people fall through the cracks."
Even though students can be struggling with their mental health during the return to in-person classes, there are several options for help. Both Brummage and Liu recommend seeking professional help. 
"I would tell everyone to go to therapy," Brummage said. "I went through a therapist for a while and it's the best thing I've ever done and I would recommend that almost everyone do it."
Liu would also recommend taking a look at what type of coverage a student can get, both on and off campus.
"I would find out what resources are available on UW campus," Liu said. "The other thing is figuring out your broader health care support, and by that I mean: What's your insurance? Are you still on your parents insurance, do you have your own, are you not on insurance? Because in our country, unfortunately, that dictates the kind of care you can get."
Though professional help isn't always accessible, Stone had suggestions for what students could do to manage stress on their own. 
"One of the things that I've found really helpful is lowering the bar in terms of our expectations to start doing those self-care kind of things," Stone said. "Once we get momentum going of these habits that we used to do, then if we can lower the bar for when we start out, then once we're in motion, some of that muscle memory returns."
Resources
National Suicide Prevention Lifeline: 1-800-273-8255
Reach Development Editor Kyle Bender at arts@dailyuw.com. Twitter: @avatar_kyle 
Like what you're reading? Support high-quality student journalism by donating here.