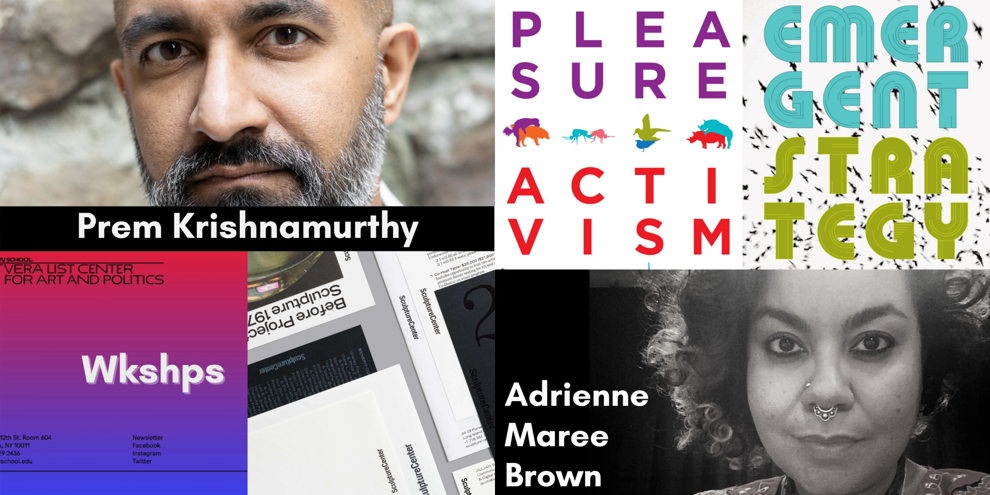 On Friday, April 23, two multidisciplinary creators and community builders participated in a spectacular conversation presented by Cranbrook Art Museum, Jacob Lawrence Gallery, and The Black Embodiments Studio which explored the emergent roles of creators. Prem Krishnamurthy and adrienne maree brown described the process of "absorbing their learnings" and freeing themselves from negative stereotypes and pressures.
Krishnamurthy is the director of a design consultancy, Wkshps, in addition to being a media promoter through his involvements with various design organizations. brown is a writer-in-residence at the Emergent Strategy Ideation Institute and is the author of multiple books.
Krishnamurthy began the conversation with an innovative exercise to "help [participants] arrive in the room." He is an advocate for this practice, which involves the movement of the head, shoulders, and hips to ease into an "unfamiliar room."
"I've been reading your work and listening to your words for years," Krishnamurthy said, describing his familiarity with brown. "It feels like I've been in a dialogue with you."
brown has been a student of semantics for over 10 years, which has influenced her awareness of her body. She often asks the question, "How do I bring my attention into what the body is communicating to me inside of this container, where I must also transform in ways that hopefully impact the whole world?" 
The conversation touched on experiences that Krishnamurthy and brown have had with respect to "norms" and expectations. In this thread, the presenters reflected on some of the things they enjoyed doing pre-pandemic. 
"One of my favorite places was to go to a gallery opening or an event, and just talk with all these people I know," Krishnamurthy reminisced. "You're having this conversation and suddenly, in the midst of it, you lose your sense of self, you completely believe they're there, it feels like there's one conversation happening."
The conversation was an exhilarating back-and-forth that highlighted the contributions Krishnamurthy and brown have made to their communities.
"I have a question for you," brown said, addressing Krishnamurthy. "How did you give yourself permission to not feel guilt around that impulse to create?"
"It's been a 20-year process," Krishnamurthy replied. "One of the reasons I think art and creative practices are important in the first place is — beyond their social power, which I think is really important … their ability to bring people together around joy and pleasure and complex aesthetic beauty."
The presenters also talked about their questioning of societal standards and pressures. They said they have come a long way and are still strategizing how best to not let these so-called standards affect their work. brown also mentioned the relationship she has with her personal opinions and perspectives and said she often finds herself trying to be an unprejudiced facilitator in her professional life.
"I've never actually [been] a fully neural space," brown said, explaining her changing thought process. "I have opinions about things, I have opinions about what is happening in the room, but I let go completely of what I believe."
She went on to describe how this has helped her identify who she wants to work with and who she wishes to work for. Both Krishnamurthy and brown delved into their identities as curators as well as responsible change-makers.
"Everyone thinks that they want to feel satisfied before they die," brown said. "I have already felt satisfaction right when I finished 'Emergent Strategy'; if that's the offer I make to this universe, I'm satisfied."
Reach writer Niv Joshi at arts@dailyuw.com. Twitter: @niveditajoshii
Like what you're reading? Support high-quality student journalism by donating here.