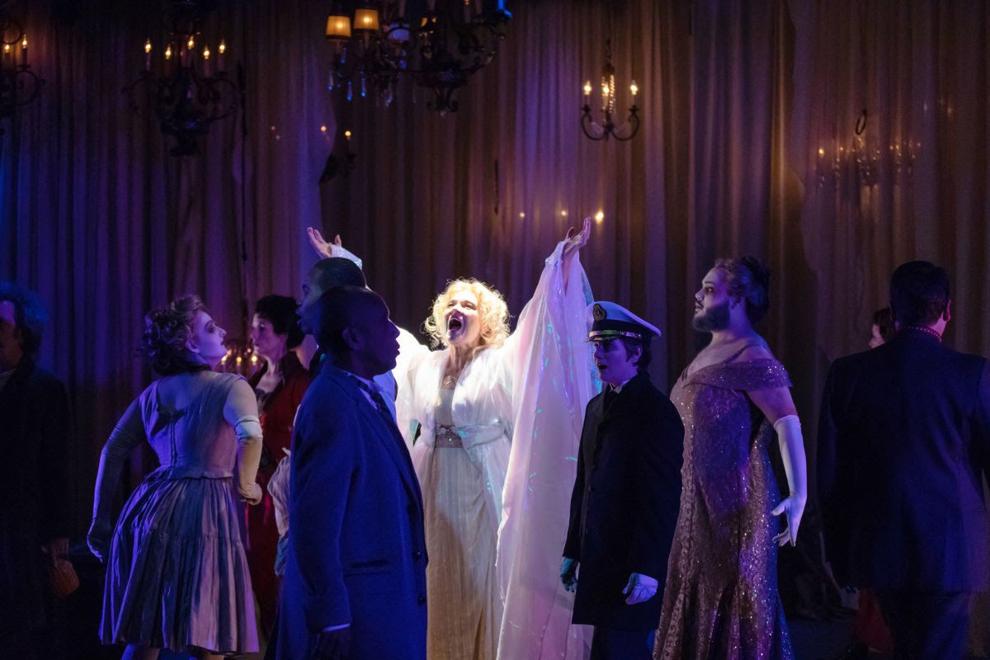 Seattle Shakespeare Company brings its A-game to this latest interpretation of William Shakespeare's "The Tempest." Pacing, set design, costumes, creativity, acting chops, music — it's all there. 
It is believed that Shakespeare's writing was inspired by the voyage of The Sea Venture, an English supply ship sent to relieve the struggling Jamestown colony. The vessel was blown off-course by a tempest and shipwrecked in Bermuda in 1609. "The Tempest," whose first recorded performance occurred Nov. 1, 1611, now sits alongside "Romeo and Juliet" and "Hamlet" among the top-tier occupants of Shakespeare's illustrious oeuvre. Yet unlike many of his most well-known plays, this tale isn't a tragedy. 
Moored on a remote and magical island, the sorcerer Prospero (Mari Nelson) has raised her daughter Miranda (Allyson Lee Brown) and honed her magical craft over the course of nearly 15 years. She is served by the spirits Ariel and Caliban, themselves counterpoints of magic turned to light and dark uses. Prospero seizes a chance to exact revenge on those responsible for her exile — including her sister, Antonio, conniving Duke of Milan (Betsy Schwartz), and Alonso, King of Naples (Eleanor Moseley) — by conjuring a tempest to shipwreck their vessel on her island. Leaving the rest of the party to struggle through the bush, Prospero plucks Alonso's son, Ferdinand (Benjamin Neil McCormack), from the wreckage and begins to encourage a romance between him and her daughter.
Brown and McCormack capture the potent befuddlement of first attraction charmingly. They lean into their mutual chemistry and embody the bright-eyed youthfulness of their characters. Amy Escobar is an unabashed scene-stealer as Trinculo, frequently reducing the audience to guffawing laughter with single-word deliveries. Christopher Morson brings fantastic depth to Caliban, recalling Andy Serkis' portrayal of Gollum as he infuses the creature with a unique physicality and captivating stage presence. The spirit Ariel, Prospero's servant and agent of action, is played not by one actor (as was originally written) but four in this production, enabling incredible dynamism on stage. This choice by director Annie Lareau acts on the intuition that a spirit's magical existence would transcend the boundaries of a human one and helps suspend disbelief as the production brings magic and fantastical trickery to life.
Nelson's Prospero is at the heart of this show, the impetus of all the action and rightfully the most mesmerizing character on the stage. Nelson infuses her character with grace and poise, iron and anger, complexity and conviction. She embraces the meatiness and multi-dimensionality of the role and gives a compelling performance of a Prospero who fights through bitterness and revenge to choose forgiveness and facilitate the attainment of her (and her daughter's) freedom.
"The Tempest" has more music than any other Shakespeare play, and this production embraces and builds upon the richness already embedded into the text. Composer and music director Malex Reed (who also plays one-fourth of Ariel) has created a scintillating score of often dissonant yet blended harmonies for the four facets of Ariel and ethereal chants for Prospero. The music highlights and amplifies a well-spring of character emotion, intertwining beautifully with Shakespeare's text. When fused with magic — as it so often is in this production — it also heightens the impact and realism of the sorcery on stage.
The lighting and set designs complement and integrate with the feel of the play. Magical happenings are cast under moody blues and golds while scenes with the shipwrecked party see stark, bright, uncomplicated hues. Wispy silken curtains, an enormous, half-concealed picture frame, and a cadre of overhead chandeliers, dirtied and worn with the passage of time, evoke Prospero's elegance as well as the build-up of her bitterness over the course of 15 years.
Seattle Shakespeare Company delivers a resplendent production of "The Tempest" in a style that is both innovative and true to its source. This "Tempest" will surely blow you away.
"The Tempest" runs until Nov. 10. Details and tickets can be found online.
Reach writer Marissa Gaston at arts@dailyuw.com.
Like what you're reading? Support high-quality student journalism by donating here.