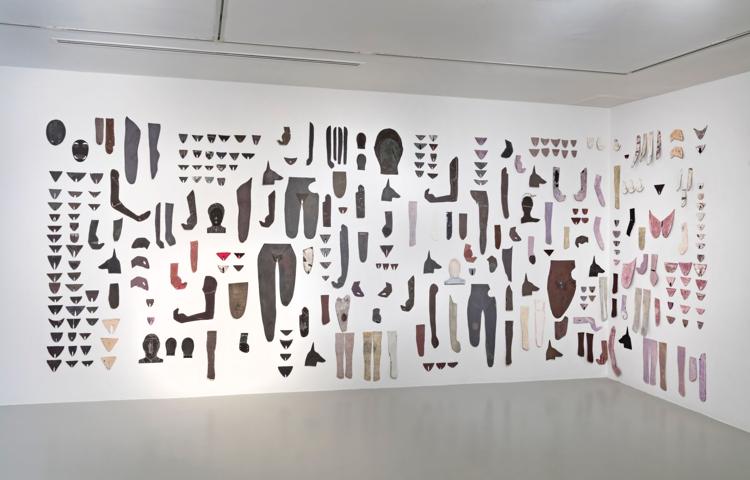 Contemporary artist and professor Alicia Henry took part in a visiting lecture sponsored by the School of Art + Art History + Design on Jan. 7 over Zoom. 
"I am interested in representing a broader vision of society to make visible what often goes unseen," Henry said, describing a central ethos of her work.
Henry's oeuvre focuses on creating visual embodiments of individual and collective experiences and what might be hidden underneath each. Her artworks encompass materials as broad and diverse as felt, leather, linen, thread, paper, and pigment.
Beginning her lecture with words of gratitude for the family and teachers who have supported her endeavors, Henry spoke on the importance of community as a thematic element in many of her works. These themes are presented on the familial level as well as within broader geographic contexts and cultural communities.
"What has always interested me is the human body, the human figure, and how we interact and engage with each other," Henry said.
The artist explores the dynamic of personal identity as well as human interaction through the physical layers of her art. In one of her untitled works, Henry merges Black faces with the face of a clown. The overlapping images have been executed on paper cutouts, which were later painted with watercolor. By rendering a Black body as a visual parallel to an entertainer in a circus, Henry attests to the lived experience of those bodies and the stereotypical representations which they have endured, such as minstrel shows. 
What is noticeable in this two-dimensional piece of work, and many others of Henry's, is that the physical layers can be lifted and flipped through. Viewers are invited to discover, activate, and contemplate what's hidden, symbolic, and performed within the piece. 
As we navigate through social and political currents, we carry historically transmitted legacies from our cultures and communities, all the while generating hopes and desires for the future. By engaging her audience in what she calls the "lift format," Henry creates a space in which imagination may roam the landscapes of the past, present, and future. 
Her interest in composing figures to explore human conditions is evident in her work "Fragments," which arranges individual cutouts of body parts in an orderly manner. Images of arms, legs, and vulvas are distributed across two adjacent walls and create a visual rhythm for the viewer's eyes to move between. 
In this case, Henry describes what's unseen as "the strengths, the complexities, the beauty, and the contradictions in women" that are illuminated by her artwork's dynamic visual language. 
Reach writer Fiona Ye at arts@dailyuw.com. Twitter: @Campfiion
Like what you're reading? Support high-quality student journalism by donating here.