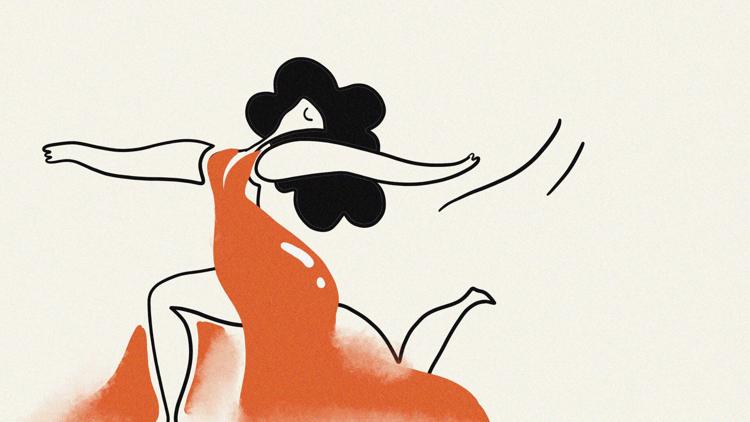 Poet and UW alum B. Lyn Patterson found remarkable parallelism in African diasporic dances throughout her travels to Latin American countries like Panama, Puerto Rico, Cuba, Colombia, and Brazil. This is because the ancestry of all these dances descends from a similar place in West Africa. 
In both salsa and samba, which have roots in African spiritual dances, Patterson noticed the undulating up-and-down hip movements. She observed the isolated side-to-side motion of the hips in bachata, salsa, and samba. The conga drums were present across styles, as was circle-style dancing, where the community gathers in a circle for the dance.  
These beginnings in the African diaspora have been obscured over time, as is the case with countless musical and dance traditions in the Americas, leaving popular Latin dances to be whitewashed and appropriated for mass consumption.     
In each new dance style, the moves came naturally to Patterson. The Afro-diasporic movements she used — twerking in middle school or dancing hip-hop in her youth — applied effortlessly in each new dance she studied. 
As a former K–12 educator and dancer, Patterson believes we should decolonize education in the dance scene and in K–12 settings, and that the cultural roots of Latin musical and dance traditions should be respected.
Bachata, a Latin dance from the Dominican Republic with Black rural origins, has spread like wildfire across the globe. Time and time again, Black folks' artistic innovations have been whitewashed, only gaining credence after they have been adopted by white people.In its origins, bachata was stigmatized and considered a poor, lowly dance.
"From 2005 till now, it's become a global industry, and yet the people who started this dance in the Dominican Republic often don't get the credit that they deserve, nor do they get the compensation that people who created something should get," Patterson said. 
Themes of poverty, violence, or race often get lost in translation. "Rebelión," or "Rebellion," is one of the most popular salsa songs, and it tells the story of an enslaved man in Colombia who rebels against his enslaver for hitting his wife. Most people listening to this upbeat tune around the world do not understand these dark messages.   
"We all generally come into a dance studio and into social dancing with the intention of connecting with people and connecting with our bodies," she said. "But one of the unintended impacts of globalization and having people who are outside of underrepresented cultures come in and teach dances is it takes money away from people who are already essentially marginalized in our society."
Globalization is not inherently negative. Patterson sees the beauty in the uniting force of salsa: a dancer can truly feel at home and with their people in any corner of the world. However, students and teachers need to make a conscious effort to practice their favorite dance styles ethically.  
An ethical dance instructor, according to Patterson, will encourage students to listen to the music, the lyrics, and the separate instruments. They will educate students on the history of the dance, and the enslaved people who contributed so much to its formation. These teachers should encourage students to think more critically about gender-specific roles on the dance floor and challenge these roles.
Afro-Latin dance forms are based on improvisation, and Patterson believes dance education should be a process of learning what makes you captivating. An instructor should teach their dancers to divorce themselves from the structure of "1-2-3, 5-6-7." 
"The music is not going to always say that to you, and sometimes you have to learn to live in the music more than you live in this robotic structure of what a dance should be," Patterson said. 
She also believes we should decolonize dance spaces and create the ones we want to see. Dance should not be confined to clubs in the nighttime — dancers should also try to find live music venues. All these dances really started out as conversations between dancers and musicians, and that has disappeared over time with globalization and digitalization. 
There are ethical teachers in the community. Bachata superstars Tanja Kensinger and Jorge Burgos are known for marrying modern sensual and traditional Dominican bachata in their style while highlighting artists from the Domincan Republic who are making the music. 
There is a disconnect between Latinos who grew up with these musical and dance traditions and people who learn a style that is not part of their culture, although a deep love of dance connects these groups. The dance community needs to be critical of how consumerism can change the context of a dance.
Patterson plans to research how we can best incorporate dance into the K–12 curriculum as a tool to teach multicultural education in a hands-on way. She wants to know how we can take ways of teaching from different Black and Indigenous cultures and incorporate them as learning models in K–12 and higher education. 
There are so many potential interdisciplinary connections with dance. Dance can be an embodied method to teach in history classes, for example — a teacher might encourage students to explore how and why merengue was glorified under former Dominican president Trujillo, while bachata was diminished to a lowly status. 
"That embodied practice just deepens our learning and our understanding and asks us to be very present with what we're learning in a way that lecturing, taking notes, and even having discussions doesn't always do," Patterson said.
Learning methods are not one-size-fits-all: every student needs something different. Dance is a motivating force. Patterson understands that people want to get up and get their bodies moving — and students are no exception.
Reach writer Tiasha Datta at arts@dailyuw.com. Twitter: @TiashaDatta2
Like what you're reading? Support high-quality student journalism by donating here.