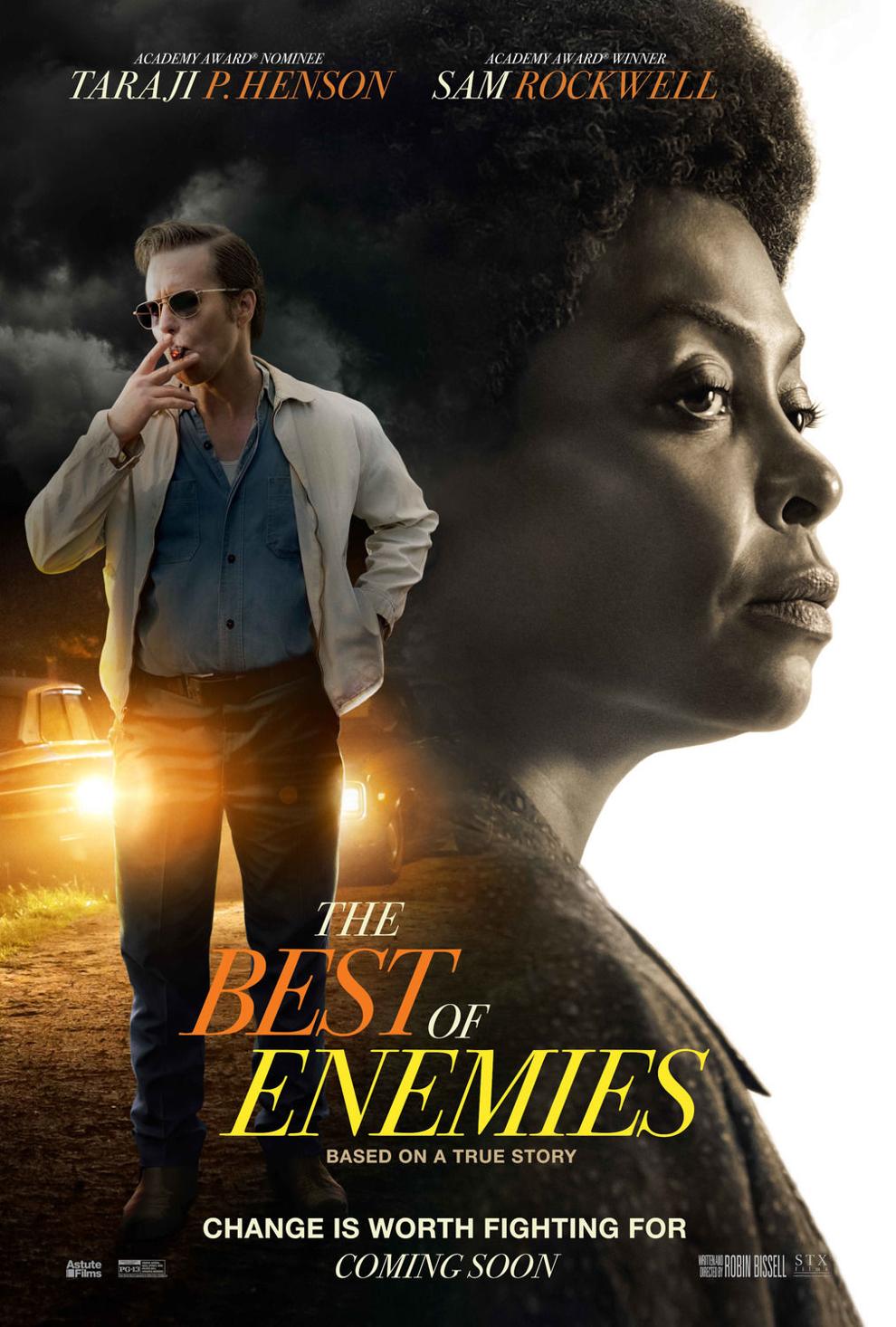 Last year, we all saw Viggo Mortensen learn how not to be a racist in what the Academy of Motion Picture Arts and Sciences proclaimed to be the best film of 2018: Peter Farrelly's "Green Book." Now, just a third of the way into the new year, we all get to see Sam Rockwell learn the same thing in Robin Bissell's "The Best of Enemies," which, if precedent tells us anything, the Academy will probably deem to be the finest film of 2019.
I jest, of course. "The Best of Enemies" is not going to win best picture this year. Whereas the charmingly simple story of Tony Lip's evolving kinship with Don Shirley over the course of a cross-country musical tour was a delicate-enough "Driving Miss Daisy" inversion to convince a bunch of white people that it was progressive, "The Best of Enemies" is a much more overtly problematic film.
The film itself isn't repulsive, but it's certainly regressive. Sold as a "true" story about the development of an "unlikely" friendship between gas salesman/Ku Klux Klan leader C.P. Ellis (Rockwell) and civil rights activist Ann Atwater (Taraji P. Henson), "The Best of Enemies" is really Ellis' story, in which Atwater appears once in a while.
The two leads butt heads over a motion to integrate the public schools in Durham, North Carolina. As a result, they end up co-chairing a weeks-long community discourse on the issue. Initially, the film bounces between the two characters' lives until their eventual intersection. But slowly, and arguably insidiously, the bulk of the focus shifts squarely onto Ellis. That's ironic considering the film starts with a "thank-you-for-watching" blip from Henson, in which she expresses hopes that the audience enjoys witnessing Atwater's story.
It's not that Rockwell isn't up for the task of carrying the film. He certainly shines as the potbellied, tobacco-chewing Ellis, delivering bewildered expressions of bigotry and nailing the tough tightrope walk that comes with endearing the audience to a character who is in many ways contemptible. He eats up every scene that he doesn't share with the fiery Henson, who exudes a palpable energy as she lumbers resolutely from scene to scene, exploding intermittently at the white men who try to halt her advance.
Henson, though, is underserved by a script that gives most of the meaningful material to Rockwell. This is exemplified during the climactic community vote, when Ellis delivers a stirring tirade against hate just moments after Atwater has been noticeably relegated to a simple "yes." The lead-up to this moment is tense and compelling, if predictable, but the payoff reeks of oversimplification and the propping-up of a "white savior" narrative, as does much of the film.
Take, for example, one scene featuring token white ally Lee Trombley (John Gallagher Jr.), whose anti-integration vote Ellis ceases pursuing after Trombley tells him about his experience fighting alongside a brave black man in Vietnam. Trombley even halts Ellis as he's about to walk away to deliver one final bit of "you really shouldn't be racist" wisdom. This sort of dialogue device is employed extensively and exhaustingly throughout the film and is seemingly mistaken by Bissell to be an effective means of character development.
During the end credits, several clips of the real-life Ellis and Atwater confirm that, yes, these two individuals with seemingly irreconcilable agendas really did become lifelong friends. The undoubtedly complex path the duo took to reach that point is evidently not portrayed in the film. Instead, Atwater's appreciation of Ellis' eventual non-bigotry is taken as the only real seed needed for the friendship to grow from. Though it's tough not to feel warmed by Ellis and Atwater's ultimately reciprocal acts of goodwill, it's also hard to shake the troubling feeling that emerges once a moment's thought has been applied to the film.
For instance, it seems Atwater was, in the end, partially convinced of her adversary's goodwill by the words of Ellis' wife Mary (Anne Heche), who earlier told Atwater that her husband, at this point still a vocal racist, was just "doing his best."
A meaningful change of heart undoubtedly sprung from some version of the rose-tinted events displayed in "The Best of Enemies," but a viewing of this film is, more than anything else, likely to convince a bigot that it's enough to "do his best," to go so far as to tear up his metaphorical Klan membership card and sell gas to black people. Sure, Ellis loses some friends along the way, but things turn out comfortably enough for him. Then again, "The Best of Enemies" isn't really aimed at bigots, or at marginalized people, for that matter. It's another civil rights film preaching to the white choir the innate propensity of people to love unconditionally.
Evidently, it succeeds at that. The (mostly white) audience that I saw the film with applauded at the end. They also laughed at a moment when Atwater, in an attempt to keep the peace, mends a Klan-robed mannequin vandalized by black teens and loses her breath when she comes face-to-face with the horrific, eyeless sockets of the hood.
The verdict: "The Best of Enemies" is not the film we need right now.
Reach writer Isaac Handelman at arts@dailyuw.com. Twitter: @isaachandelman
Like what you're reading? Support high-quality student journalism by donating here.