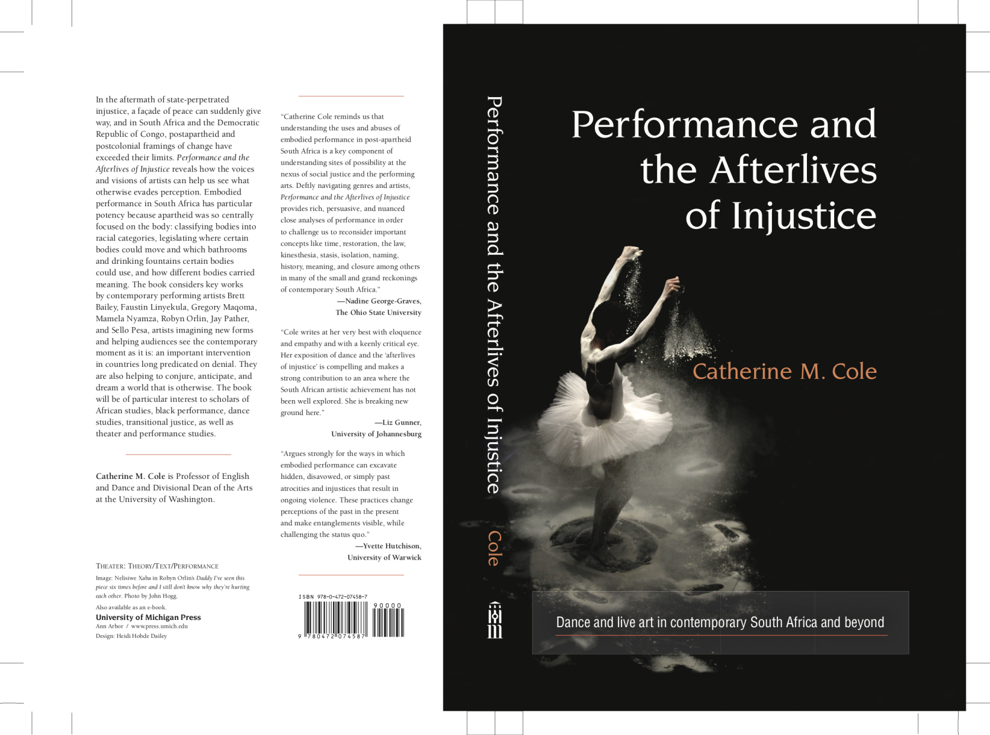 Do you have an open spot on your summer reading list? If yes, might I suggest divisional dean of the arts and professor of dance and English Catherine Cole's latest book, "Performance and the Afterlives of Injustice"?
The book's reading line imparts a simple and effective synopsis of its focus: "Dance and live art in contemporary South Africa and beyond." In the book, Cole describes her emotions while watching several performance artists and analyzes how artists have a unique and impactful role in helping communities acknowledge the mark left behind by racial injustices.
"When we don't deal with these injustices and really think about what it would mean to repair, they resurface," Cole said.
"Performance and the Afterlives of Injustice" is an academic nonfiction book, but potential readers shouldn't be intimidated by the genre. The book is accessible for all interested readers, according to Cole. It provides an aesthetic criticism and is more lyrical than her previous two books.
Cole's former book, "Performing South Africa's Truth Commission," explored topics similar to those in the new release. 
"In some ways, this one flows out of that," Cole said. "The site is still South Africa, but I guess this is a shift over to looking at things that are really situated as aesthetic artistic expressions."
South Africa is a salient setting in Cole's writings. Indeed, she has been visiting the country for nearly 20 years and said she finds its commonality with the United States to be striking. 
"South Africa has such interesting parallels with the [United States]," Cole said. "We're both settler colonies. That experience is highly racialized. Both had a period of time with formal, legal, mandated racial segregation. There's a lot to learn by the conversation across the Atlantic."
The vibrant and diverse art scene is also the driving force behind her choice of location. 
"I found that the performing artists who were most compelling to me were choreographers, were people who work mostly with the body — maybe with some words, but not a lot of words," Cole said. "And bodies are really charged in South Africa because, ultimately, racist legislation comes from bodies."
Cole's book analyzes performances by Brett Bailey, Faustin Linyekula, Gregory Maqoma, Mamela Nyamza, Robyn Orlin, Jay Pather, and Sello Pesa, according to the National Humanities Center, whose virtual book club Cole recently presented in.
"I just felt that as an audience member, I had to give words to my experience sitting in the audience, responding to these bodies on stage and what they were doing and how they were moving and what it was communicating to me," Cole said. "So that's what the book does."
This book delves into the power of artists as storytellers and truth seekers. Artists, according to Cole, can show the unresolved trauma that exists in communities where injustices historically — and currently — occur. 
"I see [artists] as seers; I see them as visionaries," Cole said. "Many of these works are quite beautiful. They're looking at painful, hard topics … but it's an encounter with that underlying truth that I think the artists, as seers, bring us to a place of insight. I think the aesthetic, the beauty of the work, helps us sit there with the hard truths."  
The contemporary performing artists in the book are not well known in the United States, according to Cole, but she hopes this book will change that. 
"I know part of what this book is doing is helping to underscore the importance of these artists and to amplify their impact, and that feels very meaningful," Cole said.
Along with being a published author, Cole holds an administrative role and is a professor at the UW, so she often witnesses how injustice operates closer to home.
"I think all the time about the afterlives of injustice, that as it impacts our world here in the [United States], here in Seattle, and here on the UW campus," Cole said. 
Ultimately, "Performance and the Afterlives of Injustice" adds a new perspective to a critical conversation. 
"This moment is asking us to reconsider 'normal' and to be thoughtful in reinventing a new normal that is more inclusive and affirming of all people, and that redresses and helps repair past injustice," Cole said.
Reach writer Anna Ergeson at arts@dailyuw.com. Twitter: @annaergeson
Like what you're reading? Support high-quality student journalism by donating here.