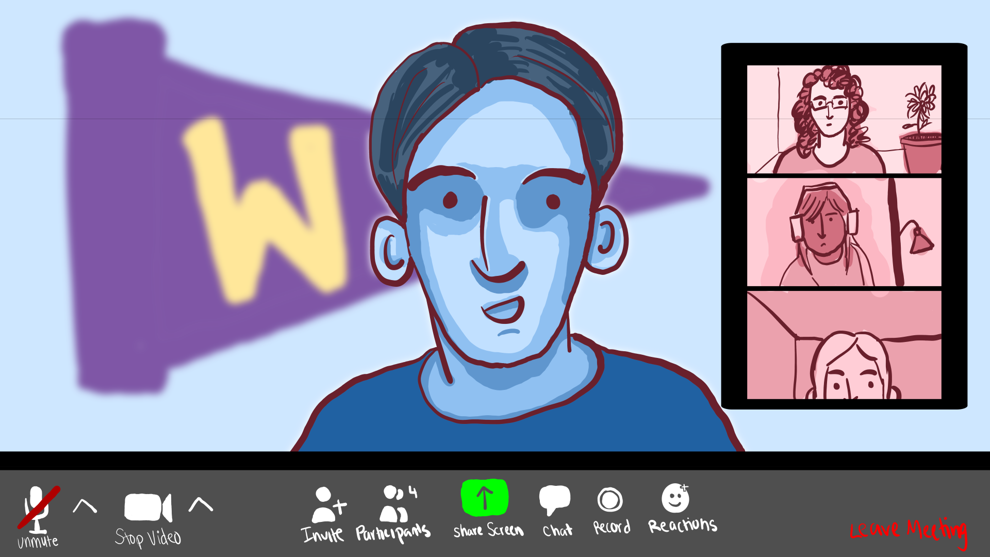 Humanities classes are structured around getting students to talk with each other, professors and teaching assistants, visiting lecturers, or any listening ear available. Lectures and quiz sections for departments like political science and sociology treat learning materials as talking points; if there's not a bit of light banter or arguing, something's not working.
This in-class discussion is a hallmark of a humanities education and compels students to think critically and vocalize their understanding of course themes and content. In the age of remote learning, however, it's become evident that the very nature of these discussions may be difficult to replicate over online learning forums like Zoom.
Keeping students engaged in courses that often count participation as a sizable portion of the final grade will likely be a quarter-long challenge for professors who have had little time to adapt their teaching methods to fit a digital format. Lesson plans will no doubt vary, as each instructor decides how their course will best defy expectations and use remote learning to their advantage.
Before these changes can occur, another question begs to be answered: Is remote learning equitable?
Mollie Ping, a sophomore majoring in political science, doesn't believe so and considers what some have begun calling "Zoom University" to be inherently flawed, seeing as not all students have equal access to internet or online resources.
"I think the largest drawback of online learning will be technology failing us, as it has and continues to do," Ping responded. "Not everybody has fair opportunities for success in an online environment due to some people having stronger Wi-Fi than others [and] not all students having access to their own computer or laptop."
In response to this unequal access to education, Ping said most of her courses have been made asynchronistic and the participation aspect all but eliminated; a decision she believes will be a benefit to every student.
"Professors and TAs, in my case, promised they would not discriminate against resources we have or do not have," Ping wrote. "[Because] I don't have to physically Zoom into my lectures, this gets rid of the pressure of having a participation grade, which is refreshing and puts the power of success in the class on the student's academic abilities."
But not all professors are backing down so easily; for some, devising new ways of keeping students engaged has become a top priority.
Ana Kelly, a junior majoring in law, societies, and justice, says that her instructors made it a point early on to address how they would be emulating the "in-class" experience.
"I think professors and TAs have been attempting to make up for the loss of in-person classes by really emphasizing the importance of participation, albeit virtual," Kelly wrote. "All of my professors have acknowledged that this is an unprecedented time that we're living in and that their expectations for us have shifted slightly as a result. Making themselves available as much as possible (virtually, of course) seems to be their proposed solution."
Despite this effort from instructors, Kelly still sees potential issues arising as the quarter continues.
"There is a certain level of responsibility on my end with in-person classes to show up and provide commentary," Kelly wrote. "However, it feels like that responsibility is more difficult to hold when the only contact I have with these people is through a computer screen."
Navigating the impersonality of an online quarter is something each student will approach differently; although instructors may implement "classroom" policies designed to keep classes as synchronistic and participatory as possible, the responsibility for learning and receiving the standard of education guaranteed by tuition prices ultimately lies with the student themselves.
With humanities classes, the survival of in-class discussion will depend on a student's willingness to turn on their audio, activate their video, and do what they do best: talk.
Reach reporter Brooke Kaufman at arts@dailyuw.com. Twitter: @bkaufmanLJ
Like what you're reading? Support high-quality student journalism by donating here.