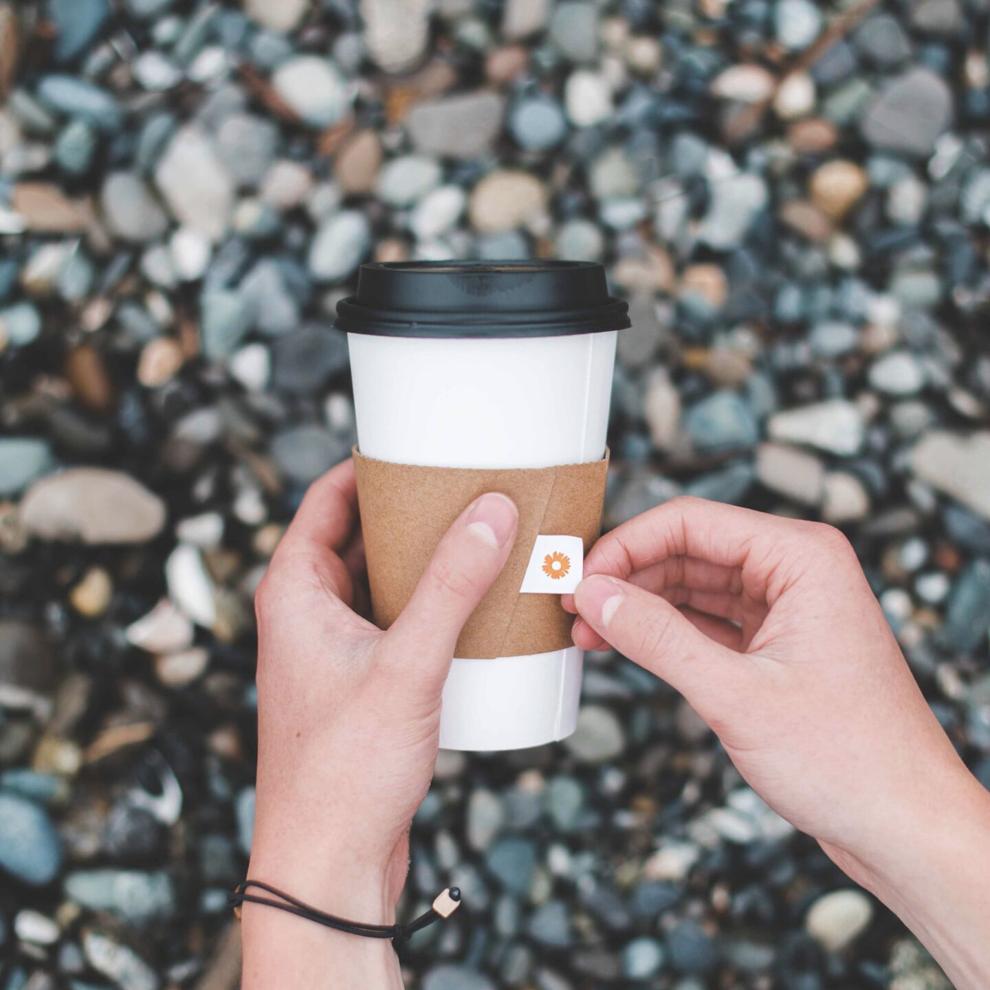 Jerred Mace, an industrial design student in his third year at the UW, founded the W/ Joy Project to spread positivity through inspiring messages tucked inside coffee sleeves. Mace's creation debuted at Walnut Street Coffee in Edmonds in a partnership called "W/ Joy Wednesdays." The collaboration began in September 2020 and recently came to a close.
According to the W/ Joy Project website, people who ordered hot drinks on Wednesdays at Walnut Street Coffee would find uplifting messages placed inside the sleeves, a design reminiscent of a fortune cookie. During the six-month collaboration, Mace made over 4,000 coffee sleeves by hand with quotes such as "'Joy is the simplest form of gratitude' – Karl Barth."
From its launch, W/ Joy Wednesdays has received overwhelmingly positive responses from customers and achieved Mace's goal of spreading smiles. Mace said his inspiration came from an experience in a Spokane coffee shop around the time he was graduating high school, when he watched in awe as a barista wrote small kind notes on outgoing cups.  
Most coffee shop experiences are relatively unnoteworthy. People simply want their caffeine, so they order their regular coffee, mindlessly grab it from the counter, and leave. Mace said he recognized how a barista transformed this transactional experience into something meaningful and he decided to amplify this.
"That deserves to be scaled, repeated, and experienced beyond just that one little location," Mace said. "I was really inspired by her decision to make people's days tangibly better; it was so clear that what she was doing was really impactful."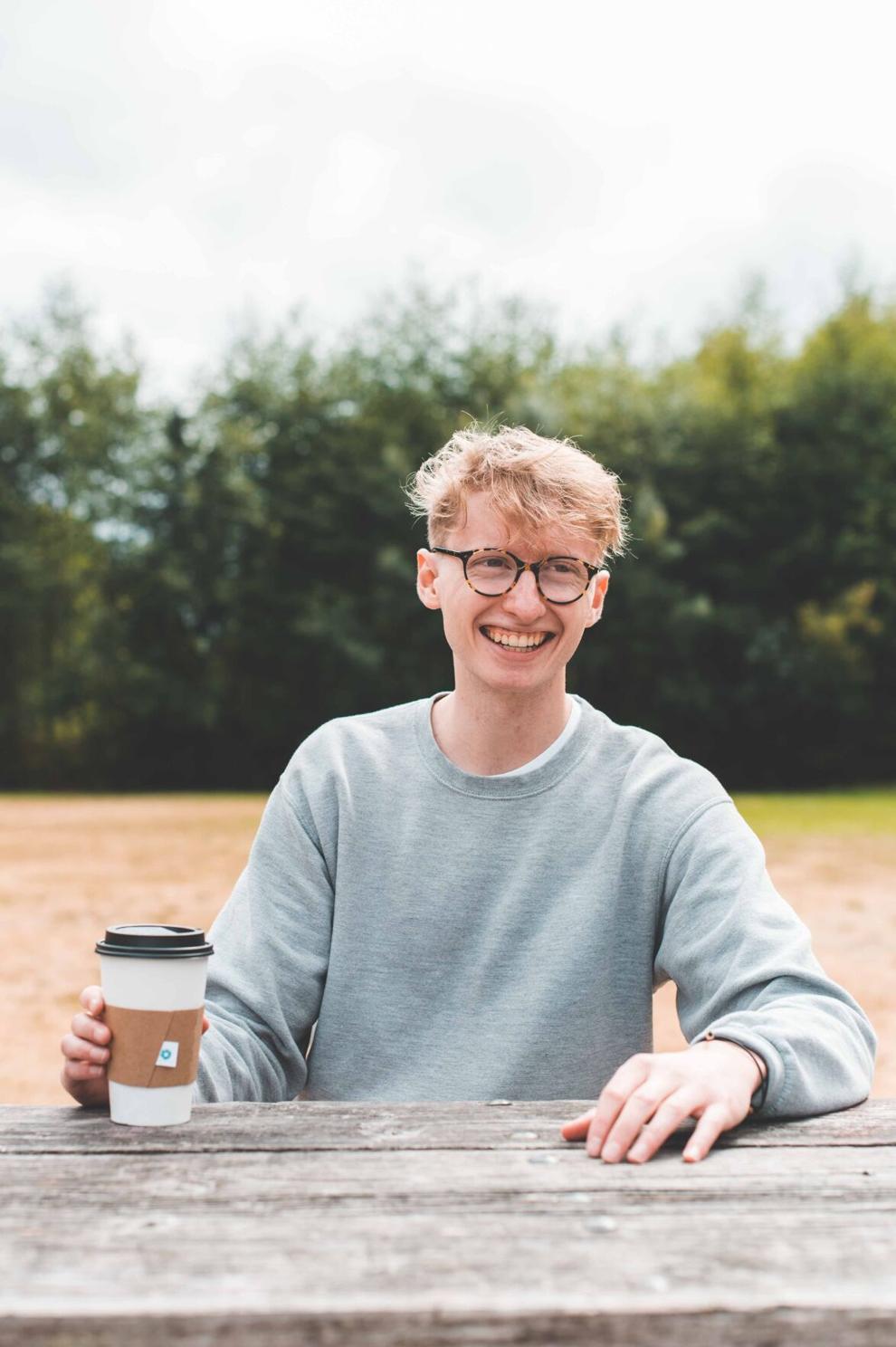 Mace spent around two years bouncing between ideas and meeting with local coffee shop owners to create the most user-friendly product. Given the time constraint for baristas in high-volume coffee shops, he eventually landed on the sleeve design with embedded paper messages.  
Some of the messages simply have kind phrases, while others have optimistic quotes. The W/ Joy Project website has a form where anyone can submit positive, inspiring words that could potentially be included in a coffee sleeve. 
Mace said his aspiration to create contagious happiness came to fruition when he received a message from a woman in a small town in Texas. The woman heard about his project through Happify, a website and app that promotes well-being by building skills based on positive psychology, and she wanted to place an order for coffee sleeves.
"She's a nurse at a small hospital there, and she wanted to share them with her co-workers on their coffee break," Mace said. "This was during the middle of the pandemic, so it was a really magical thing to have someone recognize the value in what we're doing and then want to share it with other people in their community."
According to the W/ Joy Project website, Mace measures the success of his project based on how many people he is able to uplift. He said that the support he's received from the community is motivation to continue spreading happiness. 
"It is a passion project, so it's something I care a lot about," Mace said. "It's been really encouraging to see people respond positively to it." 
With the conclusion of W/ Joy Wednesdays at Walnut Street Coffee and the demands of the quarter system, Mace's passion project has taken a pause for now. The special coffee sleeves are currently only available for purchase through the W/ Joy Project website. However, Mace said he remains dedicated to growing his project and has hopes to continue spreading joy through his coffee sleeves in the future. As the summer season approaches, he is looking to expand the W/ Joy Project to other coffee shops in the greater Seattle area.
"I've had several conversations with other coffee shops, but we haven't finalized anything," Mace said. "During school, it's difficult to devote as much time as I would like to this project, but hopefully during summer I'll be able to really kick it into high gear again." 
At the moment, The W/ Joy Project is run entirely by Mace and he admitted that managing every aspect of the project is difficult to balance. Mace said he's interested in building a team to help him with tasks such as accounting, sales, and social media so he can focus on his true passion for design.
"I'm a big fan of collaboration," Mace said. "Finding the people that are passionate about those other things is, to me, a really important aspect of growing this business."
Reach contributing writer Lucy Frothingham at arts@dailyuw.com. Twitter: @LucyFroth
Like what you're reading? Support high-quality student journalism by donating here.