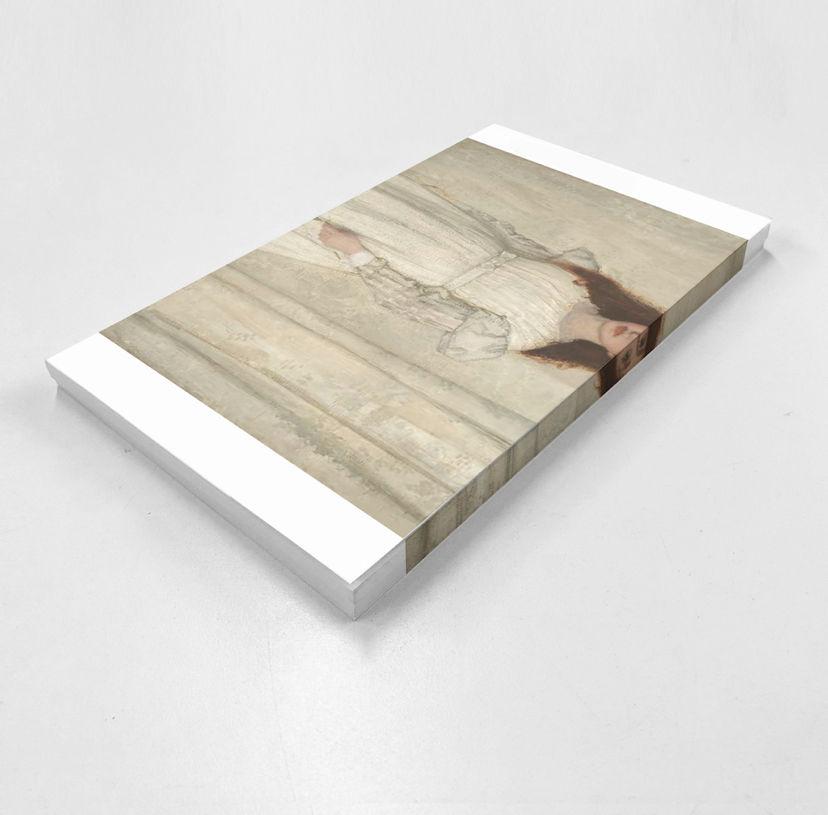 This week, the staff of the Jacob Lawrence Gallery launched another issue of the art journal, MONDAY. If you haven't yet had the pleasure of reading it, or stumbling upon their aesthetically pleasing, design-forward Instagram, the biannual journal offers "experiments in arts writing that invite readers to imagine future forms of criticism." 
MONDAY Journal, founded by director and curator Emily Zimmerman, began in Autumn 2015 as a means to expand The Jake Journal, by and for students, with the UW's own Jacob Lawrence Gallery funding the publication. All of the pieces in MONDAY, Vol. 4 were commissioned and edited by resident artist Danny Giles. 
In the new installment, artists, and writers convene to talk about their relationships to art in the context of broader cultural themes, specifically race and democracy. In Angeline Morrison's article, "Symphony in White No. 1, Whistler's 'White Girl' as Desiring Subject," she explains democracy in terms of its historically Western ideals in relation to 19th-century trends of "blankness" in art. In a time of creative and moral turmoil and a desire to appreciate non-Western aesthetics, colonialist democracy and imperialism were at fault.
"The threat is the awakening of a knowledge that must remain hidden in order for the system to perpetuate its power," Morrison writes. "This knowledge is simply that colonial rule is a trick, doomed ultimately to disempowerment by unmasking."
For Morrison, the "void" and "blankness" across various mediums of art at the time seems to emanate from our very own primordial void about the meaning of art and life. Are there really rules that constitute something as art? Does it have to have vibrant color, ornate details, and a romantic subject? Or are creative constructs just a making of society and democracy?
Here, art, life, and democracy are closely intertwined as we consider the traditional Western structures that have solidified our views over time. There is certainly a reason why 19th-century paintings were dominated by wealthy, white socialites. 
In addition to calling attention to the issues of race, gender, and democracy within classical art, MONDAY also addresses issues of visibility and identity for POC in the art world today.
Sampada Aranke, in her article "Material Matters: Black Radical Aesthetics and the Limits of Visibility," discusses the importance of artistic method in order to break down stereotypes of black art. 
"Much attention has been paid to the vexed relationship between representation and black cultural forms in light of white supremacist practices that have produced and policed images of black people along the spectrum of spectacular and quotidian violence," Aranke writes. "By emphasizing abstract and conceptual artistic practices, my definition of black radical aesthetics builds upon the notion of blackness as anoriginary abstraction — a category created in the service of devastating material, corporeal, and psychological violences that trafficked through the Middle Passage and whose afterlives are still active today."
Amid the ongoing issues of race and police brutality, Aranke's words speak volumes towards the importance of art as a tool against prejudice. Not only can we tell stories of tragedy and injustice, but we can also tell stories of hope, joy, and experimentation.
While MONDAY can be purchased at many local bookstores like Elliott Bay Book Company and Third Place Books via curbside pickup, the newest installment of the journal can also be read and ordered online here. 
Previous volumes of the journal can also be read on the Jacob Lawrence Gallery website. 
Reach writer Ellen Cooper at arts@dailyuw.com. Twitter: @ellenecooper
Like what you're reading? Support high-quality student journalism by donating here.