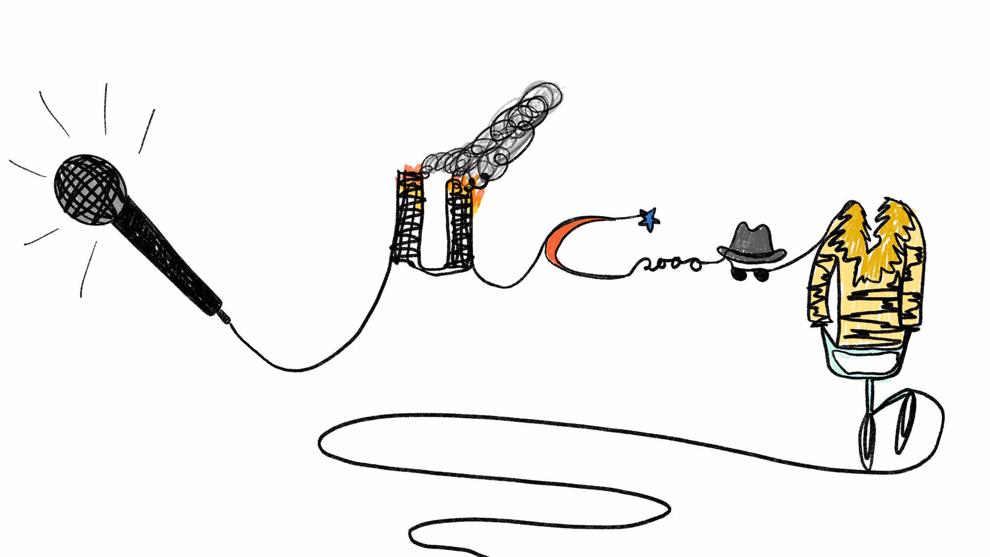 It's hard to discuss the success of the recent wave of hip-hop artists to come from Seattle without mentioning the part that three UW students played nearly two decades ago.
When I walked into the Donut Factory, Marc Matsui was sitting across the table in his blue-and-gold throwback Mariners hat. The Seattle apparel came as no surprise as Matsui managed the hip-hop duo Blue Scholars who routinely rapped about the Mariners and life in Seattle. 
Made up of Matsui's roommate at the time, George Quibuyen (Geo) and Alexei Saba Mohajerjasbi (Sabzi), Blue Scholars came to be after the two met at a 2002 meeting of the Student Hip-Hop Organization of Washington (S.H.O.W.)
"Alexi would send me beats just to listen to, and I just passed them off to Geo just because," Matsui said. "He always rhymed, but he hadn't really found like a group or been like 'oh I'm a solo artist.' He did shows, but he was still trying to find just a more stable identity as an artist."
Matsui and a few of his fellow students started S.H.O.W. in part to combat the teen dance ordinance (TDO) that was in place from 1985 to 2002. The local ordinance made all-ages shows in Seattle a rarity because it required youth-show venues to hire off-duty police officers for security and purchase expensive insurance that made it difficult to make a profit. Matsui wanted to make a difference in the area and help out those that wanted to enjoy hip-hop but couldn't.   
"We were just some hungry college kids that wanted a bigger outlet for hip-hop on our campus and near our campus," Matsui said. "All-ages shows were few and far between at the time because of the TDO, so we felt like we had to take it upon our shoulders to make things happen not only for folks our age, but even folks in high school to go to shows."
Matsui felt like the ordinance helped contribute to the fact that Seattle had become more of a rock-and-roll town because of the fact that rap fans tend to skew a bit younger than rock fans.
"Hip-hop has always been a youth-based movement up until the present day," Matsui said. "In order for it to be sustainable, there has to be outlets for it and for us. We just got frustrated in meeting those hurdles, so we just decided to knock them over."
It's impossible to ignore the role that the ordinance played in allowing rock bands like Nirvana, Pearl Jam, and Death Cab for Cutie to all blossom from the area, while the only hip-hop artist to reach the national stage at the time was Sir Mix-a-Lot.
The fact that Mix-a-Lot was essentially Seattle's only big hip-hop artist allowed Blue Scholars to experiment with their sound more than they would have if they came from an area with a richer hip-hop history.
"It wasn't necessarily influenced by a pervasive Seattle sound so to speak," Matsui said. "I mean yes there is a little bit just because we live in the rain and it's a little more gray and a little more drizzly, but I think in general they were able to find their own identity and their own sound, all while drawing influence from the east coast, west coast to dirty south, just because all of those had already gained a lot of traction in hip-hop."
The era in which they grew up influenced their music just as much as the location. They were in college during the 9/11 attacks, as well as the controversial 2000 presidential election.
"All of that was at the forefront, not only affecting people who did hip-hop but everyday people as well," Matsui said.
Hip-hop has been political throughout its history, dating back to the early days of the genre in the Bronx with a group like Grandmaster Flash & The Furious Five and their 1982 song "The Message." Blue Scholars made sure to intertwine politics into their music as well. 
"I think hip-hop, in general, is a politically-based platform as it represents the youth, it represents minorities, it represents African Americans," Matsui said. "So almost no matter what comes from hip-hop automatically has a level of political connotations just because it is an underrepresented demographic... I'm not trying to speak for them, but just having a message of some substance has always been a part of what Blue Scholars was about." 
On their self-titled debut album, the duo held back no punches. On "Evening Chai," Geo raps about the hypocrisy that he felt that permeates Seattle.
"Some got the nerve to say go back to where you came from/ Same ones who stole the land from Chief Sealth/ And then named the city after him as if to say we honor you right after we conquered you and pillaged your home/ Soil fertilized with indigenous bones."
The duo kept that political tone in their follow up albums, along the way picking up new fans who praised the group for their political punches.
"There was a lot of labeling of Blue Scholars as 'The Political Rappers,' and I don't think that was a goal," Matsui said. "The goal was just to make as quality music as they could that represented who they were, and sometimes you can't necessarily always choose your audience, your audience chooses you."
The pioneering work of Blue Scholars to lay the groundwork for hip-hop in Seattle has been seen in recent years with the success of artists like Travis Thompson, Sol, and Dave B, to name a few. 
"It was one of our missions to help bring those folks up," Matsui said. "The Sols, the Macklemores, et cetera ... because at the end of the day we are all peers, we all have respect for each other, and it is kind of that shared identity and that the cooperation of community."
That bond between Seattle artists spreads all across the area, and even extends beyond the music industry. 
"I think it is definitely a Seattle thing because we are up here in the Northwest part of the country kind of ignored on a cultural and geographical level," Matsui said. "In order for us to make it, we really have to lean on and support each other. Out here we are the underdogs, and we have to scrap and claw for everything that we have and then some."
Reach reporter Kyle Gehler at arts@dailyuw.com. Twitter: @KyleGehler
Like what you're reading? Support high-quality student journalism by donating here.