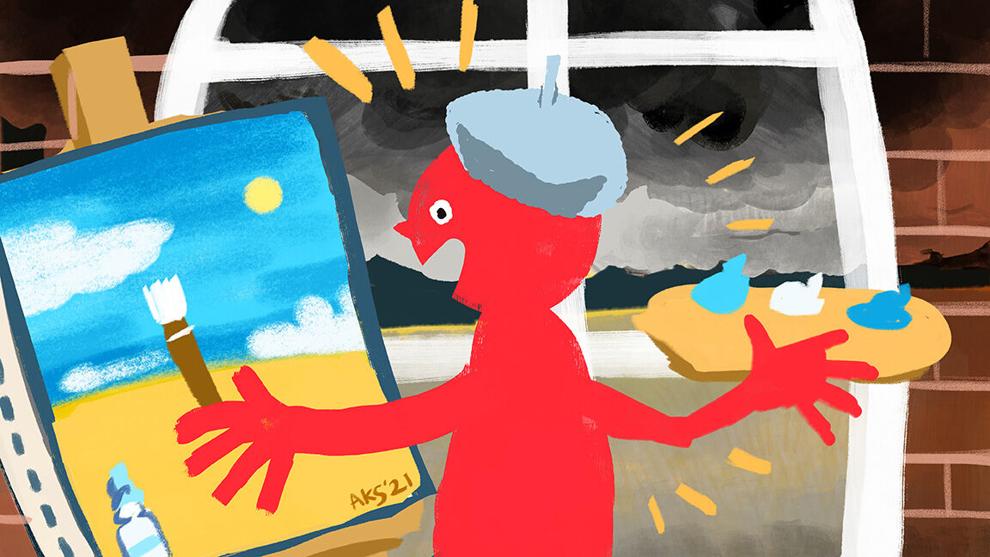 It was nearing midnight, and I still wasn't done. I dipped my paintbrush into a jar of water and swirled it in some orange watercolor paint before adding another flower petal. I was working on a picture of California poppies for my aunt's Christmas present, and, for some reason, it was thrilling to see the saturated golden pigment seeping off my brush on one of the darkest nights of the year. 
Experiences like these remind me that art can be much more than a product or a deliverable. The creative process itself may hold benefits for our mental and emotional wellness, especially during Seattle's colder months, when the outdoor conditions are particularly dark and gloomy. 
Although my December melancholy has never reached the severity of seasonal affective disorder (SAD), the gray skies and fleeting daylight tend to exacerbate my feelings of exhaustion with school and daily routines. 
The diversions of learning a new piece on the piano, painting a flower, or taking my camera out to photograph dewy spiderwebs usually help me focus on the good and the beautiful when the world outside seems to lack a bit of color and joy.
First-year student Angela Statler said she could relate to feelings akin to SAD, though she hasn't been formally diagnosed. As a digital artist, Statler said she believes there's an element of "escapism" in making art when it's dark outside. 
"You want to get out of reality and just go somewhere where you can make and be in control of things," Statler said. 
In his February 2004 TED talk, psychologist Mihaly Csikszentmihalyi explained his original concept of "flow," or an experience of feeling displaced from reality and self-existence because of the sheer amount of mental energy devoted to creating something new. 
If this is the case, creative endeavors may be just the thing to distract us from woeful winter days.
Art in and of itself promotes critical thinking and self-reflection, according to teaching professor Timea Tihanyi, who works with the interdisciplinary visual arts program for the School of Art + Art History + Design.
This past quarter, Tihanyi and 19 students in her ART 480: Art Honors course engaged with the intersecting themes of self-reflection and art to curate an online chapbook, "The Creative Process." According to the section outlining the book's creation, each student contributed a chapter reflecting on their personal artmaking motivations and habits. 
"Everybody can be an artist and are artists already, but there is this process of thinking about what you make and why you make it that we practice in the art school, and that's what the students were creating — a model for others to follow up on that," Tihanyi said.
Another powerful aspect of creative expression is its ability to turn intangible thoughts and ideas into physical forms, according to Tihanyi. 
"That transition from something that's just in the head of one person and then that something becomes a thing in the real world — that is a magical power," she said. 
Victoria Aukland, a senior majoring in sociology and dance, and the vice president of the Arts Diversity Council at UW, described dance as a source of "light" when it's cold and dark. Even on days when she just isn't feeling it, Aukland said that those negative feelings can be channeled into her artistry. 
"Those emotions can come out and be expressed in this also beautiful way," Aukland said. 
According to Aukland, dance is not only therapeutic for her, but also a way to explore different social issues. As someone who is passionate about dance activism, Aukland said she is currently working with four other dancers on a choreographed piece around the idea of intimacy. One aspect will be exploring how privilege and societal barriers affect individuals' ability to be vulnerable in the spaces available to them. 
She said the emotional bonds built between her and the other dancers further enhance her choreography work and its broader meaning. 
"We create together," Aukland said. "We dance together. We live in the space together ... once we build [the choreography], the specific building blocks are very much an in-tune conversation between me and my dancers, in the world, the studio, [and] what we're feeling that day." 
The UW offers a variety of mental health resources for students, including those from the Counseling Center and Hall Health. You can also find a "Winter Toolkit: COVID-19 edition" on the Counseling Center website that includes a brief list of resources on SAD and other challenges students may be facing this quarter.
Making some time for art and creative pastimes may be a good starting point for some students.. 
According to an article from the American Art Therapy Association, art therapy has been linked to a variety of mental health benefits, including relief from anxiety and depression. 
Don't worry if you've never touched a paintbrush before. Art and creative expression can come in many different forms, so don't be afraid to try something new, even if it's as simple as trying a new baking recipe or scribbling a few doodles in the margins of your class notes.
According to Tihanyi, artists are familiar with the feeling of uncertainty — something that has become especially ubiquitous during the COVID-19 pandemic.
"Creating artwork — there is so much unknown in that," Tihanyi said. "So it's actually almost like it's okay — it's not comfortable, but it's okay. It's something that we know how to manage."
Reach writer Julia Park at arts@dailyuw.com. Twitter: @thejuliastory
Like what you're reading? Support high-quality student journalism by donating here.