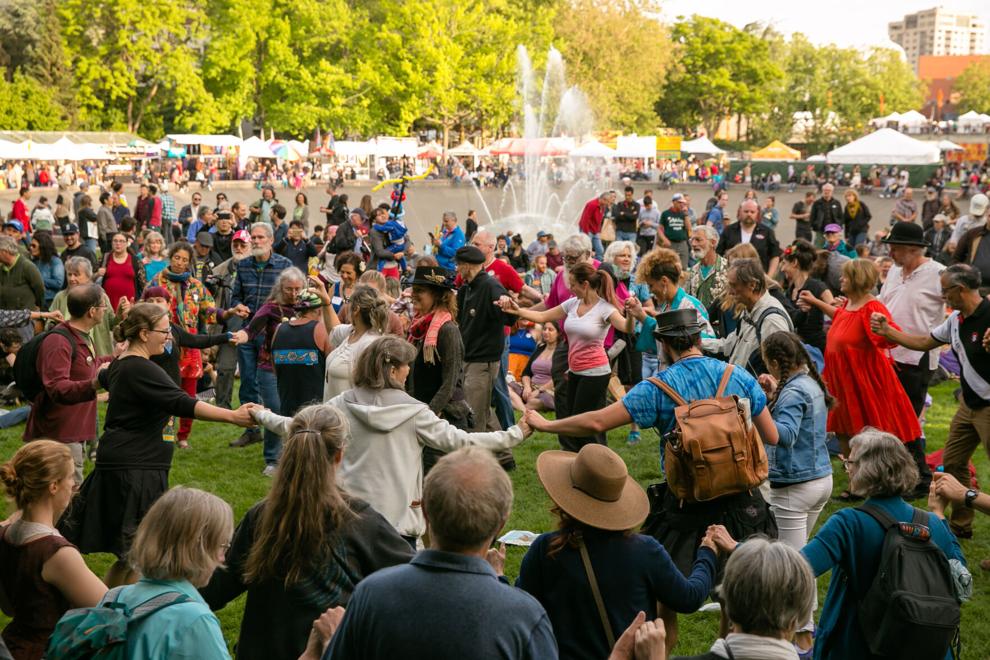 Folk music has always been about bringing communities together. While Seattle's folk scene has grown since the 1971 founding of Northwest Folklife — an organization looking to preserve cultural arts in the Pacific Northwest — the spirit of the programs dates back to when musicians first began gathering and collaborating.
"Even though folk has been around for a long time, there was a push from the National Park Service, Seattle Folklore Society, and [the] National Folk Festival Association to establish an organization for urban centers," Kelli Faryar, executive artistic director of Northwest Folklife, said. "That's how we started our yearly festival, though we do so much more outside it."
Since 1972, Northwest Folklife has hosted a yearly folk music festival that helps bring together unique communities and traditions for a public showcase. Since its inception, the music festival has become the largest of its kind in North America.
"Folk isn't just Western music that came from Europe, but really encompasses all kinds of folk [from] all over the world," Faryar said. "That could mean folk from Brazil, Africa, or other traditions that people might not even know about yet."
To facilitate this effort, Northwest Folklife has over 150 community coordinators who work together to help link different musical and cultural traditions with each other. This creates an extensive community of artists who participate at both the festival and smaller events happening throughout the year.
Northwest Folklife has also emphasized using music as a conduit for immigrant communities and their descendants to be able to reconnect with their roots. Programs like "Our Big Neighborhood" and the annual "Cultural Focus" seek to engage intergenerational and intercultural communities with one another, while "From Home to Home" is a digital effort to make these programs more accessible to communities across Seattle.
In light of the pandemic, Faryar has recently started the podcast "Living Legacies" that hopes to capture the history of Seattle folk music. Despite the festival going on hiatus due to ongoing lockdowns, Northwest Folklife has been working to ensure that the history of this music scene is actively preserved.
"I really believe that music is one of the most fundamental parts of someone's identity," Faryar said. "We have our food, but our music is what helps us connect with our ancestral roots. Before we had our culinary traditions, music [captured] our original stories."
The podcast's first guest, Vivian Williams, who helped found Northwest Folklife, shared how she and her husband were able to start the organization and launch its popular festival. Faryar hopes that other important members of the Seattle folk music scene will be interviewed on the podcast and assist in cultivating an oral history of the music's evolution.
"There is so much to remember about how music has evolved, and I think that the archival work we are doing is crucial to understanding where it will go in the future," Faryar said.
Alongside the podcast, Northwest Folklife has focused on ensuring that digital records are being archived. Reels from the '70s and '80s are being watched and digitized for the first time, which Faryar hopes will allow future generations to recognize the folk heritage that permeates Seattle's music scene. She also believes that archiving footage will be a crucial step in helping establish a repository for future work.
Northwest Folklife is hoping to keep these initiatives going, even after lockdowns and pandemic restrictions are eased. When the music festival eventually resumes, Faryar hopes that more communities and immigrant families can be connected to one another through a shared love of music. 
"There is so much more that I hope we can see in the future," Faryar said. "With Northwest Folklife, I think that the next 50 years will allow us to continue seeing innovations and evolving ourselves. Folk music will continue to be part of our lives and our societies, and I just know that it will always be something special to Seattle."
Reach writer Andy Chia at arts@dailyuw.com. Twitter: @GreatBaconBaron  
Like what you're reading? Support high-quality student journalism by donating here.