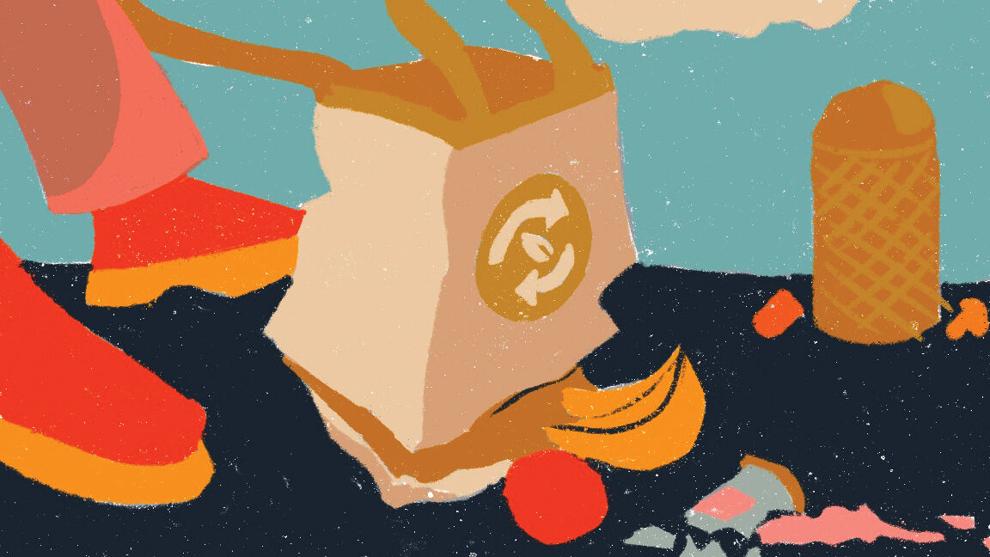 The reliance on disposable and single-use products has increased dramatically during the COVID-19 pandemic, when every little thing can become a mode of transport for a virus. This increased consumption and waste generation has left me wondering about shopping and material consumption during the pandemic.
In this time of sanitation, the thrift store might not feel like the safest place to shop, though it is usually seen as an ethical way to consume fashion. Local, independent, ethical businesses are the route that some people are taking to ensure they're practicing ethical consumption when waste may otherwise feel like the only option.
Utilizing forums such as the Seattle Good Business Network to research the ethical and responsible practices of local organizations and businesses is a great first step in shopping responsibly. This website gives ratings and badges to local businesses if they're independently owned, source ethically, have diverse ownership, participate in community-giving through donations or work with nonprofits, and so on. This resource allows consumers to research local businesses and make more informed decisions as to who they want to support.
Eco Collective, a local women-owned zero waste store in Ballard, is driven by their mission to restore joy to the zero waste movement and help consumers make informed purchases with sustainability and ethical practices in mind.
Each product on their website offers an in-depth description of its origin and manufacturing process, as well as ways to reuse or dispose of the product — typically through composting or recycling — at the end of its use.
"It's a lot of research that goes into every product that we carry and saying, you know, 'How does this measure up to our sustainability goals, and what makes it sustainable in this category?'" Genevieve Fisher, co-founder and creative director of Eco Collective, said. 
In light of the pandemic, Eco Collective could no longer allow customers to bring in their own containers for bulk purchases, so the store made the switch to packaging bulk items in mason jars. The store's owners still wanted to provide people a way to reduce waste and reuse materials, so they purchased a dishwasher for their store and began the Mason jar return program. Customers are encouraged to return their Mason jars at any time for a $2 deposit fee, which can be used on their next bulk purchase or donated to a selected local organization. 
"COVID hit and we started thinking, 'OK, how can we do this in a safe way, but still help people to reduce their waste?'" Fisher said.
Currently, all donated Mason jar return deposit fees go to Got Green, a non profit organization in South Seattle working toward environmental justice. Given the relative newness of the initiative, Got Green is the first organization to be associated with the mason jar return program; Fisher stated that, in the future, they're thinking about changing organizations on a quarterly basis.
"I think it's just become really apparent that there needs to be a greater connection between the environmental realm and this environmental justice and social justice movement," Fisher said. 
Eco Collective also works with both Shop Pay and Sendle to reduce carbon emissions during the shipping process. Shop Pay is a shipping partner that calculates the carbon emissions produced by delivery and then "protects" the equivalent number of trees to offset emissions. Likewise, Sendle is a carbon-neutral shipping service that calculates the highest amount of carbon that could be generated by a package and uses that cost to fund sustainability projects and initiatives.
All of Eco Collective's packaging is compostable and reusable — the company utilizes recycled paper, stamps over stickers, and compostable paper tape. This information is easily found on the store's website, affirming their efforts to increase transparency on sustainability practices. 
UW freshman Liza Bell sticks to buying second-hand due to the unclear ethical and sustainability practices on the websites of larger corporations. 
"Although some first-hand brands may reuse fabrics and pay their workers fairly, I still find that after the environmental production cost, buying second-hand is much more productive," Bell wrote in an email. 
During the pandemic, Bell has primarily stuck to online purchases from small business owners, but reuses packaging for her own second-hand vintage clothing and book resale shop. Her primary source is the Goodwill Outlets — the last stop for Goodwill clothing that hasn't sold in first-stop retail stores.
"It can take hours [...] to days to find vintage pieces that I can alter, rework, clean, or list 'as is,'" Bell wrote in an email. 
Bell is conscious of her environmental footprint while selling products online. She makes her own paper when applicable and uses biodegradable packaging or reuses the packaging materials she receives from her own purchases. 
Even if you aren't able to participate in second-hand shopping, working toward more ethical, sustainable habits is beneficial not just for the environment, but for other people. Participating in sustainable and responsible fashion consumption means supporting living wages for people who produce and manufacture the clothing. Ethical shopping may feel difficult at the moment, but if you Google "sustainable clothing near me" and do a little online digging, you'll be able to find some badass local businesses who need your support.
Reach Health & Wellness Editor Iseabel Nance at arts@dailyuw.com. Twitter: @iseabel
Like what you're reading? Support high-quality student journalism by donating here.