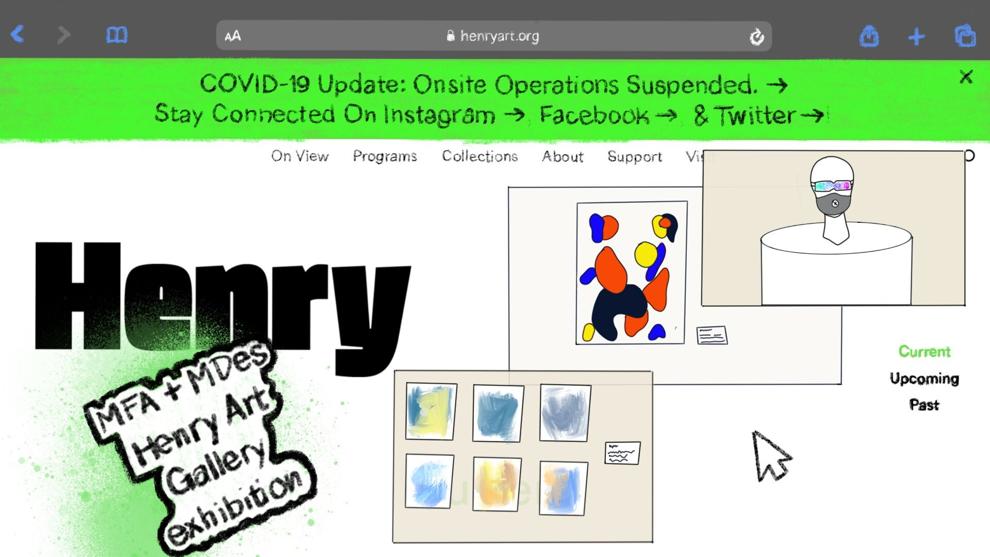 In this year's annual thesis exhibition, eight Master of Fine Arts (MFA) and six Master of Design (MDes) candidates at the UW will be showcasing their work in an online exhibition through the Henry Art Gallery. 
Some artists are disappointed that they are unable to present their work in a physical space but are attempting to remain positive. Despite this year's unusual obstacles, their works are as fascinating as ever. Prominent themes among featured artists and designers include sustainability and cultural values. 
Justin Lund is an MDes candidate focusing on three-dimensional applications of generative design tools. Generative design involves computing tools in the design process and is an emerging field in industrial design.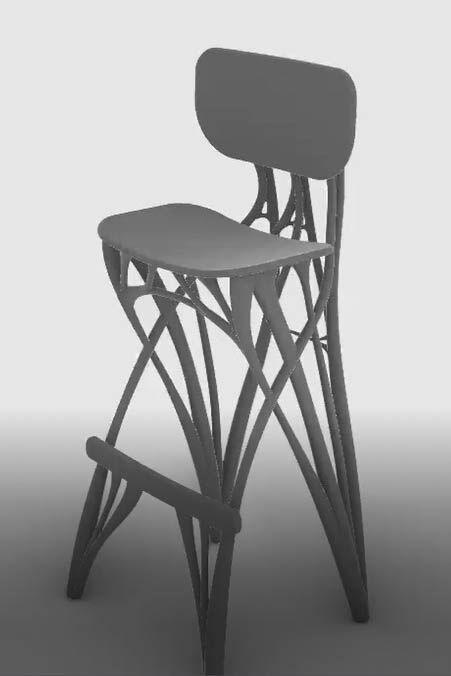 "In general, it's a collaboration between a human designer and software enabled machines," Lund said. "It's not a linear process. There's interplay between the human and computer."
Lund's thesis involved designing a generative chair, a project he first became interested in after noticing his wife's struggle to find comfortable furniture. 
"Many people have trouble getting comfortable in mass-produced furniture," Lund said. "There's an opportunity, in the future, for industry to adopt generative design tools to improve accessibility and personalization."
The generative design process involves gathering data and specifications and plugging those numbers into software, which then generates thousands of possibilities. Lund applied his expertise in design to modify the computer's choices to add functional and aesthetic appeal. 
"The designer becomes a curator of sorts, creating loose parameters for the machine," Lund said.
Luke Armitstead, an MFA candidate, uses sculpture to provide commentary on built environments. Armitstead previously worked in construction and that background gave him exposure to the wastefulness of the process.
"I remember ripping out perfectly good bathrooms, just because trends changed," Armitstead said. "Your average person doesn't see this process enough."
His main piece is a striking 15-foot tall structure built from found construction material, including concrete, rebar, and industrial steel. The sculpture's twisted form provokes a visceral reaction of pain and duress by drawing parallels to the human form.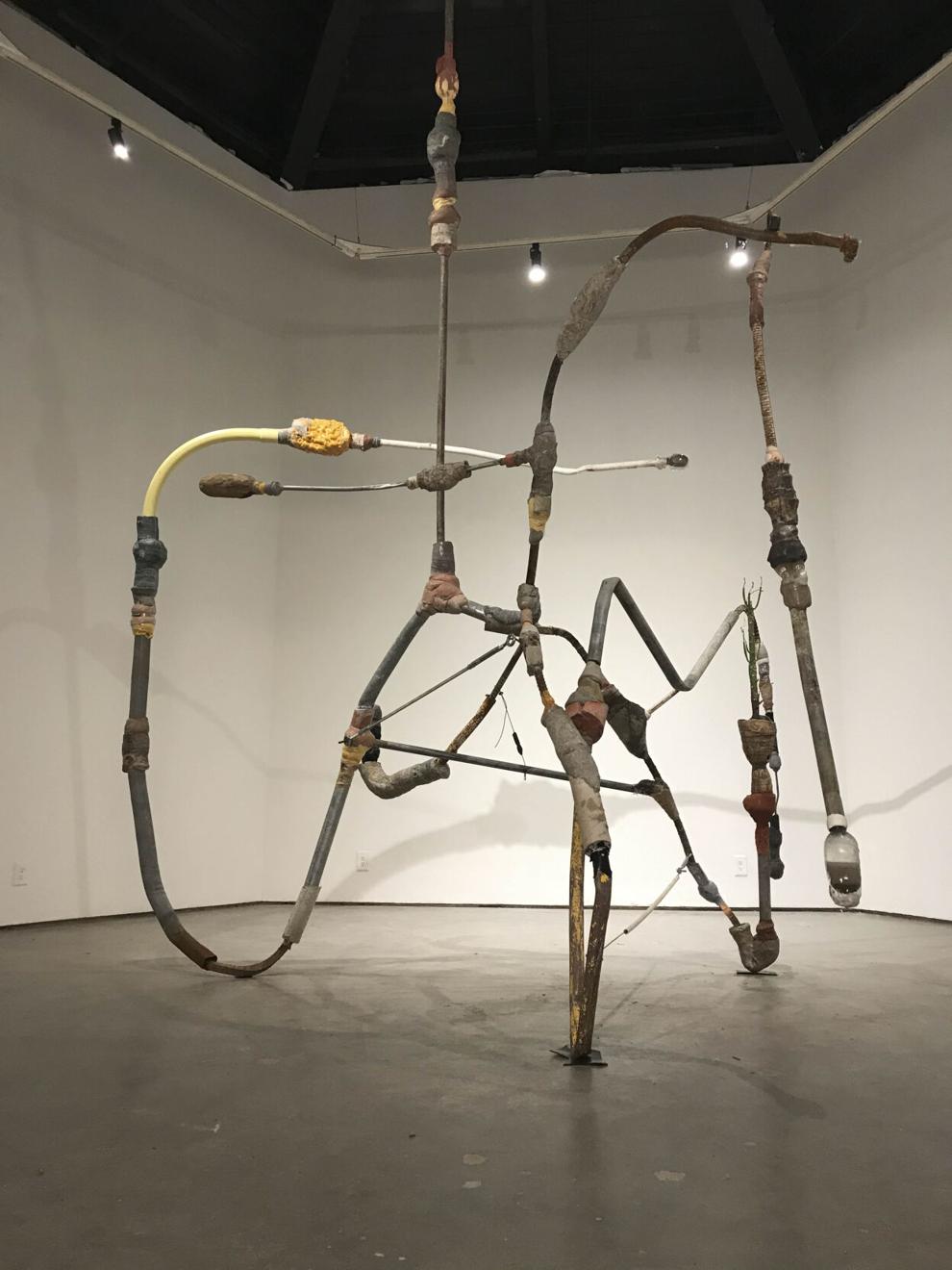 "I want people to notice this stressful and unhealthy condition," Armitstead said. "My goal is to elicit a human empathetic response and understanding … of material."
More broadly, Armitstead's work seems to address the flaws of traditional perception of architecture and material use.
"Materials are often seen only in formal contexts, in beautiful architecture, in new roads, but we hide the demolitions, the destruction of old buildings," Armitstead said. "If I can illustrate a more gross viewing of these things, I would hope that people would be able to see more of the pain we inflict with the use of these materials."
In the future, Armitstead said he is interested in displaying his sculptures to wider audiences in more public contexts by collaborating with architects and construction companies.
Similarly, Todd McKinney's three pieces are quite physical, each constructed from four four-by-four panels. His work explores interwoven themes ranging from philosophy to physics. 
"I'm interested in a lot of big ideas that everyone can relate to," McKinney said. 
McKinney discussed his inspirations, which range from Plato to string theory. In his works, he meets traditional views of reality and culture with a critical eye. 
In "Heavy Mental," McKinney explores the staggering scale of the cosmos and our perception of reality and faith. The piece integrates bits of copper, sand, and glitter to add depth on a backdrop of swirling celestial bodies.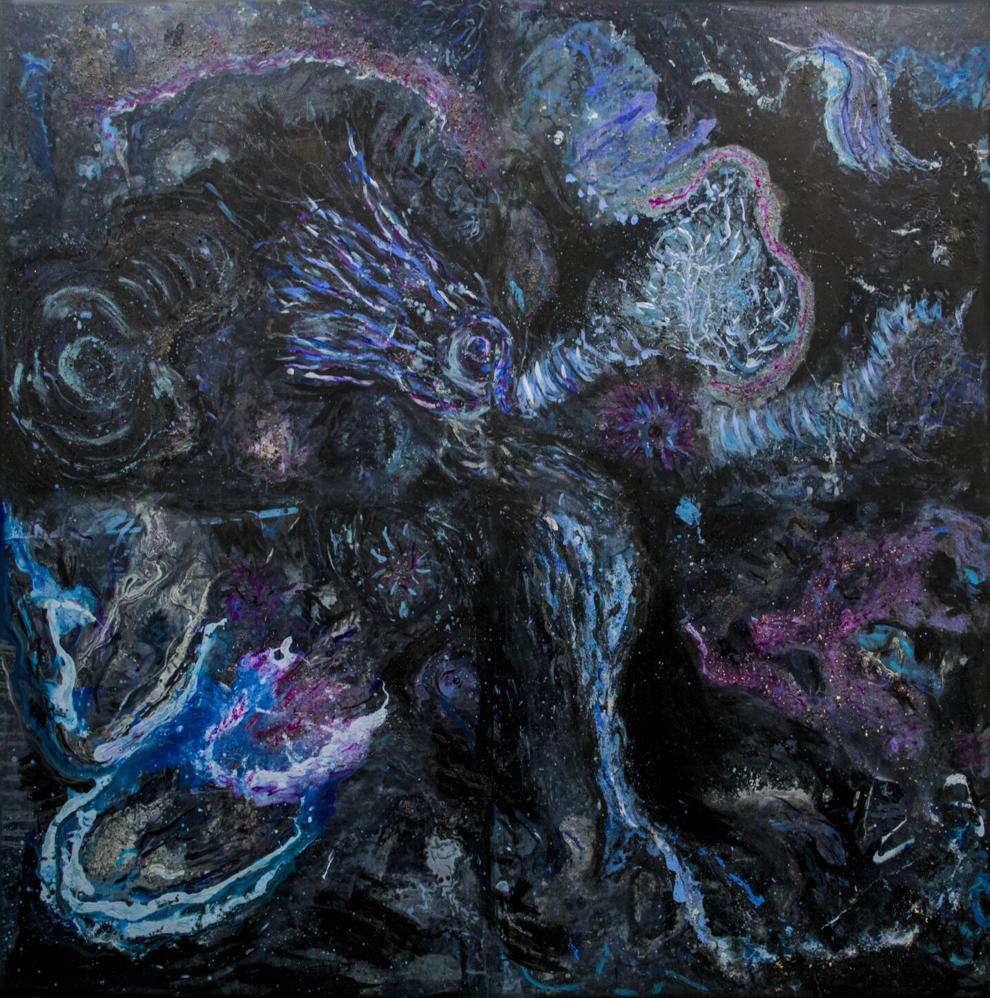 "I played with the idea of nature helping me create the painting," McKinney said. "I'll take alcohol and mix it with the paint, making the two materials react and push randomly. It's as if the laws of nature, the universe, are painting the work."
Sustainability is a key facet of McKinney's work, which integrates upcycled material. He said he hopes that his art can encourage more mindful consumption choices from consumers. 
Some depth is lost in flat photos of McKinney's work, which weave in mixed media elements and optical illusions. He said his pieces are best viewed in person, as viewer interaction at different distances is a key aspect. Losing the chance to present his work in person this year was a big blow.
"You cannot get the same feeling from an online piece," McKinney said. "It's a shame that we can't have a physical show, but we're all in this together. We're all making sacrifices." 
Some students, like Samer Fouad, had to completely change the direction of their work. His thesis was originally designed as a solely physical process, but social distancing orders disrupted these plans.
"My thesis very much started as an anti-digital, anti-social media thing, where I made work that could only be experienced in person," Fouad said. "Now that I can only get my audience through digital means, my thesis completely switched."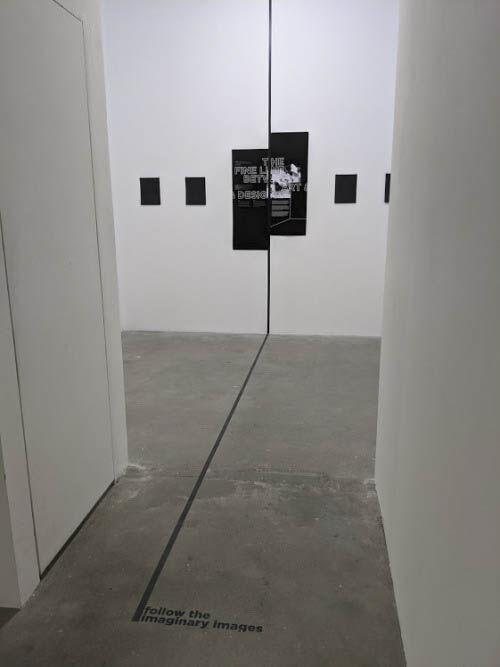 Fouad began focusing on the doorway as the frame for the gallery. He recruited people all over the world to do projection mapping of neighboring buildings to essentially create a new gallery. His revamped thesis is entitled "A creative inquiry: how context affects design." 
"Why do we change our mindsets in gallery spaces?" Fouad said. "I'm questioning how people see space, and how design can change this space."
Fouad emphasized that his pieces are made for the casual viewer, for whom he hopes his work invokes feelings of joy, happiness, and nostalgia. 
"I feel really blessed that during this crazy time that I'm able to create something beautiful and hopefully make other people happy," Fouad said. "I just want to inspire people."
The virtual showcase will be available through the Henry Art Gallery website in June, with dates yet to be announced. 
Reach contributing writer Annie Denton at arts@dailyuw.com. Twitter: @anniesdenton
Like what you're reading? Support high-quality student journalism by donating here.