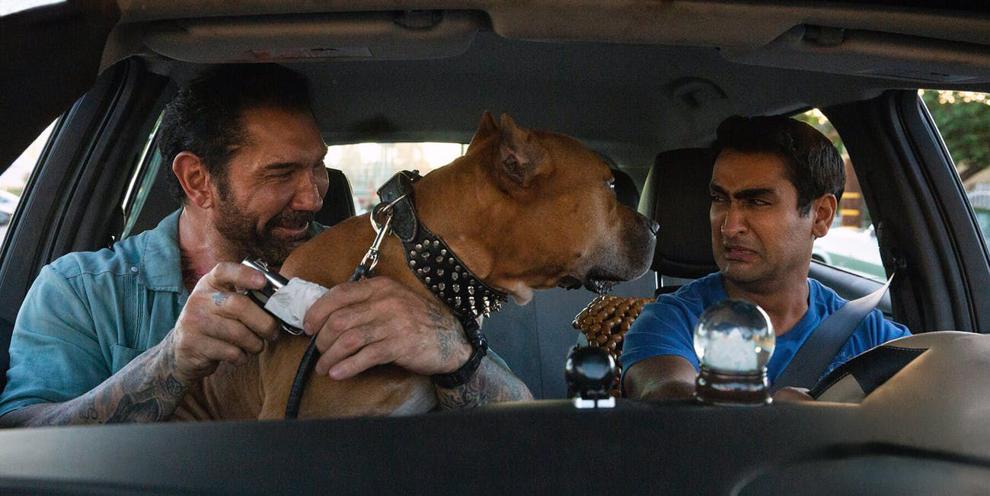 Much like an electric unicycle, "Stuber" is stupid, disgustingly millennial, and hilarious to see. Unlike an electric unicycle, it's worth paying for.
A timid Uber driver named Stu (Kumail Nanjiani), who works day shifts at a sporting-goods store with a verbally abusive manager (Jimmy Tatro), inadvertently picks up Detective Vic (Dave Bautista), a cop in the middle of a dangerous case. Stu soon finds himself inescapably deep in the action, forcing him to break his mild-mannered demeanor or otherwise die.
I admittedly looked at the Rotten Tomatoes meter before seeing this one and it was not encouraging, so my expectations were low when I walked into the theater. Nevertheless, this movie proved me wrong on all fronts.
Nanjiani's humor is at its highest caliber. As Stu, he is a faint-hearted, realistic Nissan LEAF driver who has resigned his life to mediocrity. When Vic's gun-wielding, roundhouse-kicking testosterone parade bursts into his car, it knocks Stu's calculated life path far off course. The two incompatible ride-share buddies become locked into a long, anxiety-ridden Uber Pool, with a route even less predictable than normal. 
An initial point of disagreement is Stu's car, a small, all electric vehicle, which Vic finds weak and embarrassing. However, the car's quiet engine is eventually crucial for their mission: "silent but deadly, like a fart," Stu says in its defense. 
"Stuber" is rife with playful jabs at the masculine image, something that many action movies tend to rely on. Possibly the biggest critic of this image is the big man himself. As an ex-WWE champion and bodybuilder, Bautista's career has largely been a series of chest bumping muscle-offs. Yet, he has no problem with some good-humored self-deprecation.
For instance, due to lasik eye surgery at the beginning, he spends most of the movie essentially blind. Because of this, he relies heavily on Stu to guide him through some life-or-death situations. Although he would get nowhere without Stu, Vic refuses to admit that he relies on another person for help. He continually attempts such activities as driving, fist-fights, and shooting guns while blind despite limited success.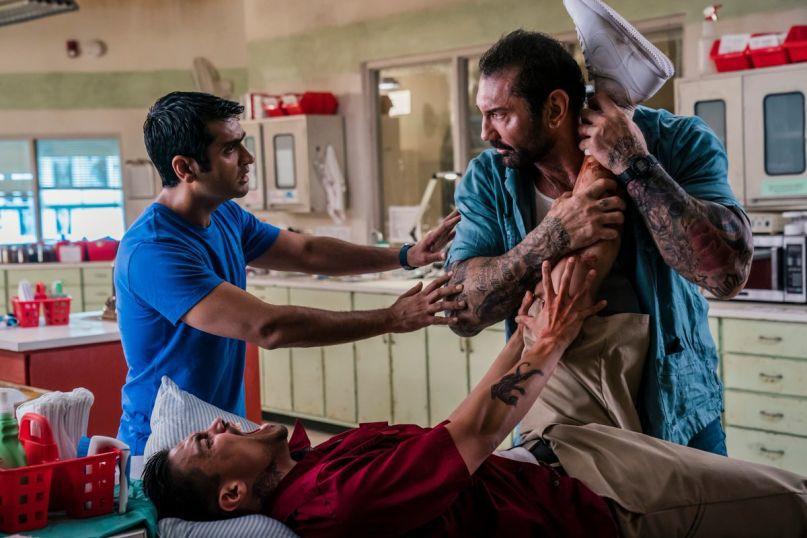 At another point, Vic tries to extract information from a villain using brute force but can't get what he wants. That's when Stu steps in. He takes the villain's phone, opens Twitter, and starts tweeting about how much he loves Ryan Gosling. At this, the bad guy can't handle his masculinity being slandered and spills the beans.
With the back and forth between the two, the movie hits on this issue playfully and truthfully without letting it turn the comedy into a pedantic rant. At the end of the day, this film made me laugh a lot. "Stuber" is an easy-watching experience that will put you in a great mood. 
Reach contributing writer Frankie Stoner at development@dailyuw.com. Twitter: @franki_stonr
Like what you're reading? Support high-quality student journalism by donating here.