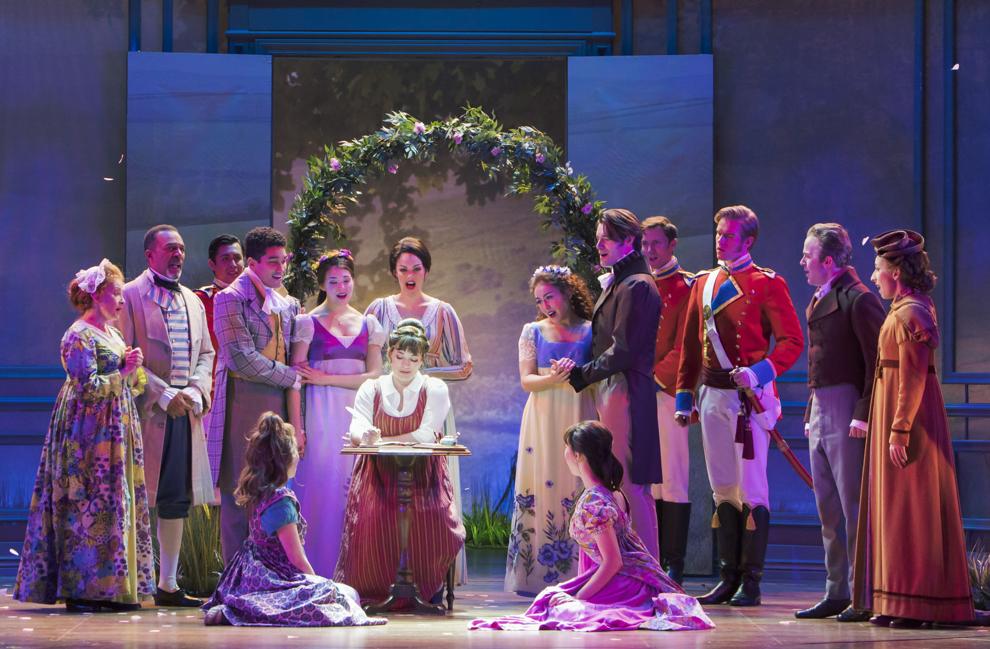 It's always a little risky to tinker with something as iconic as Jane Austen. Besides raising expectations for romance to unrealistic heights since 1811, her novels contributed to the social evolution of obtaining self-enlightenment in marriage without sacrificing female individuality. Yet The 5th Avenue Theatre has taken on the daunting task of transforming "Pride and Prejudice," Austen's beloved magnum opus, into a musical that intertwines the love of Elizabeth and Mr. Darcy with Austen's personal conquest of her bitter attitudes regarding romance.
The end result was a boisterous opening night of laughter, cheering, and summertime music that hung from the lips of patrons as they streamed out of the hall.
"Austen's Pride," written by Lindsay Warren Baker and Amanda Jacobs, is most definitely not the first to take Lizzie and Darcy to the musical stage; their story has been adapted several times through song and infinitely more through movies, plays, and fanfiction. However, it is the first, to my knowledge, to successfully fuse Jane Austen herself into the plot. 
Rather than focusing solely on the feisty, witty Elizabeth, the show is told from the perspective of the struggling writer, who was betrayed by love 16 years earlier and has since lost her idealism. The opening scene depicts Tom Lefroy (Steven Good) abandoning a pleading Austen (Laura Michelle Kelly) for her lack of dowry, shunning her with a declaration that "love is not enough." We see this heartbreak drive Austen through her middle-age years as she sits with her sister Cassandra (Cayman Ilika), debating whether or not to finish "First Impressions," Austen's original title for "Pride and Prejudice."
The rest of the show plays out the familiar story of the Bennets, Bingleys, and Darcys, with Austen interjecting as she revises word choice and characterization. 
Having characters share the same stage as their author was a trope I had never witnessed. You could see her falling in love with them despite her resolution against happy endings as her characters grew from her imagination into a life of their own. It was remarkable and seamlessly excellent.
The banter between Austen and her characters was one of the unparalleled highlights of the show. The ways in which characters react to her choices of dialogue and setting stole some of the night's best laughs. 
The cast was simply phenomenal. Not a single character felt lackluster or dry, and each appearance was increasingly more captivating. The physical comedy of the obnoxious Mr. Collins (Eric Ankrim), insufferable Mrs. Bennet, and snobby Lady Catherine (Michele Ragusa) was unexpected and perfectly executed. Good's Darcy was ever tall, dark, and broody, and his intoxicating chemistry with Elizabeth (Olivia Hernandez) was riveting. The vocal performances of Hernandez and Kelly, especially in "When I Fall in Love," were devastatingly beautiful. The longing and hope in their voices would stir the hearts of love's fiercest cynics. 
The set and lighting were Broadway caliber. Scenic designer Josh Zangen utilized a simple semi-circle and turntable to capture the liveliness of an entire town, rotating the walls to dictate either interior rooms or exterior roads with effortless grace. Lighting designer Jason Lyons gave the walls the illusion of windows or portraits or doors through lighting patterns alone. 
The show was not without its flaws, however. Treatment of Caroline Bingley's (Sarah Rose Davis) character was a sore spot, with the shrewd Bingley sister being demoted to comic relief. Though she was hilarious, it was a little disappointing to overlook her devious manipulation of Jane Bennet. 
The music itself also fell somewhat short. Adapting a 19th-century novel into modern song can easily cheapen the story, and unfortunately, the music didn't add much depth or meaning. The lyrics were mundane and a bit predictable, even if their execution was faultless, and I found myself looking forward to the next spoken word rather than the next song.
In addition, the show as a whole could have been paced better. Act I was exceptional, but Act II fell a bit flat. After resolving the tension and strife of Elizabeth's refusal of Darcy's proposal, the second act simply rushes to tie up everyone's happy ending. The narration was a bit shallow — just as the audience begins to dissect a meaningful scene or line, the characters force-fed the message.
For all its faults, "Austen's Pride" is still a must-see for Austen fans in the Seattle area. Pulled together in just six weeks, the choreography, acting, vocals, and set design are top-tier and delightful. Even if the music and pacing don't impress, the warm and fuzzy feeling afterward is definitely satisfying.
"Austen's Pride" will be showing through Oct. 27 at The 5th Avenue Theatre. Tickets and production information can be found online.
Reach writer Theresa Li at arts@dailyuw.com. Twitter: @lithere_sa
Like what you're reading? Support high-quality student journalism by donating here.