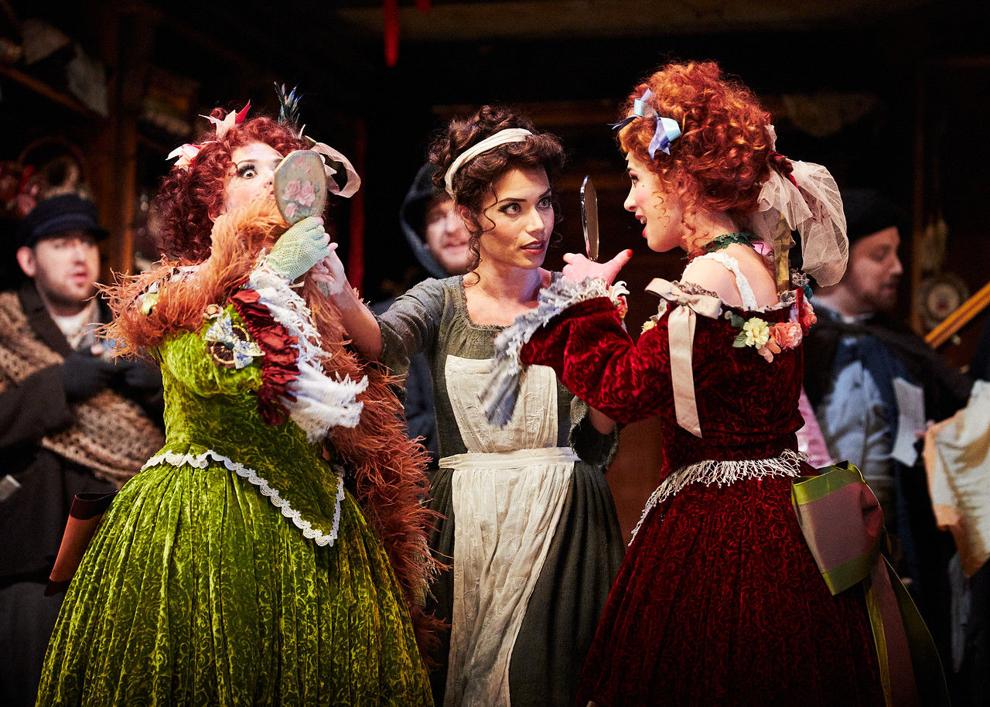 According to the program for Seattle Opera's "Cinderella," Gioachino Rossini and his librettist Jacopo Ferretti, "threw this opera together in a last-minute rush." They selected their fairy tale subject matter Dec. 23, 1816, and opening night in Teatro Valle, Rome, arrived just a month and two days later.
Rossini and Ferretti must have been fearsome indeed to produce this adaptation of Cinderella with such time constraints. I could almost feel their frantic creative frenzy echoing across the centuries as I watched Cinderella, her step-family, the prince, and the royal entourage scamper crazily across the stage against tremendous choruses of voices trilling, chirping, and breezily leaping between clusters of staccato notes. 
To a certain extent, this spirit was conducive to the comedy that the show is billed for. However, on the flip side, their rush does inevitably flash a dark underbelly, highlighting that the pacing of the story is prone to unevenness. 
The show gets off to a slow start and struggles to build momentum as much of the first act's action occurs inside the Burtonesque Emporium where we first meet our Cinderella; it's a cramped and cluttered set that restricts stage movement and distracts from any character not boldly costumed in a near-monochromatic palette. Circular and redundant inter-character communication result in unnecessarily long scenes that, without more dynamism on set, begin to stagnate in the lopsidedly long first act.
Things improve markedly when sets start to move, stage use become more dynamic, and lighting designer Matthew Marshall ramps up the drama with a spray of speckled light across the hall to herald the debut of Cinderella's iconic blue dress (or at least the production's elegant but muted take on it within the confines of her Victorian-era setting). The second act, at less than half the length of the first, is happily concise and streamlined in comparison to its predecessor. 
With two rotating casts for the three lead roles of Cinderella, the Prince, and Dandini, I saw the one that will perform Oct. 19, 25, 27, and Nov 1. Joo Won Kang, a South Korean baritone, sinks his teeth into Dandini, the prince's cheeky yet lovable valet and a role unique to Rossini's telling. Michele Angelini, a New York tenor, makes his Seattle Opera debut as the prince. With stunning depth and a clean, crisp ring to his voice, Angelini is a refreshing vocal presence. American mezzo-soprano Ginger Costa-Jackson stars as the opera's eponymous heroine. 
Ginger Costa-Jackson is technically excellent as she sings Cinderella — particularly in the cadenza of her final aria — but doesn't quite embody the role. The mezzo-soprano received acclaim as Carmen in the San Diego and Seattle Opera's productions of Bizet's magnum opus earlier this year but struggles to translate her success as opera's quintessential femme fatale into Rossini's innocent Cinderella.
Cinderella's two stepsisters are brought vividly to life by mezzo-soprano Maya Gour, hailing from Tel Aviv, Israel, and American coloratura soprano Miriam Costa-Jackson. Gour and Costa-Jackson lean into the comedy of their characters, racing around the stage with simpering pouts, deliciously rich musical harmonies, and a good sense of impish humor. Their presence enlivened an otherwise dull stage. 
And yes, Cinderella and one of her step-sisters are in fact real-life sisters — Ginger and Miriam Costa-Jackson make up two-thirds of a Sicilian-American trio of operatic sisters. The third member of the Costa-Jackson clan, spinto lyric soprano Marina, is set to sing Tatyana in Seattle Opera's January 2020 production of Tchaichovky's "Eugene Onegin."
Key to Rossini's "Cinderella" is the theme of forgiveness. Cinderella, embodying the opera's subtitle of "Goodness Triumphant," chooses to forgive her tormentors and is spiritually freed by doing so. However simplistically captured in this operatic fairytale, and though the production fails to truly hit most of the emotional high and low notes that it needs, it is nonetheless refreshing to see such a virtue embraced on stage. 
Seattle Opera takes a spirited stab at Rossini's comedy but ultimately falls short of impressing. Compared to other productions that have graced the stage at McCaw Hall in recent years such as Francesca Zambello's spectacular interpretation of Verdi's "Aida" or the gloriously whimsical "Magic Flute" by Mozart, "Cinderella" is good-faith fun but distinctly underwhelming.
"Cinderella" runs until Nov. 1. Details and tickets (including $20 student rush tickets) can be found online.
Reach writer Marissa Gaston at arts@dailyuw.com.
Like what you're reading? Support high-quality student journalism by donating here.