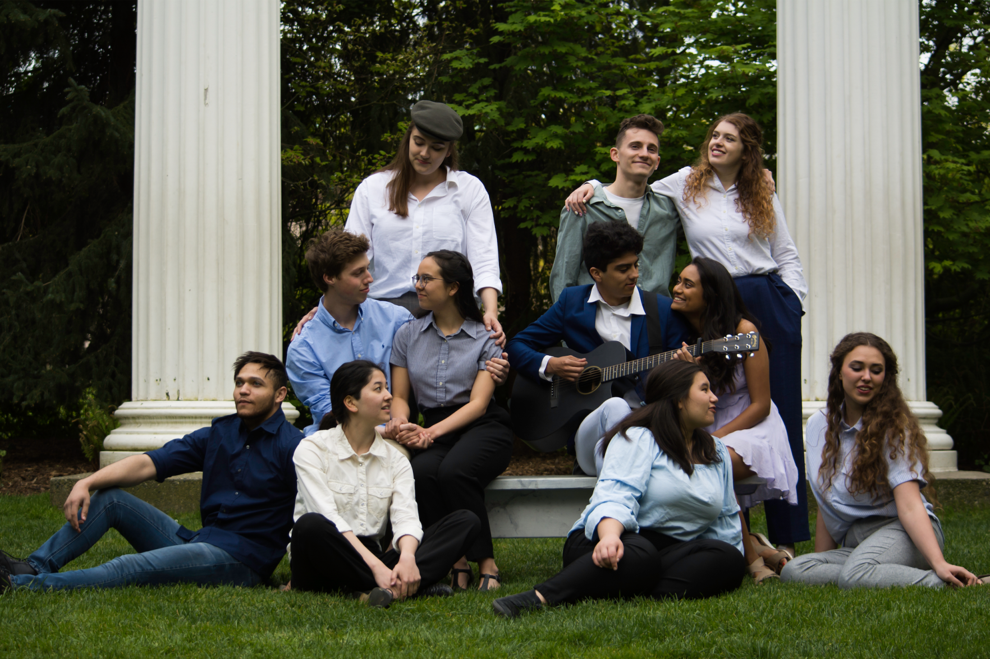 William Shakespeare's "Much Ado About Nothing" is the perfect summer romance, and the Undergraduate Theater Society (UTS) brought the centuries-old story to life from May 24 to June 1 in Sylvan Grove.
"Much Ado About Nothing" is best seen outdoors, and the sheltering trees and evening sun of the grove only make the stage more ethereal. The audience sat on the grass, face to face with the actors, who ran around and through picnic blankets and chairs to make the audience part of the show. As the actors traipsed around the columns and floral set decorations, romantic mishaps and miscommunication resulted in a funny, enjoyable show.
The play tells the tale of two couples who are unknowingly in love and the cast of characters who attempt to bring them together, or in some cases, pull them apart. Think of it as a happy Romeo and Juliet: The cast maintains its humor and levity through Shakespeare's familiar tropes, including a fake death and funeral.
There were several notable performances among the cast. Aditi Sanghavi's Beatrice displayed an impressive amount of self-determination and resistance. Sarah Lenza played the clumsy constable, leading a team of misfit detectives that put a spin on the traditional love story. Sagen Berry's Don Pedro brought additional humor while providing the voice of reason.
Most apparent was how well the cast worked together. The hard work and practice put into the production was clear as the actors transitioned scenes and characters seamlessly, with movements and expressions carefully considered even in moments of spontaneity.
The actors kept to the original Shakespearean lines and rhythm, which was hard to follow at times but preserved the authenticity and traditional quality of the play. Apart from a few rushed and mixed up lines, the delivery of the original script was sufficient.
The dense dialogue was nicely broken up by musical breaks. Creative liberties taken by director Daphne Sage Gomez paid off as outbreaks of song and dance kept the atmosphere light. These showcased the vocal and instrumental abilities of the cast and challenged actors to step out of their comfort zones. Performances were staged in front of the audience to show all the actors' involvement, but also moved in and out of the space to fill the grove with song.
The dim glow of the sunset and fairy lights made the play more intimate and inviting as it drew to a finale, wrapping up a two-hour experience and bringing the audience back to the real world. It will transport you to a carefree land, lost in the romance of Shakespeare and the enjoyment of theater.
UTS ended production for the year June 2, but they are hosting a couple of upcoming events, including a staged reading of "Anxious People" by Carol Lee and Spring Theater Dangerously!, both on June 6.
Reach contributing writer Hope Morris at development@dailyuw.com. Twitter: @hopexmorris
Like what you're reading? Support high-quality student journalism by donating here.