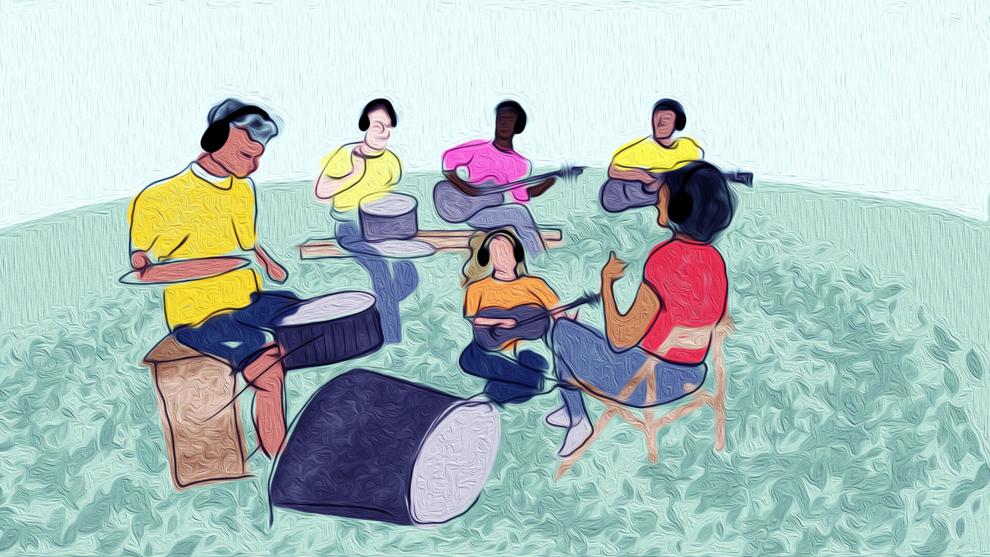 Throughout the pandemic, the UW Songwriters Circle offered workshops on recording production and musicianship, in addition to playing music and songwriting. They also took on a club project: their album "Escapisms," written and produced completely by club members online, along with club alum Theresa Ambat, who was responsible for mixing and mastering all 15 songs. The project was funded by a pre-recorded live stream of local acts that took place in January.
"Our club is basically a community of songwriters and musicians alike," club officer Muskaan Swaroop said. "It's a place where you can find some companionship with other people who are also musicians, whether you're starting out, you're in the process, or you're a seasoned musician."
The theme of the album — encapsulated in its name — was only a starting point for the artists involved. 
"We just said here's the word 'escapisms,'" club officer Lauren Fernandez said. "Whatever you interpret from it, go with it. That way, we were hoping to see the different directions our club members would take. So you would get themes of maybe escaping the reality of the world, or escaping in terms of post-heartbreak, or feelings and emotions."
The broad nature of the theme allowed each of the club members to implement their understood meanings, resulting in an album that is relevant to many student experiences during the pandemic, from being awake at 2 a.m. in the morning, as in Tae Ro's "Outlandish Dream," dealing with fears like in Liv Victorino's "Ghost Hunter," to Pim Tanisputh's "Smile - Mix," which offers uplifting words for tough times. 
"I think that's a theme that resonates with just about every human on the planet," Swaroop said. "If you listen to music, it's usually to escape from reality or to make reality a little better. But in this case, we're all stuck in online school in our homes, so we were like, 'How can we best express ourselves and how can we tie it back to this club?'"
Club officer Rosario Araceli Tarabi began developing her song "Where Roses Grow" around September and mid-October. 
"There was a lot of stuff happening in the world and our nation that was just really frustrating for me to watch and to not be able to do anything or much about it," Tarabi said. "A lot of my songs end up sounding really resentful and have some negative feeling connected to it. But I think at the time that I wrote it, I just really needed something that was positive and that was hopeful of a future that was not what I was currently looking at, and specifically for how things were going in the United States. It ended up becoming a bit of an anthem for me."
Fernandez's song "Pixel World" took the term escapism in a different direction. 
"It stemmed from this frustration of being told, 'Well you are a girl, you can't go out on your own,'" Fernandez said. "I feel like as a girl you have to be more careful about where you go, and you can't just go anywhere without worrying about it. So the idea behind 'Pixel World' is imagining what it could be like to go out without fear. Because at that time, instead of being able to go out, I would just revert back to screens, like social media, YouTube games, whatever. It's this idea of 'What if I could escape this alternate reality I have to live in to be safe and just go out and have my own adventures instead of a simulated one?'" 
On the other hand, Swaroop's "Dreamscape" details an experience of being overwhelmed.
"It's basically about feeling like you're trapped in an imaginary world you create for yourself, or an imaginary version of yourself that you wish you could be, or a life you wish you could live," Swaroop said. "But you can't quite make it a reality because you're not taking that risk or you're not getting out of a toxic situation. It's about feeling stuck in a dreamscape, for lack of a better phrase. And it's a call to action to pursue what you want to do, pursuing a better version of yourself and not being afraid to do it."
The Songwriters Circle has become a place of connection for student musicians and a source of support.
"Being a part of this club has made me realize how many people in close proximity to us are also trying to establish a platform for themselves as musicians, and being able to encourage each other is the best thing that we can do," Swaroop said.
Going forward, the club hopes to continue sharing music with audiences.
"We're just going to flip the coin," Victorino said. "This side of the coin is all the stuff you do at home, like production and recording. Next year, we want to do everything else, like performing. We want to set up a bunch of open mics and find venues to reach out to so our members have an outlet to perform."
More information on the album can be found on the Songwriter's Circle Instagram. To directly support the club, you can purchase "Escapisms" through Bandcamp. 
Reach writer Huma Ali at arts@dailyuw.com. Twitter: @humabali 
Like what you're reading? Support high-quality student journalism by donating here.