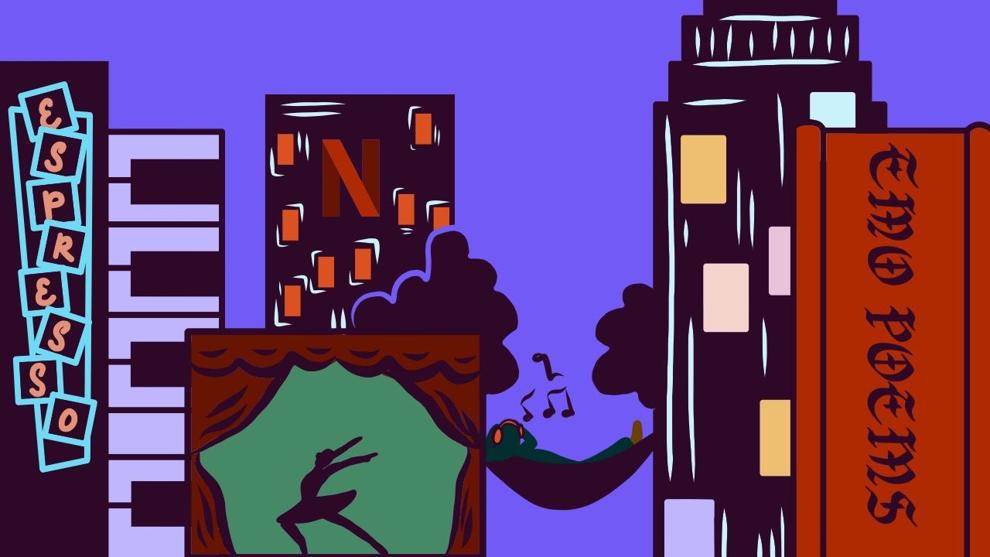 What we're watching
Joshua Lee, writer (@theleejosh)
In lieu of contemporary shows or films, I'm going to go all the way back to the ancient year of 2003 for this one, to my ancestral land of South Korea. 
Last year, before movie theaters were abolished, Bong Joon-ho's film "Parasite" erupted onto the international scene, winning hearts and Oscars alike. For those that enjoyed "Parasite" but have not delved further into Korean cinema, Bong's second directorial work, 2003's "Memories of Murder," is a worthy watch.
In it, we follow two detectives (with opposing ethics and personalities) on their relentless hunt for South Korea's first serial killer. Bong's essence from "Parasite" flowers in "Memories of Murder": the dry comedy, the nail-biting suspense, and the degradation of the soul. 
For a similarly unrelenting thriller, director Park Chan-wook's "Oldboy," also released in 2003, will definitely do the trick. "Oldboy" follows the evolution of a man named Oh Dae-su, played by the legendary Choi Min-sik. After being wrongfully imprisoned for years, he dedicates his life to hunting his captors. While this film begins with a run-of-the-mill revenge plot, revelation upon revelation transforms "Oldboy" into something unusual, masochistic, and above all else, extraordinary. 
These films aren't for everybody; they are violent and uncomfortable, and they aren't exceptionally easy to get ahold of nowadays. However, don't let the latter stop you from missing out on some of the most brilliant, mind-boggling films ever made.
What we're listening to
Jake Goldstein-Street, News Editor (@GoldsteinStreet)
Alright, so we're here to talk about Lana Del Rey's new record "Folklore." Excuse me — I'm hearing it was actually Taylor Swift.
I can't help but think of Del Rey's "Norman Fucking Rockwell!" when listening to Swift's new album, a delightful if not profound detour into the world of stripped down, lo-fi music. Maybe it's the fact that both have the heavy imprints of producer Jack Antonoff, but you can even hear the ethereal notes of Lana Del Rey in a song like "Cardigan" that feels straight off of her last album.
I've been told (including by the person editing this article) that not thinking about this as a "Taylor Swift album" is important. But it's hard to separate the music from the artist, especially when it's trying to be so personal.
Much has been made of Swift's shift from out-and-out pop to this surprising new sound, and while it's fairly derivative of songwriters operating in the genre like Phoebe Bridgers and Snail Mail, it does serve to prove the mega star's versatility. 
It's interesting to view this less as a departure from her usual heavily produced tracks and more as an extension of her musical populism. Swift has been making songs for more than a decade aimed at appealing to the most people — records that anyone could flip on and sing along to. She's still trying to appeal to the most people, but instead of through her sound, she's doing it through relatable, even if fictional, lyricism. Hell, I mean, at one point she sings that she wasted her potential. 
Fact check: Not true, and this album lives up to the potential. It's a wonderful listen for a homely summer spent staring out the window wishing life was normal again.
What we're reading
Diana Davidson, writer (@dianavdavidson)
As The Daily's resident linguistics nerd, I like to keep up with what linguists all over the world are talking about, what sparks their curiosity. Although I bring up "Wordslut: A Feminist Guide to Taking Back the English Language" by Amanda Montell in conversation quite a lot, I've lately been reading "Because Internet" by Gretchen McCulloch, a Canadian linguist who writes, tweets, and talks about internet linguistics.
I was inspired to read McCulloch's book after watching a talk she gave on emoji as digital gestures. McCulloch's writing style in "Because Internet" is similar to how she speaks, and it works in her favor in the book. (She uses parentheticals just as much as I do in text messages, which is a lot.) Her approachable and enthusiastic character shines through in her writing and introduces linguistics in an entertaining way. 
She starts off with how the internet gave rise to a new form of informal writing, and gives an extensive introduction to sociolinguistics and generations of people who use the internet, setting the stage for internet-specific findings. I found the chapters on emoji and typographical tone of voice — how people use punctuation like ",,,"; the tilde; and repetition of letters for emphasis or excitement ("sameeee"); among other text habits — the most compelling (maybe because I'm a copy editor and a linguist). 
"Because Internet" has a chapter for everyone, whether you are a word and punctuation nerd like myself, love using emoji (yes, the plural is also emoji), are a meme enthusiast, or are generally curious about language on the internet. Reading McCulloch's book further energized my excitement about linguistics. Perhaps it'll get you thinking about your texting habits, language change, and where tweet trends come from. (Spoiler: Like in spoken English, those tweets you see with the "[insert noun here] be like" come from African American English, and the clapping emoji between every word comes from a beat gesture started by Black women.)
Reach writers Joshua Lee, Diana Davidson, and News Editor Jake Goldstein-Street at arts@dailyuw.com. 
Like what you're reading? Support high-quality student journalism by donating here.