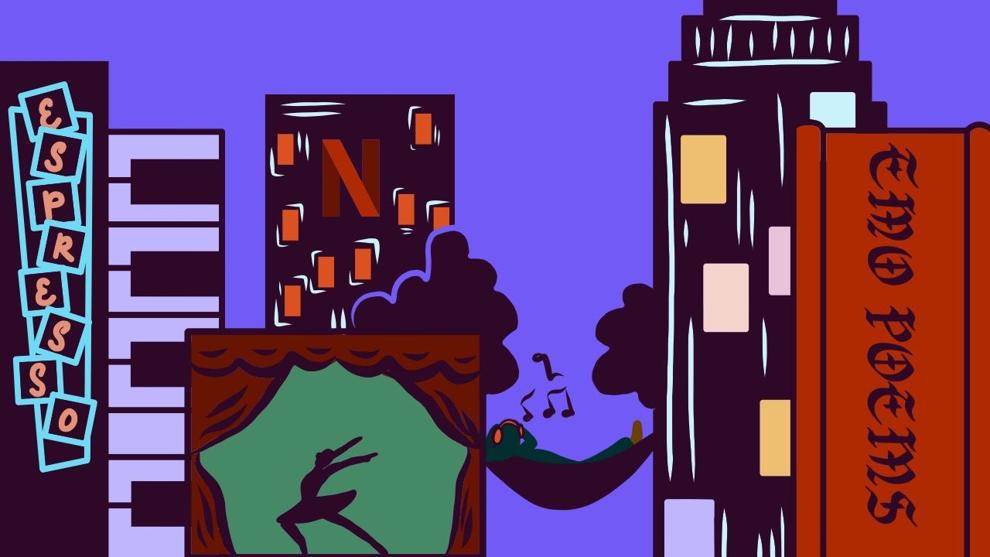 What we're watching
Andy Yamashita, Sports Editor (@ANYamashita)
Sitting around in quarantine has allowed me to knock off a bunch of the movies that I've been telling myself I'd watch, foremost among them, 2019's "The Last Black Man in San Francisco." 
Director Joe Talbot's debut film, which he'd been working on since he was a teenager, plays out as an ode to a rapidly changing city. The film features beautiful cinematography that makes every frame look like art as its main characters traipse around the rolling hills of San Francisco. The duo spends the film trying to reclaim the Victorian house in the Fillmore District that represents the only place they've ever really felt at home. The movie also has a brilliant soundtrack built around a haunting cover of "San Francisco" by Bay Area native Michael Marshall that has been stuck in my head ever since.  
One of the first scenes sets the tone for the entire movie, as the two main characters ride around San Francisco on a skateboard while the voiceover, revealed later to be that of a local conspiracy theorist on his literal soapbox, explains how the black community built the city only to now feel pushed out. That's what the movie is really about — loving a place that doesn't necessarily love you back. 
More than anything, "The Last Black Man in San Francisco" captured the essence of what it can feel like to be from the Bay Area. Like many other UW students, I was born and raised in the Bay. Living there can be frustrating for many reasons, but like one character says, "you don't get to hate it unless you love it." And, well, I don't think you can put it any better than that. 
"The Last Black Man in San Francisco" is available to stream for free on Amazon Prime Video. 
What we're listening to
Dylan McKone, Design Editor (@DylanMckone)
Imagine if Cecil Baldwin from Welcome to Nightvale was an incredulous librarian that worked in Warehouse 13 and spent all day recording people's spooky statements in a deep theatrical voice about eldritch horrors (think Cthulhu style).
That's pretty much The Magnus Archives. It's awesome.
It's a weekly horror podcast that is now into its fifth season, but don't let that stop you from trying out a few episodes. What starts as an anthology of spooky happenings turns into a red-string poster board connecting the dots of a whole supernatural world hidden in plain sight. 
Follow new head archivist Jonathan Sims and his team of archival assistants (badass Sasha James, sassy bi Tim Stoker, and soft, beautiful Martin Blackwood) as they convert the disorganized mess of archival statements to tapes and stumble upon some nasty supernatural plots. Each episode is the recording of a statement, a story of someone's encounter with the supernatural, followed by supplemental research conducted by the archival staff. I particularly love how references are weaved so effortlessly, making each episode entertaining in its own right for the critic and the casual listener.
It's got ambiance, it's got the spooks, it's got great representation, and it's got a lot of material directly out of your childhood nightmares. Get out your sticky notes and yarn — you'll need it.
What we're reading
Mo Tilmo, Photo Editor (@mo_PRBLMS)
Spring is here, and usually I spend this period of time being outside as often as I can. But given the circumstances, I wanted to figure out a way to spend quality time indoors, so what could be better than picking up one of my favorite books? That book happens to be "The Five People You Meet In Heaven" by Mitch Albom. 
The book centers around Eddie, a wounded veteran and a now maintenance man, whose job is to fix and maintain rides at an amusement park and who feels like his life has no meaning. Then, on his 83rd birthday, a sudden tragic accident causes him to die as he tries to save a little girl's life when a rollercoaster malfunctions (this isn't a spoiler). 
Eddie wakes up in a purgatory of sorts in which he meets five people who, in one way or another, have shaped his life. These people help him with all that he needs to resolve and make sense of in his earthly life with hopes of finding some peace.
While the subject matter of the afterlife and what heaven might mean for us is a risky one to tackle, Albom handles the subject with grace. It's a spiritually-driven book without getting into the details of religion. The fictional story tries to illuminate the mysteries of life and reveal clues as to why we're all here on earth. 
The appeal, for me, is that it is a relatively short and refreshing book that makes me feel great, and the conception of heaven, maybe, helps find the reason for living one's own life. 
Reach Sports Editor Andy Yamashita, Design Editor Dylan McKone, and Photo Editor Mo Tilmo at arts@dailyuw.com. 
Like what you're reading? Support high-quality student journalism by donating here.