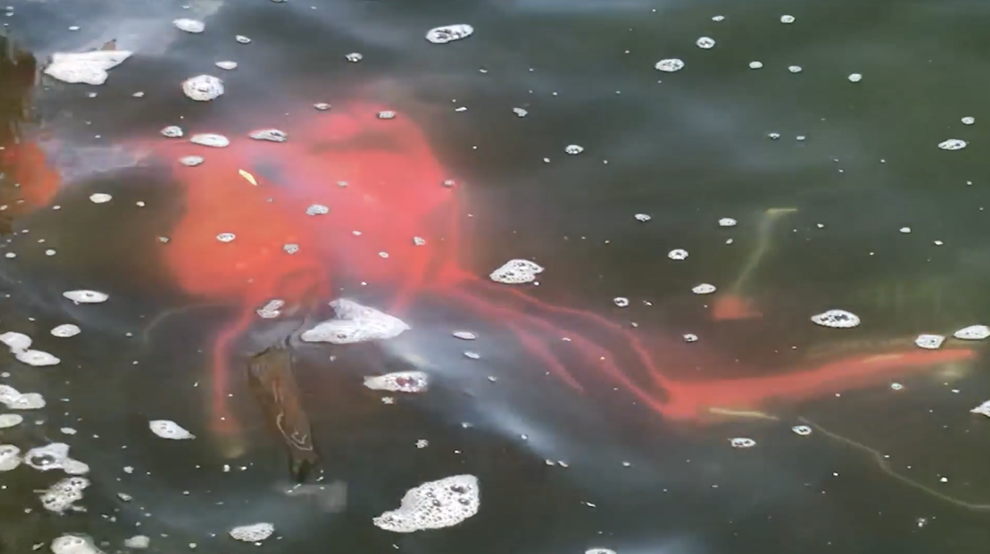 "Lux Aeterna," Latin for "eternal light," was scheduled to take place in August 2020, but due to COVID-19 restrictions, the exhibit was pushed back a year and released as an online research platform. The exhibit includes 16 artists, 10 of which are new commissions, and the extra time allowed for the artists to perform research on their topics. Many of the works explore the physical and virtual worlds created by technology — the exhibit's underlying theme.
"The exhibition transformed from being an exhibition where new work was being commissioned for obsolete media platforms, to an exhibition that traces and troubles the currents of technical migration and image circulation," Emily Zimmerman, director and curator of the Jacob Lawrence Gallery, said. "[We're] thinking much more broadly about our lives with media at a moment where everyone was forced, rather violently, to go online." 
Evan Roth, a Paris-based American artist whose work is featured in "Lux Aeterna," illustrates locations where the fiber optic cable carrying the Internet across the Atlantic Ocean comes out from the water. 
"This journey to find the physical infrastructure of the internet was a way of reminding himself that the internet is a physical thing," Zimmerman said. "It's not simply an untouchable realm." 
After seeing a JUMP bike in Lake Union at Gas Works Park, UW alum and artist Zack Davis became fascinated by how it got there. When Davis first came to Seattle, the brightly-colored bikes were seemingly everywhere. The bikes had become a meme when found in unthinkable or "extremely funny" spots (the side of the highway or submerged in the lake), Davis explained. 
Davis created a video for "Lux Aeterna" — a recording of the JUMP bike beneath the water — obscured by ripples, unrecognizable except for its red color and shape. While not shown in the video, Davis fishes the bike out of the water after months of it sitting beneath the surface. 
"The idea that at some point we trusted a corporation to handle this transportation infrastructure, when now we can't trust any institution to even save us from what just happened to us, is just ludicrous," Davis said, referring to the COVID-19 pandemic. "So you raise this [bike] from the lake and it just throws into perspective how much has changed and how we see things differently now, hopefully." 
Seattle artist Lynne Siefert's 16mm film is an image-based, morse code representation of speeches given to the United Nations by the Heads of State of the Marshall and Solomon Islands regarding the threat of rising sea waters. Artist Dan Paz presented images of their father, who was arrested at a certain point in his life, according to Zimmerman.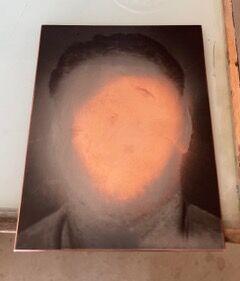 "Dan found their father's mugshot image on a predatory website," Zimmerman said. "That is a really kind of horrific thing that is starting to happen on the internet, where these databases of mug shots are being sold. And basically it's a kind of exploitative economy, where you know you can't have access to this image, unless you pay $17.99 or something like that."
Paz's work in the exhibit takes the photo of their father to create a photogravure, an old printing technology where images are transferred to and etched on plates. 
"Then they also mask out their father's face in the image and kind of return his identity to himself," Zimmerman said.
The pixels of the digital image show a history of its travels, as the photograph becomes physical once again as it is taken off the internet. The effect of this piece, Zimmerman hopes, is to raise awareness of and encourage resistance against the "predatory economies [that] are starting to create class divisions within the circulation of images on the Internet themselves." 
Aurora San Miguel is a UW alum and artist. Her piece in the show is a laser engraved glass drawing, based on three key images from the 1995 film "Johnny Mnemonic." 
"When I first watched the film, I was really struck by the aesthetics of the piece," San Miguel said. "It's from the '90s, when the time of cyber aesthetics and early internet culture were becoming very popular."
After seeing the film for the first time in 2018, San Miguel began to consider what it represented in the current day.
"I thought about how the aesthetics of the film have been recuperated or regurgitated back into the cultural cycle, but in ways that are kind of antithetical to the early cyberculture movement," San Miguel said. "So, whereas before, people online were really proponents of a kind of open access, and these kinds of aesthetics that were very much experimental, and since then I believe have become reappropriated into different aspects of corporate culture." 
This corporate theme is evident in San Miguel's piece.
"I wanted the piece to look and feel like a kind of corporate logo or sign, which in the film, there's a lot of references to a future dystopia and where logos and corporations are really the people who have control or power," San Miguel said.
Afroditi Psarra is an artist and UW assistant professor of digital arts and experimental media, who partnered with fellow artist and textile designer, Audrey Briot, to create a piece titled "Listening Space," which involves citizen science, satellite data, and tapestry.
"It's comprised in the exhibition by a knitted fabric tapestry, which depicts a picture of a NOAA [National Oceanic and Atmospheric Administration] weather satellite that has been taken from space," Psarra said, adding that the piece is accompanied by a video installation of herself and Audrey detecting the satellite data themselves and decoding it into the visual image seen on the fabric.
Inspired by her long-time interest in "sensing the invisible and this idea of electromagnetic fields," Psarra collaborated with Briot to research how to detect the low-resolution black and white images taken by the NOAA satellite.
"One thing that really interests both me and Audrey through this type of project is the idea of citizen science, how anyone can engage with science through art," Psarra said. "Through these very DIY technologies and approaches to science, how can we understand things that we would normally think are way beyond our reach?"
The two ended up creating a coat-hanger antenna to detect the satellites, eventually picking up a signal.
"I think what is constant in the entirety of the exhibition is the desire to resist capitalism's enforcement of certain forms of forced obsolescence," Zimmerman said. "Capitalism has directed us towards more and more narrow choices in media."
This point was further realized through a small display of obsolete media devices at the Northwest Film Forum, a partner of the "Lux Aeterna" exhibition.
"I think the second inspiration for the exhibition is a kind of lifelong fascination with the feedback loops between media and perception, so our aesthetics, tastes," Zimmerman said. "Humans develop devices out of a kind of worldview, but then the devices that we develop impact our values and our aesthetics." 
Like with the release of the MP3, Zimmerman described, the more compressed audio format became preferred despite its quality change from previous listening devices.
"If the platforms by which we intake media then change our aesthetic taste, I find that worrisome for our future if corporations are in control of how those devices get built and how those values emerged from them," Zimmerman said.
In selecting the artists, Zimmerman pulled from local, national, and international conversations in search of intersections between the artists' interests. The artists in the exhibit include alumni of the UW School of Art + Art History + Design, UW faculty, and various Pacific Northwest artists.
"There's an awareness of how our present, and potentially our future, is being conditioned through the movements of media and the lack of diversity of platforms," Zimmerman said.
Lux Aeterna can be seen in-person at the Jacob Lawrence Gallery from July 29 to Aug. 28, and explored through the online research platform.
Reach writer Huma Ali at arts@dailyuw.com. Twitter: @humabali 
Like what you're reading? Support high-quality student journalism by donating here.