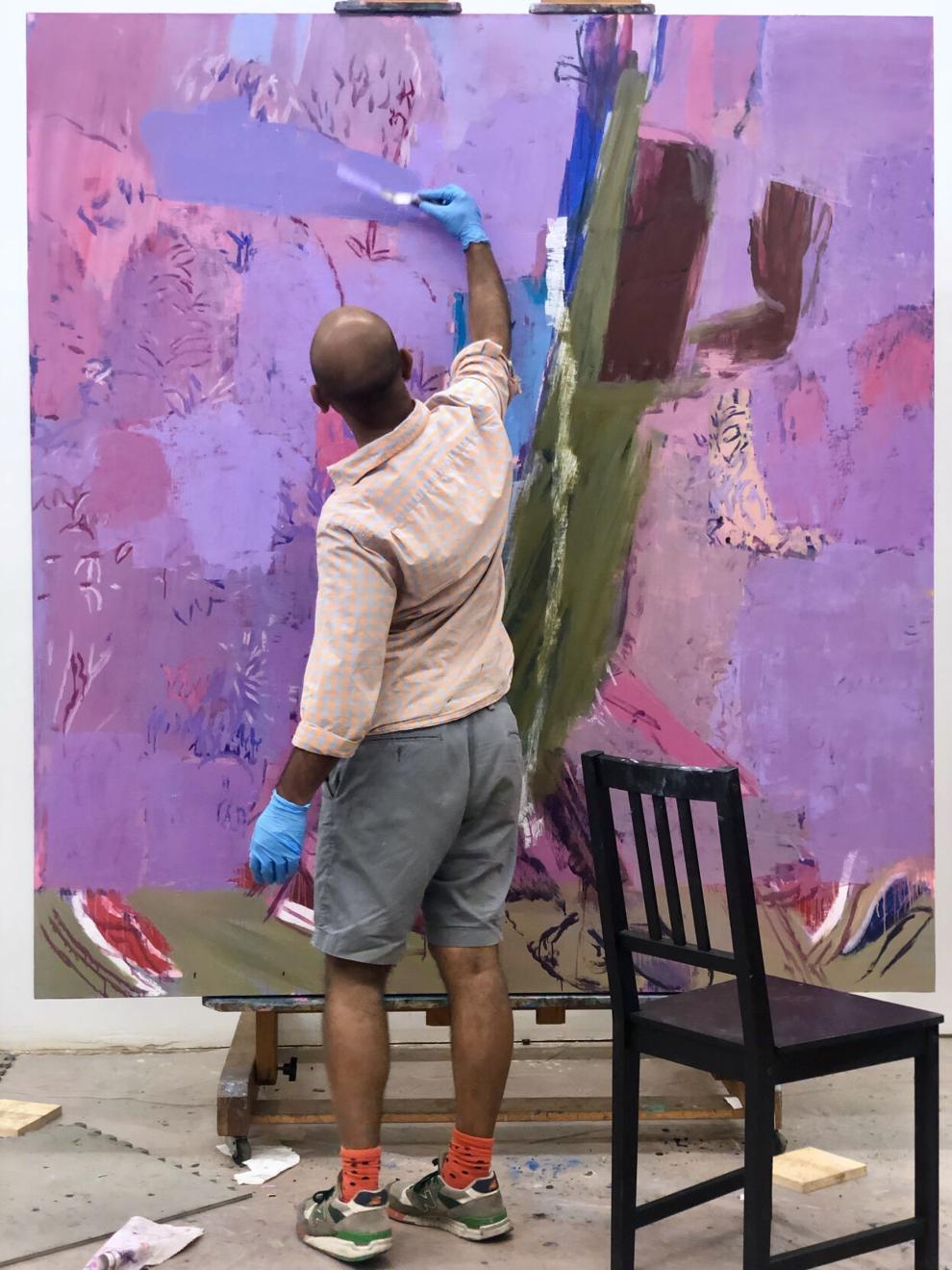 Sangram Majumdar is getting ready to move. Since 2003, Majumdar has lived and worked in Baltimore as a professor of painting at the Maryland Institute College of Art. This summer, he'll relocate to Seattle, due to start in the fall as an assistant professor of art with the painting and drawing department of the UW School of Art + Art History + Design.
Majumdar is a painter with a Master of Fine Arts from Indiana University and Bachelor of Fine Arts from the Rhode Island School of Design. As an undergraduate, he studied illustration for its "commercial plausibility," but couldn't see the discipline amounting to a career. In graduate school, he changed course and began to consider the viability of painting. At the time, Majumdar was creating works that incorporated the body and explored transitory spaces, such as subway cars and escalators.
"I've always liked the idea that a painting is a place you can enter, but not necessarily one that tells a story," Majumdar said. "I am drawn to open-ended narratives. So, fairly early on, staging or creating a space that is open to translation interested me."
Majumdar has been showing his work in solo and group exhibitions across the United States and abroad since 2001. He is a recipient of various grants and honors, and has been a visiting artist in residency programs such as the Vermont Studio Center, a year-round program offering studio residencies and guest mentorships to artists and writers. For graduating students looking to build a professional portfolio, Majumdar said residencies can serve a variety of purposes, and are especially useful for navigating art venues and other collaborative work spaces.
"Some residences are really designed to give artists and thinkers space to not only create, but interact with other types of creative professionals," Majumdar said. "Whether you're working at a nonprofit, starting your own gallery, creating conversation platforms like podcasts, or doing pop-up shows in a home or studio … I think social engagement is a huge part of being an artist."
Majumdar, who has been teaching throughout the pandemic, spoke to the positives of distance learning. Remote classes, and the now-ubiquitous virtual exhibitions and networking events, have necessitated a familiarity with digital platforms that, according to Majumdar, students would typically develop much later in their college experience. Documenting and presenting artwork online requires students to identify their target audience, as well as determine the most accessible, engaging format for display — which can be as simple as uploading a series of Instagram stories.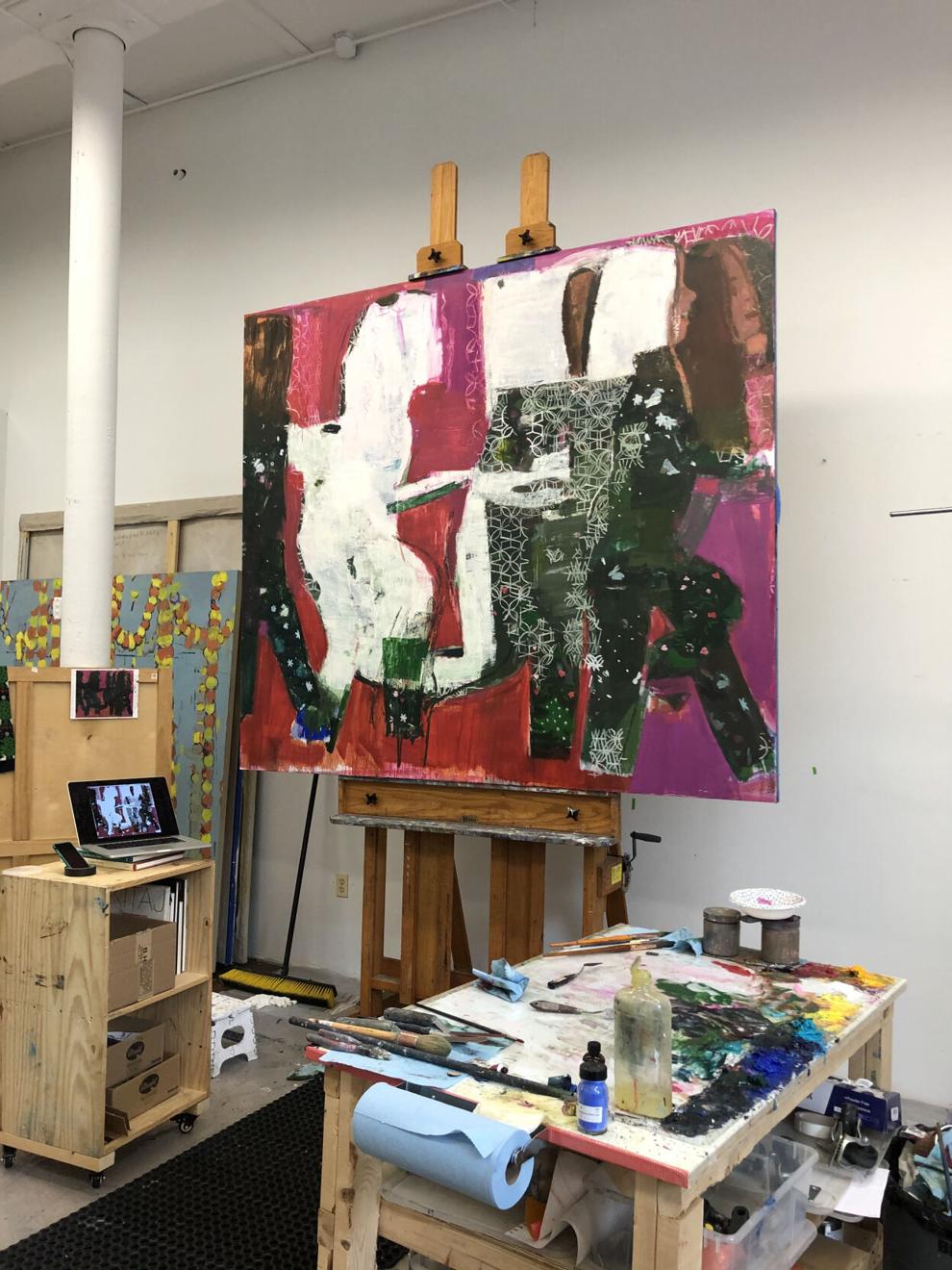 Majumdar supplemented his synchronous class sessions with pre-recorded lectures and demonstrations, and believes these materials enabled students to absorb content at a more "variable" and accessible pace. Regardless of such successful adaptations, Majumdar is looking forward to the experimentation and improvisation unique to shared studio spaces.
"Hearing an offhand comment made to another student, watching someone else struggle, or simply catching up with each other during a class break are just as important as the 'work' that one makes," Majumdar said. "That can't be replicated online. I often say painting is like cooking. It's one thing to watch a cooking video, and totally different to be making food with others, for others. So I'm excited about that feeling of trying things … and how that creates an active and joyous communal learning space in the classroom."
This fall, Majumdar will teach undergraduate-level introductory and intermediate painting and drawing courses, in addition to working with graduate students. As "haptic" teaching mediums face obsoletion and campus buildings are once again used for more than storage, Majumdar is eager to sit down with students and discuss the intricacies and strange emotions that accompany a return to in-person communities.
"I feel like we've been in a box in a certain way during the pandemic," Majumdar said. "Our lives have shrunk in some ways, and this screen has become this escape portal. Now that we can actually move around, I'm curious to see where students want to go. What do they want to see? What do they want to make work about?"
Reach Arts & Leisure Editor Brooke Kaufman at arts@dailyuw.com. Twitter: @bkaufmanLJ
Like what you're reading? Support high-quality student journalism by donating here.