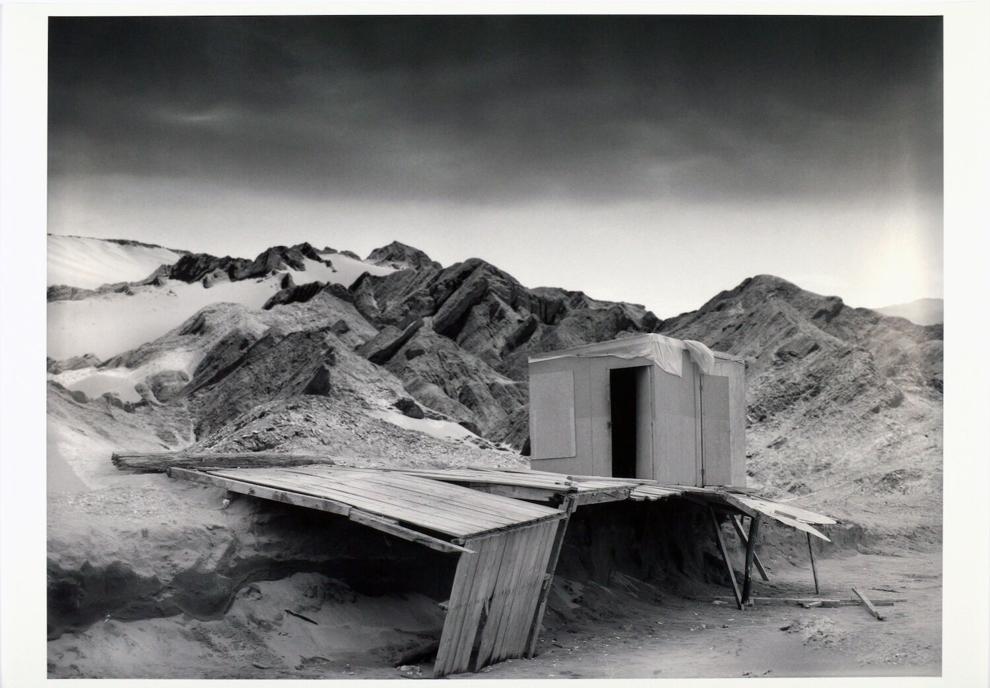 Haunted houses won't be part of Halloween festivities this year, but a collection of artworks featuring empty and deserted spaces didn't scare the public away from attending the Henry Art Gallery's October-themed edition of its Re/frame series, "Abandoned." The well-attended event took place remotely via Zoom on the evening of Oct. 15.
As humans, we find abandoned structures and spaces both mysterious and alluring. The mere suggestion of such a space can evoke feelings of uneasiness, trepidation, or loneliness, and may even inspire the unabashed embrace of our own wildness (as in, reckless abandon).
On an existential level, these structures remind us of the impermanence of everything. As social creatures, we're wired to wonder about the life that might once have inhabited them.
How we decide what is deemed "abandoned" and who defines the terms so decisively was part of the lively discussion facilitated by the Henry's associate curator of collections, Ann Poulson.
From Dimitrios Constantine's circa 1860 photo, "Theater of Bacchus, Athens," which captured a newly unearthed Greek theater that once hummed with the voices of thousands of people, to Irwin Caplan's shadowy watercolor piece titled "Vacancy," which depicted a quirky Gothic house presumably just waiting to be inhabited, each work challenged participants to consider exactly what it is that allows us to see the potential in one space while concluding that another is past its prime.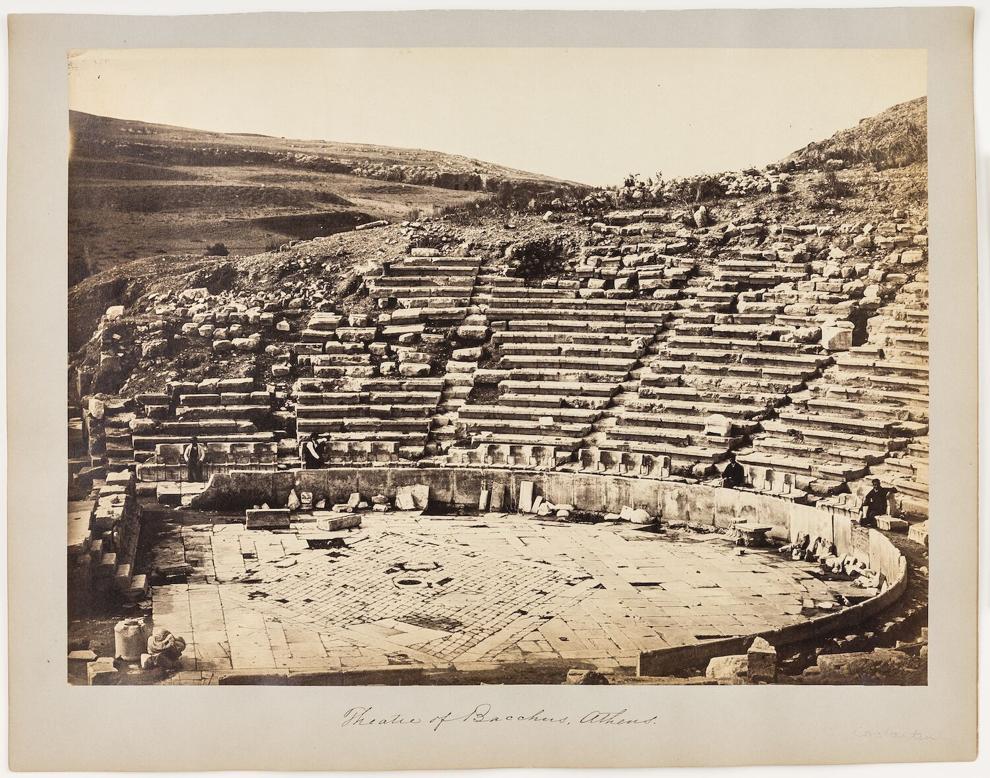 Poulson, who curates and facilitates the Re/frame programs, typically poses more questions about the presented works than statements, inspiring participants to think critically about what is being shown and to share different responses and connections.
In Richard J. Meisinger, Jr.'s photo, "Abandoned Farm and New House Development (Split Landscape)," the titular structures appear as unlikely neighbors, divided by a wooden fence. On one side, unfinished, boxy structures echo the emptiness of the cleared landscape around them; on the other, tall grasses and scrubby trees grow unrestrained around a humble farmhouse. Some participants commented that the new development exuded a greater sense of abandonment than the abode in the trees.
Poulson found plenty of opportunities for clever sequencing in the slideshow-style presentation, sparking further interrogations on the theme.
For example, Poulson presented two black-and-white photos of the interiors of neglected buildings. In Leonard Freed's "Unemployed living in abandoned building," a young Black man lies back on a sofa, his hands resting gently behind his head as he looks directly into the camera. In Dorothy M. Smith's "The Intruder," a tenacious tendril of ivy has found its way through a window pane and into an unused living space and laid itself elegantly across the length of a couch.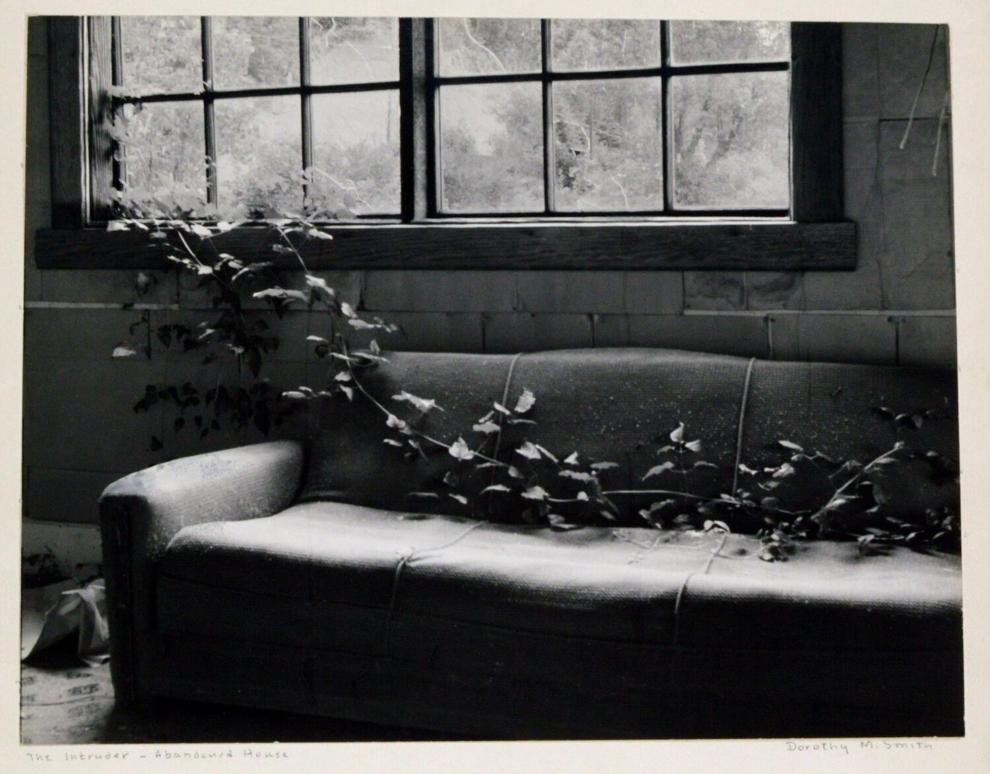 The strikingly similar composition of the photos was made even more powerful by their titles, whose phrasing urged participants to consider the importance of words in perceptions and judgments. Can we still call a place abandoned if someone is living there? Is nature the intrusive force, or are we? How do labels change the way we perceive the right of someone or something to occupy a space?
Poulson, whose father was a lawyer with a love for the English language, said that words were especially significant in her house growing up.
"In a lot of legal situations, words are expected to have a fixed definition," Poulson said. "It's definitely something that I was raised with: the idea that definition and perspective are necessary to establish before you can move on to the next step."
Still, Poulson said, language and perspective weren't the only inspirations for this month's program.
"I think a few of the choices that I've made for themes and works for this year have related, kind of obliquely, to our experience of the pandemic," Poulson said.
While most gathering spaces, including the Henry, remain closed to the public, and many of the city's businesses are covered in plywood and hopeful art, themes of separation and isolation are weighing heavily on the hearts and minds of many, including Poulson.
"We've had to abandon a lot of our lives," Poulson said. "A lot of us have felt very abandoned during this [time]."
With "Abandoned," Poulson created a virtual space in which attendees could collectively acknowledge the different forms of abandonment taking place across the city as a result of the pandemic, while also enjoying a rare moment of connection over art and conversation.
Living alone and seeing a number of once-bustling businesses in her neighborhood sit empty month after month, Poulson said the theme felt personal.
"It's just a very different kind of way that I now think about human presence and abandonment and the emotional side of that," Poulson said.
Join Poulson for the final Re/frame programs of this year: "Still Motion" on Nov. 19 and "All Together Now" on Dec. 17, which will feature images of people gathering.
Reach writer Rachael Sage Payne at arts@dailyuw.com. Twitter: @RogueRachael
Like what you're reading? Support high-quality student journalism by donating here.