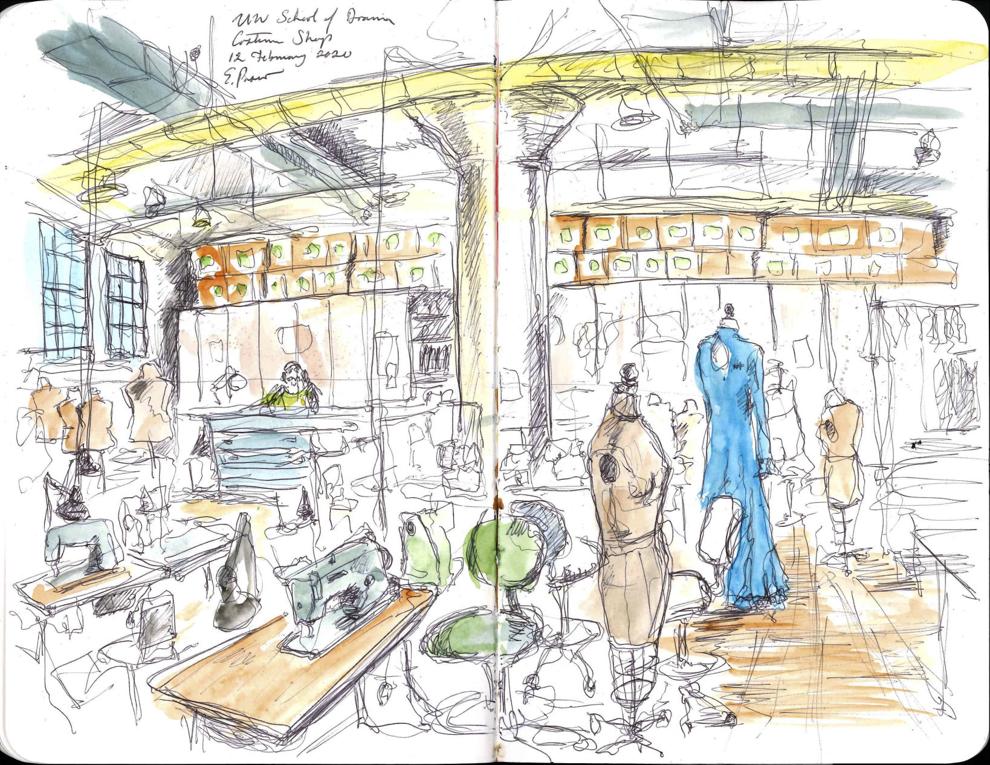 If you've ever been to a UW School of Drama performance, then in all likelihood you have seen actors in costumes built by the costume shop or from the extensive collection of stock in the drama building.
The costume shop is located on the ground floor of Hutchinson Hall. It's a room filled with work tables, cupboards full of fabric and notions, drawers of thread, and a dozen sewing machines and ironing boards. This excludes the eight stockrooms located throughout the building filled to the ceiling with everything from trousers of the 17th century to a whole room of opera dresses and military garb. 
It is a beautiful sort of chaos. Vintage dress forms fill the space unclothed or draped in patterns and works in progress. On any given day, there are at least three to five different projects being worked on at once. 
I spoke with Deborah Skorstad, the interim costume shop manager who has been working at the UW costume shop for 16 years, about the work that is done in this one-of-a-kind space.
There is always some sort of experiment going on, whether it be dying something or trying to figure out the most efficient way to construct a garment specially designed for a show.
"It's a workroom, a working laboratory for theater," Skorstad said. "There's always a new puzzle, you can be proficient at historical menswear, but what if it needs to be waterproof, or a tearaway, or rigged for magic tricks, or built and then distressed?" 
In my time spent in the shop labeling clothes, picking up costumes for a show, or stitching a torn garment, the people in the shop are always willing to lend their expertise when it comes to clothes. 
The shop is a resource for students not just interested in costume design, but also everyday clothes, fashion, and style. In addition, it is a resource for local Seattle theaters who use the stockrooms for their own productions. This allows students to interact with professionals and meet other local designers to make connections. 
An actor rapidly change costumes from one scene to the next is a feat that often goes unappreciated and is a miracle to witness when done well.
"Every time you see a quick change, there are probably four or five people behind the scenes; either a month beforehand or the wardrobe person making it happen backstage," Skorstad said. 
Compared to other design fields like sound, sets, or lighting which have been influenced more by technology and computer programs, costume building has more or less stayed the same. While the invention of polyester and the electric sewing machine have changed some things, many parts of the process have stayed constant. 
 "We still build clothes out of fabric," Skorstad said. "Sheep haven't changed in 500 years." 
Compared to professional theaters, which are most concerned about the deadline for a show and getting a product out, a university costume shop is different.
"We teach grad students the skills of being a good designer," Skorstad said. "There is time built into the schedule to accommodate what they are learning that also allows for research … whereas professional theater doesn't have time for that." 
While not everyone's idea of a laboratory, the costume shop is a place where designs, ideas, and solutions are tested and then brought to life with fabric.
Until the next sketch,
Reach The Campus Sketcher Elijah Pasco at arts@dailyuw.com. Instagram: @the_campus_sketcher
Like what you're reading? Support high-quality student journalism by donating here.