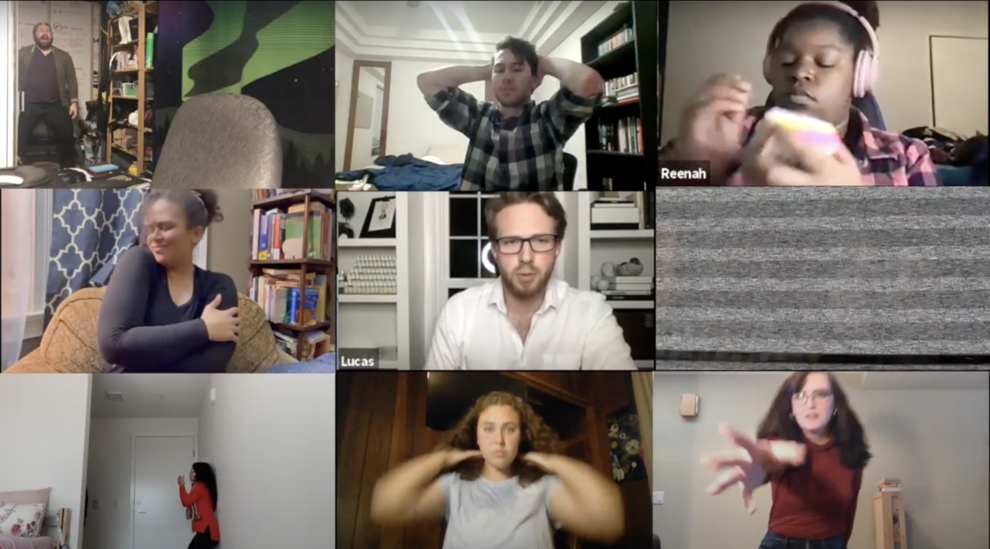 When the pandemic began over a year ago, it meant that each of us, in some regard, would likely miss out on certain opportunities. We've all had to make compromises and concessions, and for Andrew Coopman, a final-year MFA directoral candidate, this meant the loss of both their scheduled mainstage productions at the UW. What would have been a grand theatrical finale to a years-long education was squandered by viruses.
But Andrew Coopman is a director by nature, and this setback didn't run them off course; in fact, it seems to have only made them more creative. Not only has Coopman supplemented one of the canceled shows with something new entirely, they took the chance to get weird with it. Their latest endeavor, "RE: Social/Divide," is a new kind of production that could only come about at a cultural moment like the pandemic.
"There is choreography, there is photography, there is poetry, there is written word, there is short little recordings of screen time," Coopman said. "The way it's artistically put together, all of that kind of circles back to that this is a performance experience piece."
I don't have a name for what "RE: Social/Divide" is, because I've never seen another production quite like it. It is both a film and theater performance, because it's filmed and edited but performed in a single take. Coopman describes the show as "an interdisciplinary performance piece," but, in my opinion, the show demonstrates a creative, low-budget filmmaking that is shot with a firehose of theater kid energy.
Coopman organized, directed, and filmed the entire musical production over Zoom. In fact, much of the story is told through the lens of Zoom discussions between coworkers. Coopman has actors working across multiple states and countries, and the result amounts to the only piece of staged entertainment in the pandemic that I've actually enjoyed.
Set during the summer of last year, "RE: Social/Divide" follows the student staff of the fictional "The Social Magazine" and their rocky transition from print production into the digital sphere. The new normal of social distancing has begun to set in. The audience follows a week in the lives of the writers and podcasters who are struggling to craft their first online edition. Everyone's social skills have deteriorated, and the secondary Zoom world is now their societal crutch. Thematically, "RE: Social/Divide" is a parable on the limits and possibilities of online interaction, crafted under those same constraints.
"This project entirely came about because of social media and the pandemic," Coopman said. "I could reach out to a friend in Chicago and be like, 'Hey, do you want to be on this show with me?'"
Coopman even stars as Lief, a socially stifled journalist tasked with reporting on a community they can't see or visit. They and their fellow staff members exist in their own boxes. Everyone speaks from within their space on the screen, and the amount of Zoom windows makes it hard to see everyone at once. Audience members' eyes may begin to wander, leading to a sense of crowded isolation, which I thought captured the aura of awkward Zoom calls exceptionally well.
"RE: Social/Divide" is most authentic when it hones in on its candid approach. Zoom, Instagram, YouTube, and even a podcasting segment are integrated so well that it feels as though the audience is peering directly into the lives of the characters. At other times, the show shines as a campy theater piece. One-take scenes of arguments over Zoom make some dialogue sound as though the conversations were pulled straight from Twitter. The performance is unique in its ability to draw lines between the bizarre ways we interact online and how actors can project these tendencies when performing.
"I choreographed it, but we all collaborated on making certain gestures and scenes; [even] monologues were written by people and handed off to others," Coopman said. "Everyone in the ensemble wrote it. This was a collaborative process where we all came together to tell the story specifically."
"RE: Social/Divide" is an excellent and timely reminder of what can happen when good storytellers get creative. The performance is well worth your time and carries an important lesson: While the Internet isn't substantial enough to fill every gap in our social lives, it can help us make projects like this, and that's something.
"RE: Social/Divide" is available to stream on Vimeo through April 11.
Reach writer Luke Schaefer at arts@dailyuw.com. Twitter: @lookassschaefer
Like what you're reading? Support high-quality student journalism by donating here.