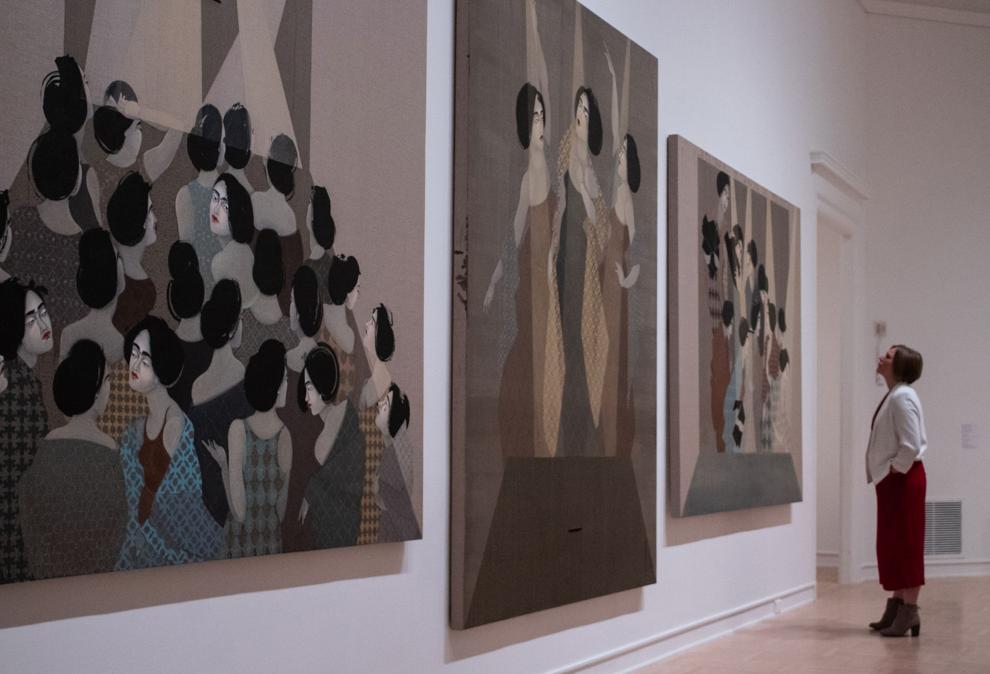 Countering a dominant and singular narrative, the new exhibition "In Plain Sight" at the Henry Art Gallery is now fully open to the public. The entire gallery space is activated by vibrant colors and mixed artistic styles, engaging audiences in a highly multisensory experience.
"All of the artists are speaking the stories for the voices that are being silenced, or have not been heard for a variety of reasons," Shamim M. Momin, the senior curator at the Henry Art Gallery said. 
Featuring the artwork from a diverse group of 14 U.S.- and international-based artists, the exhibition displays various art forms, including paintings, tapestries, photography, videos, and installations.
Walking into the installation "Room to Live" by Sadie Barnette, audiences are immediately drawn into a homey, joyous space with family photos, a holographic couch, and a TV. However, there is an undercurrent of political tension in this celebratory private space decorated with pink glitter and heart-warming imagery. 
Barnette's work unpacks the FBI state-sanctioned surveillance against Rodney Barnette, the artist's father, who founded the chapter of the Black Panther Party in Compton, California. On the wall opposite "Room to Live" is Barnette's "Untitled (Agitator Index)," a two-image piece made of altered FBI documents about Black Panther members. In one, the artist has redacted biographical details like names and birth dates of Black Panther members and in both, she has crossed out stamps in the blank space around the text reading "confidential" in all caps. The piece was created in resistance to bureaucratic oppression; by covering up personal details, the artist is giving those individuals back their privacy.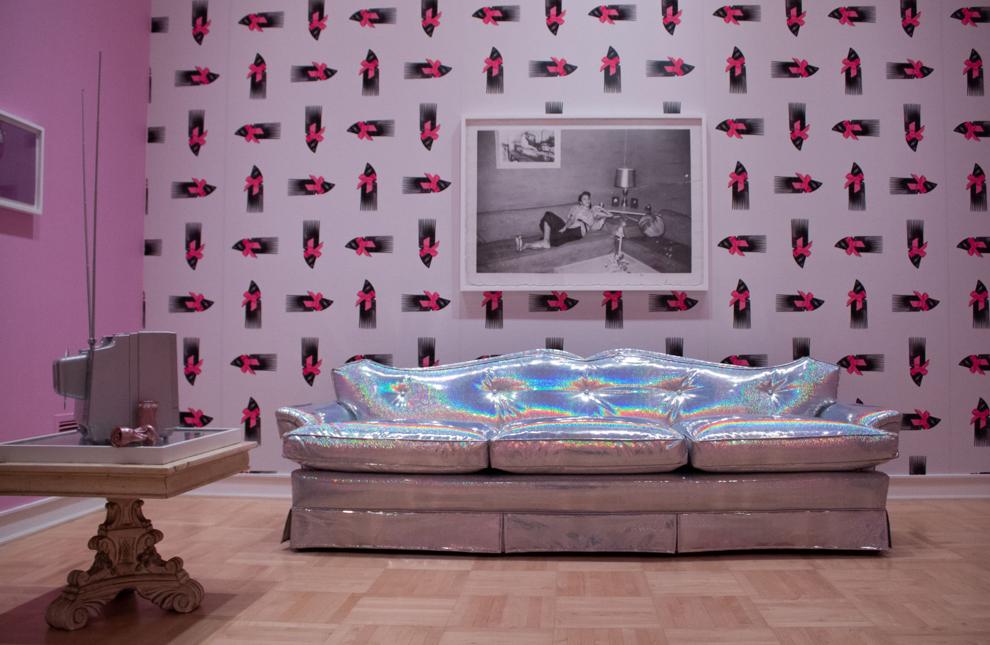 Barnette makes the personal political. Through her work, she encourages viewers to see the full story of a person's life and community despite their voice being stifled and monitored. 
"In opposition to surveillance, think about the tender, loving, care, and styling creativity that goes into home-making and place-making," Barnette said. "Despite the repression, or because of it, there's an extra need to break bread, gather and take care of each other." 
In the adjacent gallery, artist A. L. Steiner has created a video project entitled "More Real Than Reality Itself," showing multiple facets of a story in the queer community. The video installation is presented in dialogue with an archival photographic collage called "Cost-benefit analysis." 
Subverting the function of the conventional documentary, which records events that have past, Steiner's video work shows that the reality of queer culture is full of possibilities and flexibilities, telling multiple stories rather than a single narrative and emphasizing that cultural shift is an ongoing, constantly changing process.
"[We need to] think about some of these ways in which ideologies and systems that we take for granted can inform how our world is structured around us," Momin said. This is exactly what the artists included in the exhibition challenge us to do.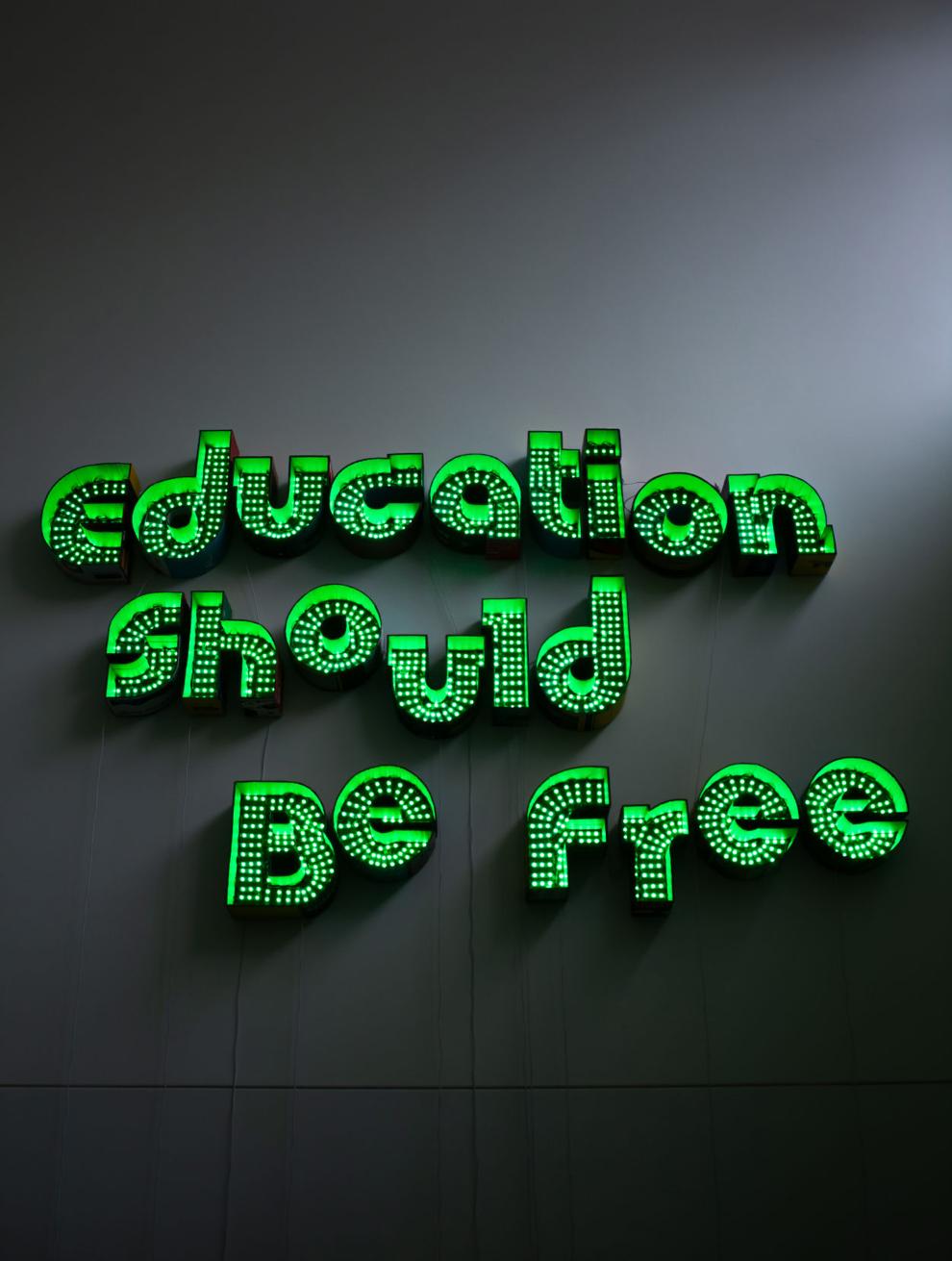 Similar to Steiner's endeavor to speak to issues of gender, artist Andrea Bowers, though not transgender herself, brings in the voice of the transgender community into the conversation. Bowers' four photographic panels are from her "Whose Feminism Is It Anyway" series, which redefines and empowers trans activists by placing them in reference to iconic historical and political imageries.
Some featured artists grapple with how individual identity is shaped by migration and other border-crossing activities.
Hayv Kahraman, a U.S.-based artist who was once a refugee from Iraq, portrays delicate female figures with curvy torsos and dark hair that almost seem like muses from the Renaissance seen through the eyes of Japanese ukiyo-e artists. 
Kahraman's pieces on show — "The Celebrity," "The Audience," and "The Kurds" — explore the notion of how one's identity is formed when displaced as a refugee. She counters the idea of suffering refugees perpetuated by mass culture, particularly by humanitarian campaigns, because it homogenizes and deforms the individual voices of human beings.
"[Try to] not see everything in this linear, specific history, but rather in the complexity, the difficulties and the contradictions that are inherent in the essence of humanity," Momin said.
Just as this exhibit demonstrates that history and culture are neither linear nor simple, this article only provides a confined glimpse of a large-scale exhibition. There are many other artists whose work was not discussed at length that deserve attention.
Ebony G. Patterson commemorates victims that go unnoticed in the context of Jamaican culture; Sanford Biggers deals with racism and historical amnesia in African American history; Fiona Connor sheds light on the community space that has deteriorated through gentrification.
There are more voices from around the world that are waiting to be heard at "In Plain Sight," which is on display until April 26, 2020. 
Reach contributing writer Fiona Ye at arts@dailyuw.com. Twitter: @Campfiion
Like what you're reading? Support high-quality student journalism by donating here.