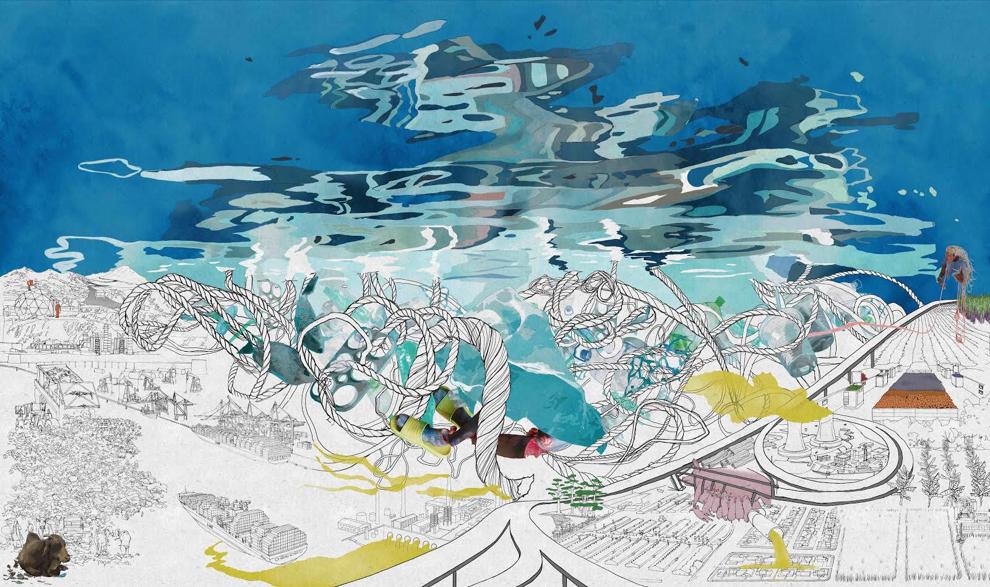 Anna Tsing, professor of anthropology at UC Santa Cruz, presented a lecture Feb. 25 as part of the Katz Distinguished Lectures in the Humanities series. 
The talk featured insights from her new book "Feral Atlas and the More-Than-Human Anthropocene." Feral Atlas will also be appearing online as an interactive digital medium that explores ecosystems that have been changed and expanded by human facilitation.
The Anthropocene is the most recent geological time period, and is defined by the global evidence of how human life has altered Earth system processes.
The online digital collection produced by Feral Atlas comprises of 75 reports and essays by natural and social scientists, humanists, and artists in "a digital format that combines elements of an archive, a game, an edited collection, and a meditation on living with others," according to Tsing.
"I use it today as a gateway to think about what might count as a field-based approach to the Anthropocene," Tsing said.
There are four landscapes included in this project: Invasion, Empire, Capital, and Acceleration. Each of these encapsulates features of the Anthropocene era that act as catalysts for the large-scale changes we associate with the time period.
Tsing unveiled a draft of the acceleration landscape, which included a pig farm and a nuclear power plant. It also features the Manananggal, a vampiric woman who appears in Philippine mythology. She is depicted as someone who is able to separate the top and bottom parts of her body, and then flies about with her intestines trailing. In the acceleration landscape, the intestines of the Manananggal are entangled in a large clot of marine plastic viewed from below.
The use of these various visual elements is part of the contribution from artists that help viewers understand anthropogenic effects and how they change the world we live in through interactions with our non-human neighbors.
The non-human effects are what Tsing refers to as "feral" ecologies that become important players in shaping the new world we live in.
"I used the term feral to describe the practices that anthropogenically enabled out-of-control non-humans … Even basic descriptions of such phenomena require describing both human and non-human histories," Tsing said.
Although models already exist especially in the space of natural science, Tsing argues that they are insufficient for a nuanced deeper understanding of the Anthropocene and the way that change is effected in the ecosystems of the modern world.
"We need more than those models," Tsing said. "We need approaches that show us both human and non-human heterogeneity and structures of inequality and violence that explain how Anthropocene effects develop in the first place."
Reach writer Rhea John at arts@dailyuw.com. Twitter: @rheatext
Like what you're reading? Support high-quality student journalism by donating here.