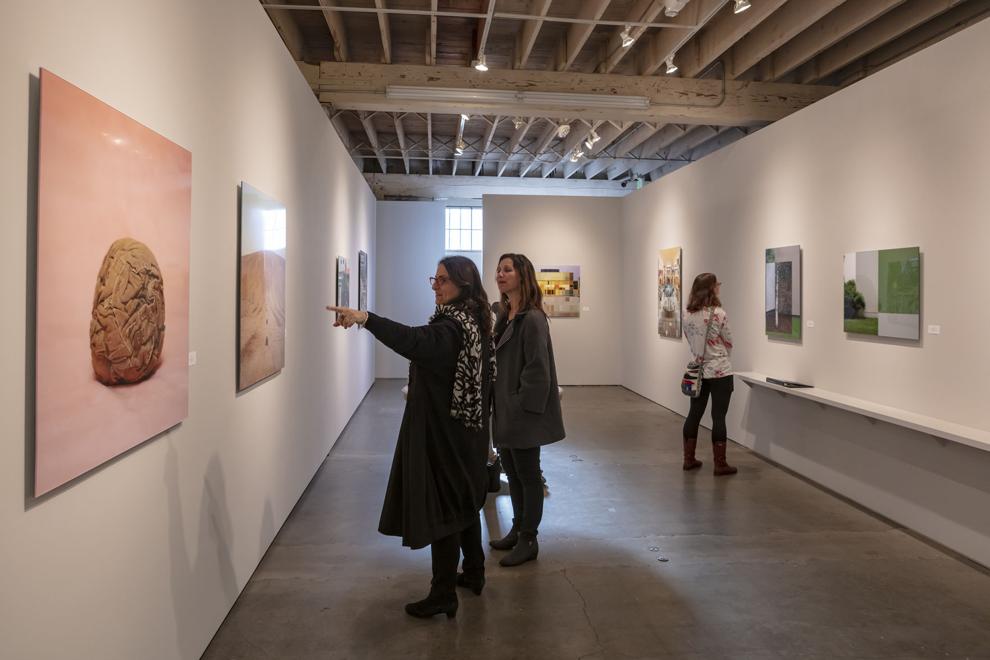 Tel Aviv native Arit Gordon curated the #fromwhereistand exhibition at Winston Wächter Fine Art gallery to show Seattle her newly found perspective on Israel. Having moved to the United States just two years ago, Gordon wanted to demonstrate how her understanding of her country of origin has evolved since immigrating to Seattle through the work of three Israeli photographers. With the opening of this photography exhibition, Gordon is proud to have curated the Winston Wächter gallery's first showing of Israeli art. Featured photographers are Yair Barak, Asaf Gam Hacohen, and Gidon Levin.
"My view of Israel and Tel Aviv from here is different," Gordon said. "Once you look at it from afar, everything seems different to me now."
The hashtagged title of the exhibition, #fromwhereistand, signifies the new way in which Gordon understands and sees Israel from her new home. This concept also has a digital aspect. As Gordon explained, not only do many of the photos incorporate digitized elements into their contemporary style, but after living in Seattle, her relationship to Tel Aviv remains almost completely virtual. With this title, Gordon wanted to meld her sentiments of seeing Israel through a new lens and staying connected to it in an altered manner.
Hacochen's "Merge Visible" series inspired Gordon's project in particular. Three of his photographs are on display. One is of a duty-free store in Israel, one of Israel's national theater, and one of a star plant, a typical element of a street scene of Tel Aviv. Each of these images is digitally manipulated almost to abstraction, but retains just enough familiarity for Israeli natives to recognize the scenes.
"I love the way that Asaf looks at Israel. He takes it apart, and then he puts it together again," said Gordon.
While these images are perhaps exemplary Israeli scenes, just as an Evergreen tree would be a typical PNW shot, Hacochen depicts them with almost unrecognizable characteristics. For this reason, Gordon felt Hacochen's work would be a nearly perfect representation of how she wants to portray her current view of Israel.
The first image of Hacochen's that caught Gordon's attention, the one of the star plant, stands against a stark white wall with bright green pixels branching over a pink-striped wall. Gordon mentioned that it would usually remind her of a typical Tel Aviv backyard, but "it doesn't mean anything to me anymore because of the technique he uses."
Hacochen's theory behind the photo expressed a similar sentiment. "Sometimes I'm looking for the spectacle, and sometimes there's pieces where I'm looking for the most common, everyday place," he said. "This is just a wall near the place I work in Tel Aviv, I love this star plant. I used to sit here every day with a cigarette and look over it, [and] thought it could be very interesting to see how it would be affected by this technique."
Also incorporating a digital aspect, Barak's "Parks and Recreation"series captures post-WWII developing neighborhoods in Berlin. He pairs these images with minimalist, geometric compositions. Previously destroyed neighborhoods are now lush green parks, depicted in Barak's pictures with simplistic elements and combined with complex context. Gordon was interested in the way an Israeli photographer views Germany today, and how the images reminded her of her own city.
"I picked these three artists because every single one of them represents a different aspect of something I feel about myself and my being Israeli," Gordon said.
Having been in the Israeli military at one point, as is required of every Israeli citizen, Levin's photos portraying soldier uniforms balled up and lifeless resonated with Gordon.
Gordon was previously an intern at Winston Wächter Fine Art gallery as part of a UW museum studies class. After exploring every art gallery in Seattle multiple times, she decided that Winston Wächter was her favorite. She asked the gallery director if she could curate a completely Israeli show, something that had been a dream of hers for a long time.
"I think she could see I had the Israeli nerve," Gordon said.
Gordon hopes to continue curating Israeli exhibitions and working with Israeli artists. "I would love to open doors for Israeli artists in the U.S. I do hope that people will like it and that it starts moving," Gordon said.
Reach writer Devon Fleming at arts@dailyuw.com. Twitter: @devon_fleming18
Like what you're reading? Support high-quality student journalism by donating here.