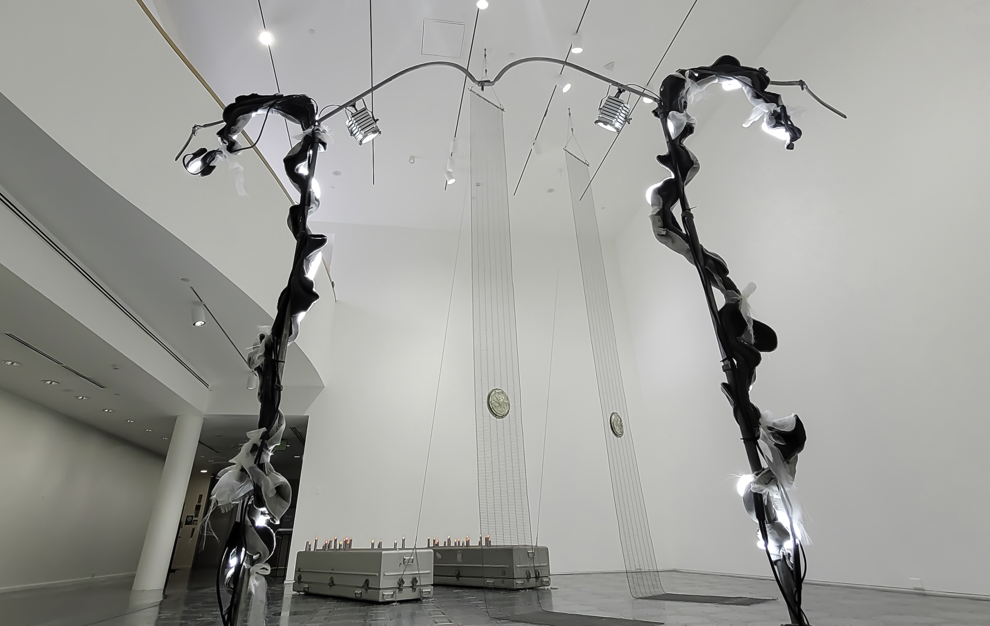 Elaine Cameron-Weir repurposes metal and other industrial materials for her sculptures. For the New York-based artist, these objects have a permanent history embedded in their previous functions and purposes. In other words, she is interested in the materials "not for their provenance, but for their use specifically."
Cameron-Weir's latest installation at the Henry Art Gallery, "STAR CLUB REDEMPTION BOOTH," employs these techniques, making use of the space's double-heighted lower galleries.
"I had seen [Cameron-Weir's] work previously," curator Nina Bozicnik said. "I was interested in not only its material qualities, but also the questions it posed of human vulnerability, and the things we turn to to make sense of an uncertain world."
Amplified by current events, Cameron-Weir's work deals with human survival and progress and exploring the man-made conditions that affect our perception of existing systems.
"I don't think this work is about my experience during COVID-19," Cameron-Weir said. "It's just been sharpened by it."
"STAR CLUB REDEMPTION BOOTH" sits on an exposed steel electric cabling floor, which adds an element of industrialism and serves its function for the electrical elements of the work. Central to the exhibition are two Ziegler cases from the U.S. military — human-sized steel cases used for transferring human remains. The cases are decorated with aluminum-casted candles, lit with an ever-burning artificial orange light. To Cameron-Weir, they evoke cheapened imagery of the sincerity of memorials.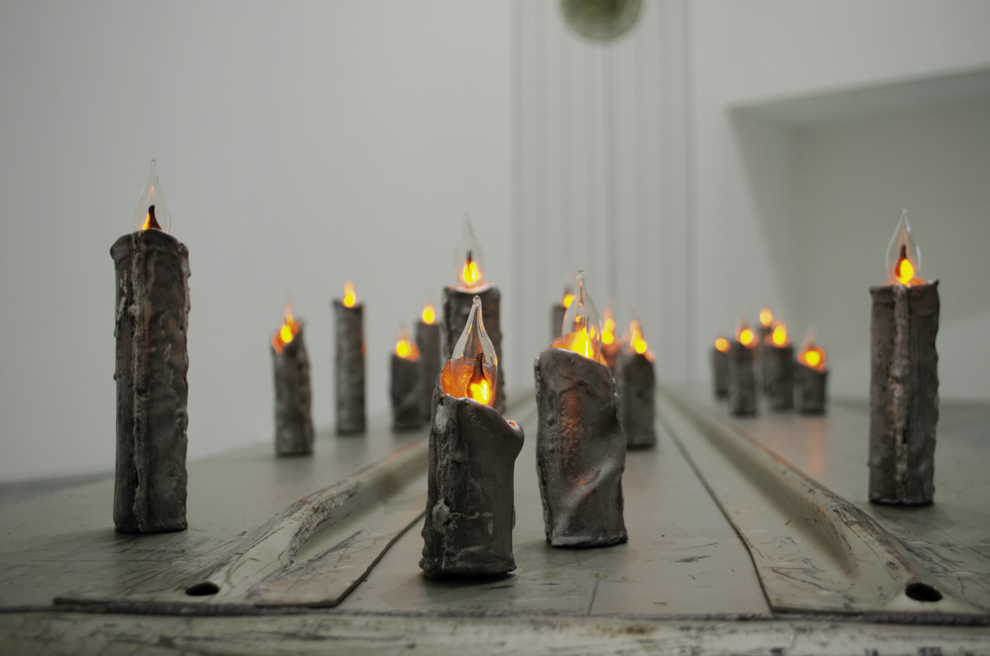 "There's an artifice that emerges around tackiness," Cameron-Weir said. "I don't mean that in a cynical way, but [rather] as a critique."
This critique pertains to the circumstances that led to the conditions embodying the devaluing of human life, Bozicnik added, and the "haunting of the failure of our system."
Attached to each steel case, through a pulley-like system, are two conveyor belts, previously used for circuit manufacturing, that stretch to the height of the gallery. Pewter disks adorn the conveyor belts, cast with crucifixes in a repeating, centrifugal fashion. According to Cameron-Weir, the molds were used for manufacturing cheap trinkets and jewelry; the images they create are repetitive and have a certain mass appeal, almost like they are a part of pop culture.
"I've been really interested in religious art and its function — there's something utilitarian about it," Cameron-Weir said. "I wanted to talk about the idea of the crucifix in relation to these military implications."
The disks serve as another focal point of the exhibition. Viewers can make a clear connection between the symbolism of the crucifix with regard to sacrifice and the valuing or devaluing of human life, Bozicnik said.
"In New York, on my walk [to my studio] I passed by a hospital a lot, and there was a big truck in the back," Cameron-Weir said. "One day, I noticed that they were loading dead bodies into a refrigerated truck, and I had walked by before without realizing what it was. That kind of gave me the push to use the cases in the way that I have."
On the other side of the exhibition, Cameron-Weir has set up the frame of a portable funeral curtain, illuminated by white lights. The curtain frame is just one of many products offered by the larger portable funeral industry. 
"STAR CLUB REDEMPTION BOOTH" follows a similar theme of portability. The installation pieces can be condensed, rolled up, and packed away; there are adjustable elements and visible hardware that can be taken apart. Cameron-Weir, in response, describes the notion of traveling or temporary feelings.
"What's important about [the themes of the exhibition] is that there's this traveling sense, that it can apply to other spaces," Cameron-Weir said. "It's not a unique experience."
"STAR CLUB REDEMPTION BOOTH" will be available for public viewing until Sept. 12.
The Henry is currently open to the public on Saturdays and Sundays from 10 a.m. to 5 p.m., requiring visitors to wear masks and follow social distancing protocol. The Henry is offering free admission through June 2021. Timed tickets can be reserved here.
Reach writer Jessica Wang at arts@dailyuw.com. Twitter: @Jssica_vv
Like what you're reading? Support high-quality student journalism by donating here.