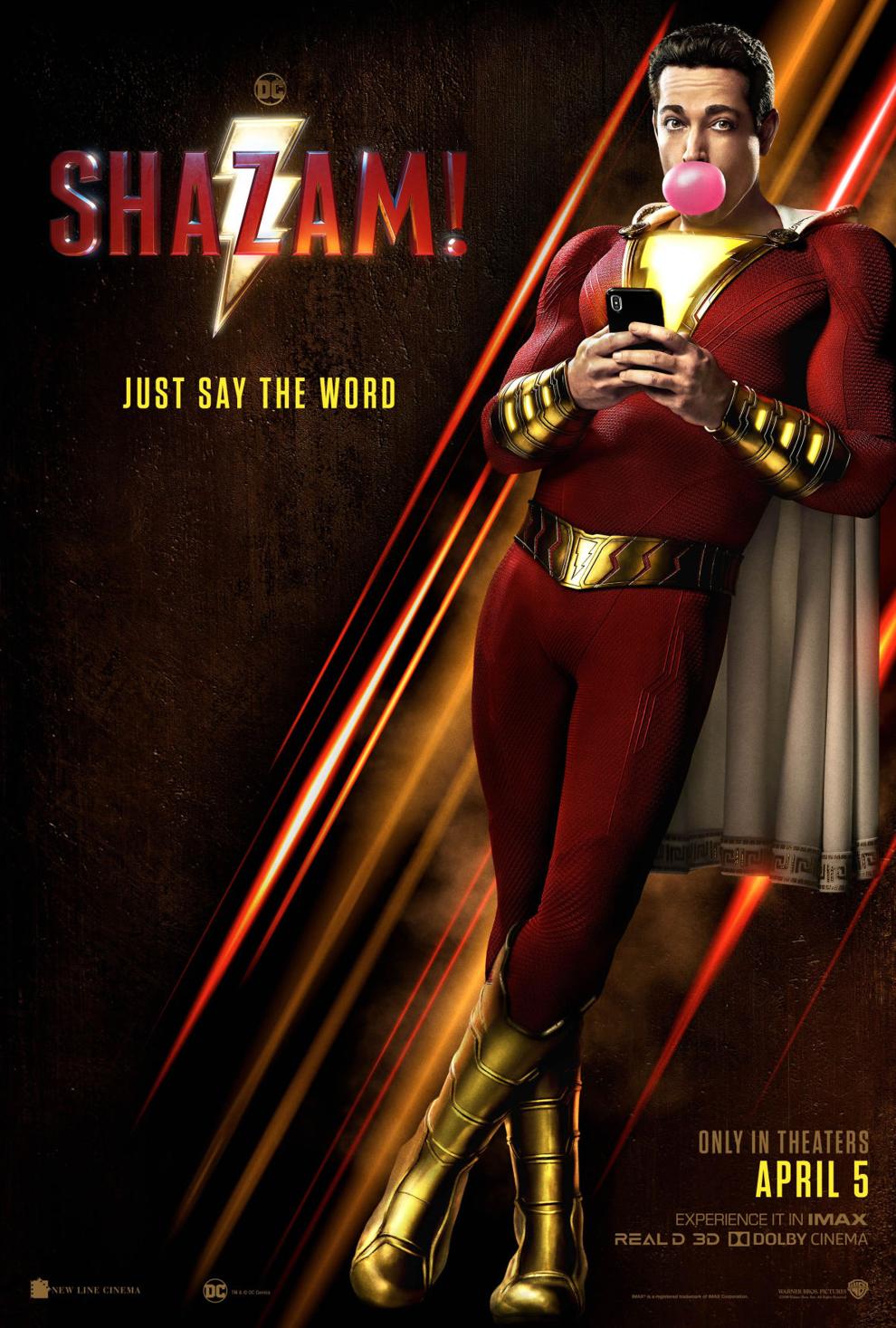 Hanging on my bedroom wall is a Superman poster. Henry Cavill's chiseled figure stands tall in the rain, staring out at me with a grim scowl. The blue, red, and gold of his iconic suit are so muted that they're virtually indistinct from the frigid grays of the buildings surrounding him and the "Batman v. Superman: Dawn of Justice" logo at his feet. It's a mediocre poster for an abominable movie. When I got home from the press screening for "Shazam!,"  DC's latest live-action cinematic entry, this image greeted me, and I suddenly found myself filled with renewed gratitude toward the movie I had just watched.
Whether you know Billy Batson's heroic alter ego as Shazam or Captain Marvel (no relation to Carol Danvers), the hero's first silver-screen appearance since 1941 is a joyful, light-hearted romp in sharp contrast to the dour, draining, pretentious slugfests on which Zack Snyder erected the cinematic universe off of which "Shazam!" builds. And though the film is not as sweet and wholesome as the character is traditionally written, it never loses the Golden Age comic magic that makes a kid who can turn into an adult superhero (Zachary Levi) such a compelling concept.
The film relishes every opportunity it has to flex its superheroic muscles across its 132 minute runtime, but rather than indulging in the typical metropolitan mayhem we've come to expect from the modern blockbuster, "Shazam!" opts instead to center itself on its young lead (Asher Angel) and his desperate search for a family of his own.
This quest leads to some fun sibling shenanigans with Billy's foster brother, superhero fanatic Freddy Freeman (Jack Dylan Grazer), as they test Billy's newfound powers. Asher's down-to-Earth goal also ensures that the film's more serious emotional beats land all the more impactfully as the fantasy of the superhero finds itself grounded in an imperfect world that can be heartbreaking.
That balance between fantasy and reality is really the key to why, fundamentally, "Shazam!" works so well as a superhero movie. The medium of live-action cinema demands a certain adherence to realism, since what happens on-screen isn't explicitly performative — it appears to be reality. On the other hand, comic books, and by extension superheroes, are very obviously things of fantasy by nature of being ink on paper.
The challenge of adapting a superhero from panel to screen, then, is one of negotiating how and where to capitulate to the conventions of reality. Filmmakers like Snyder address this challenge by perverting post-Silver Age Batman, portraying superheroes as grim and gritty avengers, aloof from the world and defined solely by the torment in their souls and their Sisyphean struggle against the dark alleyways of the night. Realism, to them, is pain and punishment.
What director Sandberg and his team understand, though, is that the heart of the superhero comes from Superman (of whom, for the record, Shazam started as a ripoff): the optimistic champion who does the impossible because doing good for others can feel impossible in a world like ours. "Shazam!" demonstrates this idea not just with its frequent shout-outs to the Man of Steel, but also with the arc of its hero. Billy may have the ability to look like a superhero, but it's only by working through his pain that he truly becomes one.
The verdict: Light-hearted, but by no means a lightweight, "Shazam!" is a bombastic, fun meditation on why we love superheroes.
Reach Development Editor Shahbaz Ahmed Khan at arts@dailyuw.com. Twitter: @JadeMoonSpeaks
Like what you're reading? Support high-quality student journalism by donating here.