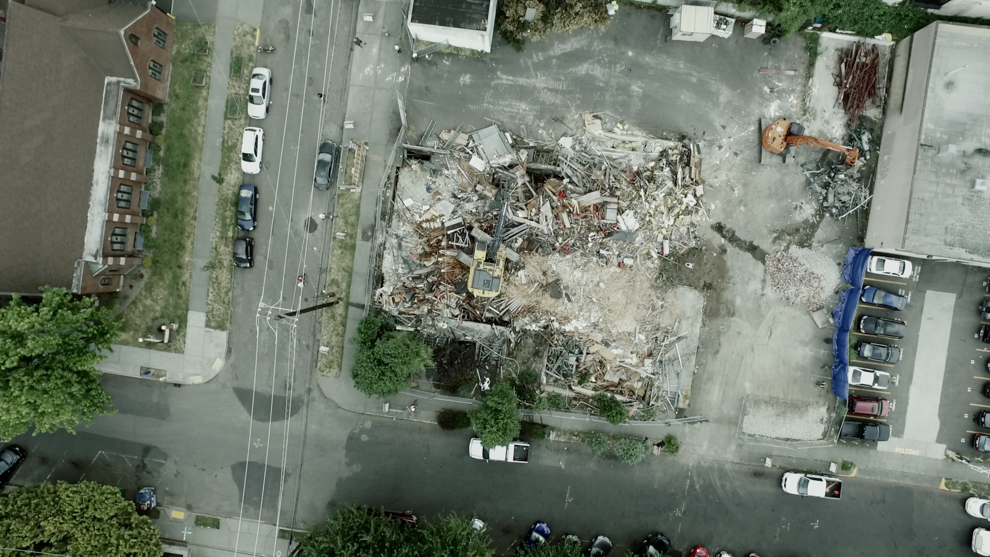 Frances McCue never set out to be a filmmaker. But when she found out about the impending demolition of the building that held Seattle's Hugo House, which took place in June 2016, it set her on the path that ended with the documentary "Where the House Was." The film premiered at Local Sightings Film Festival Sept. 21. McCue serves as its producer, narrator, and subject.
In 1998, McCue, who is a senior lecturer in the English department, was one of the original co-founders of Hugo House on Capitol Hill (then known as Richard Hugo House) along with two other local writers, Linda Breneman and Andrea Lewis. The space was meant to be a hub for northwest writers, and they named it after the poet Richard Hugo, who was born and raised in Seattle.
The house itself had a long history. What began as a Victorian fourplex built at the turn of the century went on to become a funeral house and two different theaters before Hugo House, its final occupant. McCue herself even lived there with her daughter and late husband for a time, in an apartment above the main part of the house.
"She's definitely an arts instigator," Ryan K. Adams, the film's director, said of McCue. "What really sparked this thing was that all the sudden they announced that they were going to tear Hugo House down, and Frances had a very visceral reaction to it and felt a strong desire to somehow capture what the Richard Hugo House was like."
The film is an experimental documentary with intertwining storylines telling the complex history of the old house, of McCue's connection to it, the story of Hugo himself, and the state of writing in the American West. But that wasn't always the story they intended to tell.
It all started when McCue was teaching a class at the UW about how to write poetry based on Richard Hugo's book of poetics. She mentioned the idea of creating an archival film about the teardown of Hugo House to her students, and they took her up on it.
"[I thought] it would be interesting because Richard Hugo was never there … but for some reason people attached themselves to it thinking of Hugo," McCue said. "And I think I was trying to make the point to my students that that's what we do with good poems … we attach to them in some way because of the way they're constructed and because of how they speak to us. 
"So, I was all caught up in this poetic idea and my students were like, 'No, really, we should really do that.' … And it turned into a film that had a bigger story behind it than just the teardown. So, that too was kind of like reading a good poem … it's a small thing on the page but it's so much bigger when you get into it."
Adams agrees. "The original concept of the film was the shock of the building coming down, and it seemed like a gentrification narrative … And there's still some of that in there because that is what fueled the initial spark to the film … the pain of gentrification, seeing things that you love get torn away, torn down, rebuilt, and the new thing doesn't have the character of the old thing," he said. 
"But as that narrative got thinner and thinner, for me, what became more and more prescient was Frances' life entwined with this organization and trying to capture something about how that informed what kept it going."
The film itself is made up of many different elements. It tells the history of the Hugo House itself, as well as McCue's family history with it. When her husband died, his funeral was held there. The film also chronicles the life of Richard Hugo through interviews with his friends and footage of the poet from Annick Smith's 1976 biographical film, "Kicking the Loose Gravel Home."
The final strand of the film addresses what is happening to writing and art in the West. "Where the House Was," fittingly, is narrated by McCue, whose poems became the script for the film. These poems and others by McCue were published by Seattle's Chin Music Press in the 2017 book "Timber Curtain."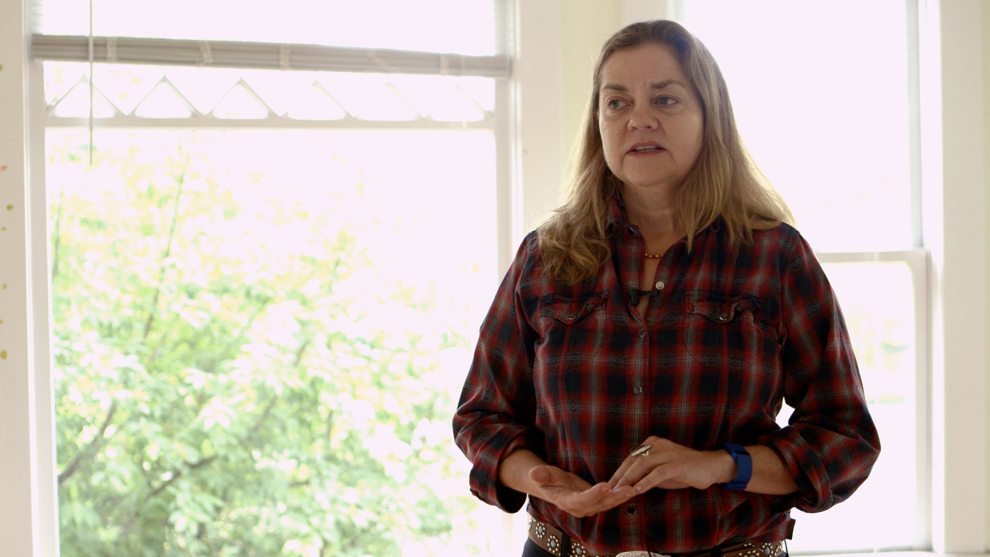 "So when people go to the film, they're going to see those four lines through the movie, but there are some really big surprises that happen [that] kind of take over the film," McCue said. 
She and Adams told the story of the final, unofficial event held in the old Hugo House, a night of readings by McCue and other local writers, accompanied by the cello music of Lori Goldston, the former cellist for Nirvana, who provided cello music for the film. The weather was stormy, and partway through the event, water started coming through the ceiling, shorting out the microphones and causing lights to explode and drop to the floor.
"The house literally [was] crying on us," Adams said. "Water [was] pouring out of the ceiling … it was like the house was done."
The group moved to the slightly safer theater, where they ended the night. "They were passing around bottles of leftover champagne from the hullabaloo, and then Lori Goldston … [was] playing this beautiful improvisational music," McCue said. "And all of that is on film, and we hadn't expected that. So what you see is the house coming apart in this storm."
And though the documentary does still have a little of the gentrification narrative that McCue and Adams had originally imagined, in the end, the story of the demolition and rebuilding of Hugo House wasn't at all what they expected.
"They decided to keep Hugo House on the property, develop the property so they weren't wasting money," McCue said. "So instead of selling it and then figuring out some other way of doing things, they kept Hugo House on the same patch of land, invested their own money in doing an entirely new building, and then [sold] Hugo House the bottom of the building so that [it] will be there forever. So that, I think, is a really happy anti-gentrification story and that's one that the film tells."
Talking about how the film, which is playing at Tacoma Film Festival as well as Local Sightings, didn't get in to the Seattle International Film Festival, Adams joked, "There's your gentrification narrative … Art is dead in Seattle, you have to go to Tacoma."
McCue takes a different view. "We all expect the whole situation [with the arts] to end badly. Like, artists are moved out, developers have moved in, we're all living in Tupperware paying $3,000 a month. But in this case, it was a really generous, amazing story where the people who owned the land did not turn into greedy developers, they turned into kind philanthropists … There's a lot of art happening and thriving in Seattle. It's just not in the places that we once knew."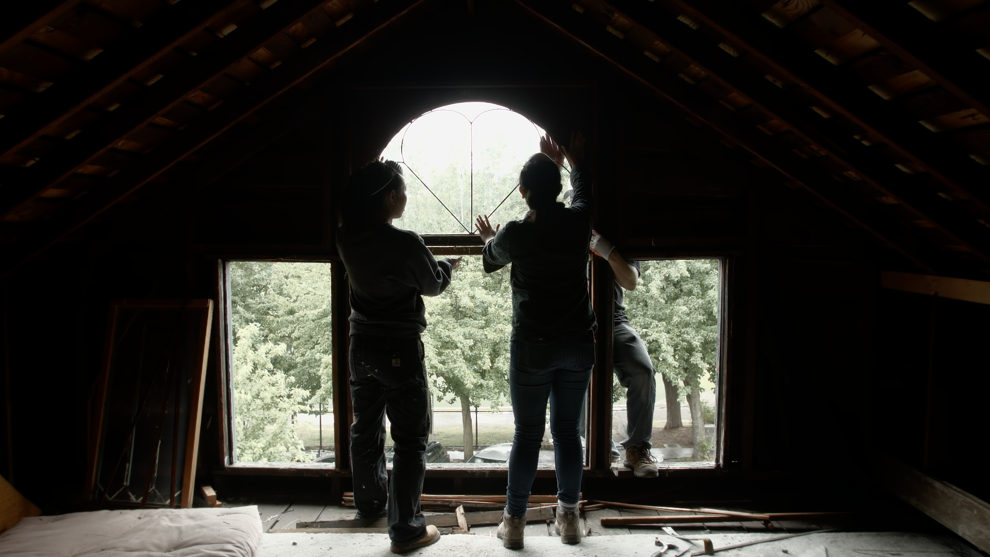 When asked about what she learned working on the film, McCue reflected on the similarities between this project and a UW education.
"One of the great unsung lessons of an education at [the] UW is how to work as a great collaborator," she said. "All the time students are engaging in collaboration … but it's not very often that that's seen as part of what an education is. We usually think of education as content, how much do you know and how can you show it off. But working on a film really displays how essential it is to be able to work with other people. That involves taking and giving good feedback, being loving, and kind, and shrewd, and clear-eyed, and gracious all at once."
"Where the House Was" has another screening during Local Sightings Sept. 23 at 8:30 p.m., as well as a screening at Tacoma Film Festival Oct. 5. at 5:15 p.m.
The 22nd annual Local Sightings Film Festival runs from Sept. 20 to Sept. 29 at Northwest Film Forum and includes films, VR, animation, music videos, performances, installations, and more from local artists.
"[Viewers] can expect ghost stories and hauntings and history," McCue said of the film. "And they can expect to feel like one old place in Seattle was commemorated, and they can feel both the nostalgia for that and the recovery. How does that sound?"
Reach Arts & Leisure Editor Sierra Stella at arts@dailyuw.com. Twitter: @sierramstella
Like what you're reading? Support high-quality student journalism by donating here.