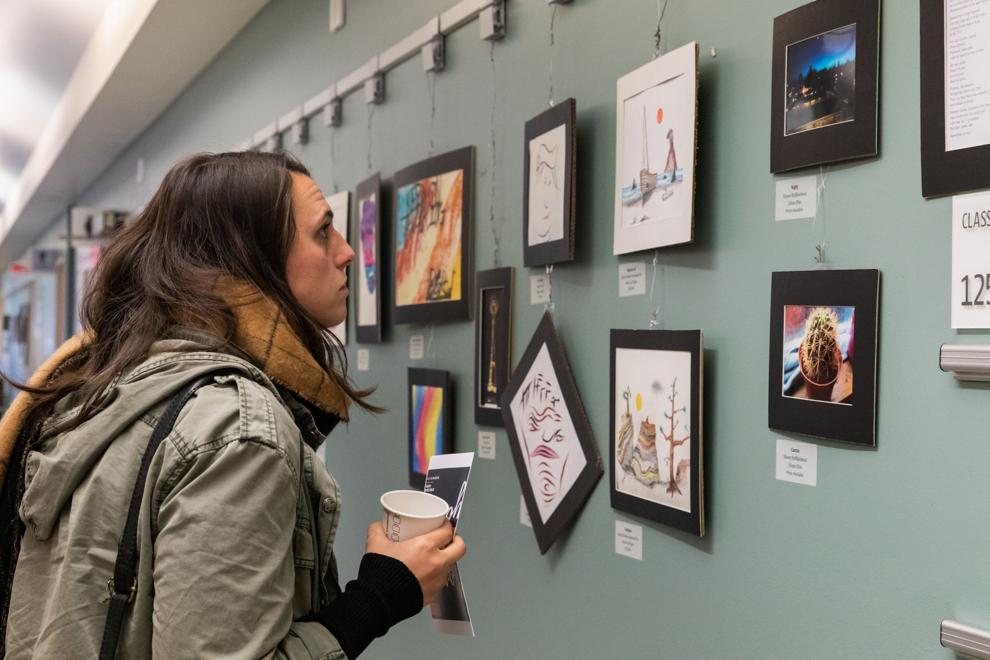 As guests filed into the first-floor gallery, a four-piece band gathered in the center of the room picked up their instruments and began to play. The soothing sounds of acoustic guitar and lilting harmonica filled the air as family, friends, and community members began to view the artwork.
The Life Enhancing Alcohol-management Program (LEAP) Artist Collective held the opening reception for its latest exhibit, "Come As You Are," at the UW School of Social Work on Oct. 10. The exhibit features work from residents of 1811 Eastlake, a Downtown Emergency Service Center (DESC) facility that provides housing for formerly homeless adults who have experienced difficulties related to chronic alcohol-use.
LEAP is a collaboration between DESC and the Harm Reduction Research and Treatment (HaRRT) Center located in the department of psychiatry and behavioral sciences in the School of Medicine at Harborview Medical Center.
The HaRRT Center works with substance users and the providers that serve these communities to develop what it describes as "evidence-based interventions" that aim to reduce "substance-related harm." Through its efforts, the center strives to improve the quality of life of affected individuals and promote social justice and racial/gender equity within their communities.
The center employs a variety of approaches to reducing substance-related harm, including patient-led pharmaco-behavioral treatment, culturally attuned behavioral interventions, and community-driven programming.
LEAP — an example of the latter approach — works to support DESC Housing First residents who have experienced homelessness and/or alcohol use disorder. According to Dr. Seema Clifasefi, a director at the HaRRT Center, LEAP aims to provide "low-barrier, community-level, house-wide resident programming," which can include opportunities for leadership, meaningful activities like art and music, and alternative pathways to recovery such as harm reduction counseling.
Clifasefi described the LEAP Artist Collective — a HaRRT program that employs the meaningful activities approach — as a group of residents from 1811 Eastlake "dedicated to creating, composing, and connecting over the healing power of art." The "Come As You Are" exhibit, featuring art and writing produced by 1811 Eastlake residents, draws upon themes of inclusion, authenticity, and equality to celebrate the role of art in communities.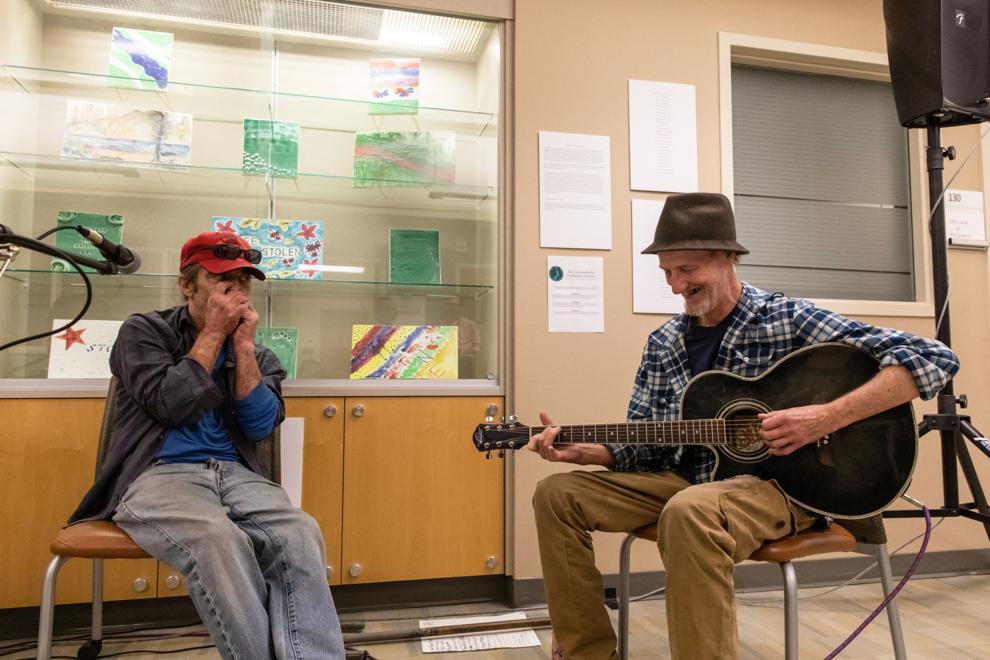 At the opening reception, attendees were greeted by a welcome booth that carried informational pamphlets regarding the HaRRT Center and LEAP. The walls of the gallery were adorned with artwork of all kinds, including paintings, drawings, photography, jewelry, dreamcatchers, and digital media. Fanned out across the long rectangular space were tables decorated with colorful rugs, flicker lights, candles, and paper mache flowers.
A LEAP organizer named Jeffrey, whose art had yet to be put on display (as he spoke, HaRRT Center employees and student researchers hurriedly adhered remaining artworks and their descriptors to the walls), said that the Artist Collective has been around for three years, but in progress for nearly six. Art exhibits are a common feature of the program, according to Jeffrey, and the collective typically holds events twice a year.
As guests milled around the light-strewn room, observing works of art such as Nathaniel "Nay" Porter's zany ballpoint sketches of cartoon-like characters, and Thomas Partman's broad strokes of acrylic color that formed disembodied, wide-eyed faces, the atmosphere was inviting and celebratory. Attendees mingled over light refreshments, catching up with one another and greeting any stranger that passed by, as small groups of students wandered up the steps and into a space where artistic creation was treatment in itself.
The "Come As You Are" exhibit is on display until Dec. 13. If you are interested in acquiring any pieces of art, prints, or zines, please reach out to harrtlab@uw.edu. If you are interested in donating to the HaRRT Center to support programs such as the LEAP, please visit their website.
All donations made to the Artist Collective go directly back to the artists and the program.
Reach reporter Brooke Kaufman at arts@dailyuw.com. Twitter: @bkaufmanLJ
Like what you're reading? Support high-quality student journalism by donating here.