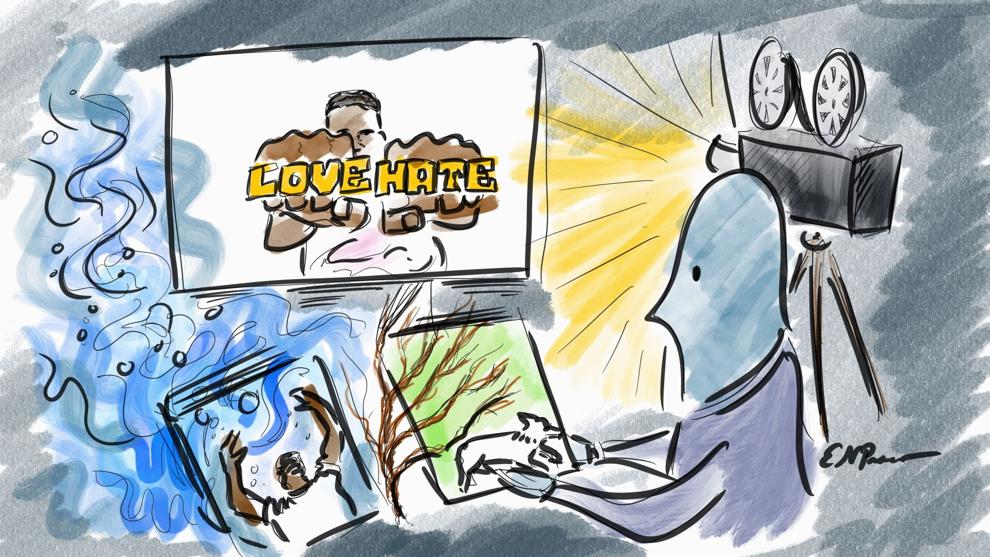 Editor's note: Responses have been edited and condensed for clarity.
In a time of deep civil injustice and social movement, being conscious about the media one is consuming is more necessary than ever. In conjunction, supporting Black businesses, organizations, professionals, artists, and authors is a fantastic way to integrate social understanding into everyday life. Living in quarantine, time to read and consume media is plentiful; thus, I've been on the hunt to find Black authors and artists whose work I could check out in order to better educate myself, while also supporting the work of Black folks. 
Looking for recommendations, I turned to members of the UW faculty, who in turn provided me with a plethora of suggestions to add to my lists. 
Kemi Adeyemi, assistant professor, department of gender, women & sexuality studies
I read almost exclusively speculative fiction and have spent quarantine reading Tade Thompson's "Wormwood Trilogy"(loved it), Helen Oyeyemi's new book, "Gingerbread" (not her best work), and am currently reading N.K. Jemison's new book "The City We Became" (it's a little corny at times but she deserves a little light-heartedness after "The Broken Earth" and "Inheritance" trilogies). That said, I also read Claude McKay's recently published "Romance in Marseille"and felt lukewarm about it, and I stopped halfway through Marlon James'"Black Leopard, Red Wolf" because I just couldn't care anymore (I might one day try to finish it). Robyn Crawford's memoir "A Song For You: My Life With Whitney Houston,"on the other hand, was a page-turner.
Alys Weinbaum, professor, department of English
I just finished reading Jesmyn Ward's "Salvage the Bones." I've read her other work — all wonderful — but for me, this novel stands out. It's about Black girlhood, Black family, and life in a small rural Mississippi town in the days leading up to Hurricane Katrina. Ward renders economic precarity and vulnerability to racism — in other words, the gendered realities of life in racial capitalism — in a way that is at once beautifully lyrical and deeply resonant with our current moment. I felt that Ward was telling a story that needs to be told and retold right now. I'm thinking I'll teach this book this coming year. Much of my scholarship is on reproductive politics as it manifests in literature and I also found Ward's treatment of young Esch's pregnancy — the psychological and bodily journey that centers this novel — as perhaps the most moving I've read in a long time.
A book that I've begun to reread this week is Keeanga-Yamahtta Taylor's "From #BlackLivesMatter to Black Liberation."It provides a careful history of the deprivations of racial capitalism and of the Black insurgent response. It places the present uprising and the ongoing work of the Black Lives Matter movement in historical context and allows us to see that what is going on right now has been long in the making and is connected to persistent Black radical protest against systemic anti-Black racism and capitalist depravity.  
Kimberlee Gillis-Bridges, principal lecturer, department of English
Many of the Black authors and filmmakers whose work I assigned in courses have come out with new novels and films this year. I finally have the time to read Justina Ireland's follow-up to "Dread Nation,"in which a zombie apocalypse precipitates the end of the Civil War and Reconstruction involves forced combat schooling for African American and Native American children. I'll also dive into "Children of Virtue and Vengeance," the second book in Tomi Adeyemi's"Legacy of Orisha"trilogy. The first novel, "Children of Blood and Bone," presents a speculative world where magic has disappeared with the genocide of the maji, whose powers connect them to gods drawn from West African traditional and new world diasporic religions. The protagonist seeks to reclaim magic for herself and her fellow diviners, the oppressed, depowered children of murdered maji. Since both Ireland and Adeyemi write for young adults, my 13-year-old can read along with me. 
Michael McCann, professor, department of political science
In recent months I have been reading lots of novels, nearly all by African American authors. As a recent New York Times project puts it, "when reality is surreal, only fiction can make sense of it."
I finished Colson Whitehead's fabulous "The Nickel Boys"this past April. It is a painfully illuminating fictional account of the horrors at a brutal "reform school," the Nickel Academy, in northern Florida (my home state) during the 1960s. The novel follows a young Black man whose virtuous life and path to college is derailed by a chance event that led to a grossly unjust sentence at the institution. Colson ends the harrowing tale of racial violence on a surprising and inspiring note. It is a fantastic novel that I highly recommend. 
I next read "The Water Dancer,"by Ta-Nehisi Coates. I enjoyed the author's effort to merge a slave narrative about endurance and aspiration for escape with the genre of supernatural fantasy. It is a fascinating attempt to provide an "alternate" history, even if the novel's grand ambitions are not always fulfilled.  
I just started reading "Deacon King Kong,"by James McBride, author of the brilliant and hilarious "The Good Lord Bird,"about the abolitionist John Brown (and much more). While I am only a quarter of the way through Deacon, the story is a dizzying narrative about a diverse array of bizarre and highly flawed (e.g. "real") characters navigating racial divisions, violence, and poverty in the "Republic of Brooklyn." McBride is a master writer of rich, jarring prose who keeps the reader laughing and thinking at the same time.
Ben Wirth, part-time lecturer, department of English
This summer, among other things, I am reading: 
"The City We Became" by N.K. Jemisin. I also taught Jemisin's incredible science fiction book "The Fifth Season," so I'm looking forward to checking out her new work this summer as well. Everyone should read "The Fifth Season."
 Everything by A. Igoni Barrett. He's been on my list for too long, so I'm going to read through his works in order. I've read a few of his short stories that have been published in other places and they are staggeringly good, so I'm excited to give his work a full study. 
"The Patternist"series by Octavia Butler. I'm extremely underread in all aspects of science fiction, but I've managed to miss a lot of Octavia Butler's work, so I'm looking to correct that this summer. Friends have been telling me to read "Wild Seed" for a long time, so I'm looking forward to it. 
Laura Chrisman, professor, department of English
I've read and loved a poetry book by Eve L. Ewing titled "1919."It came out last year. I'm fascinated by art that engages with historical events, offering a creative response that helps to illuminate the past in ways that academic writing cannot. This book tells a story of the 1919 Chicago Race Riot, one of the lesser-explored American massacres which killed 38 people, injured 537, made 1,000 people homeless, and brought in over 5,000 National Guard. Its subjects — anti-Black violence; urban poverty and social stratification; the militarization of the state; police racism — resonate so powerfully in our present moment.
The Chicago poet is both an academic sociologist and a creative writer, and this book puts those fields into a truly original conversation. Ewing weaves in contemporary photography, press coverage, the Book of Exodus, nursery rhymes, poetry and fiction by other writers, and a 1922 government report, "The Negro in Chicago." Her poetic style makes rich use of multiple forms to convey perceptions of diverse people caught up in the 'riot'. There's a devastating poem narrated by the Black policeman who killed James Crawford, a Black man.
It's not only the horrors of the Riot that Ewing captures; it's also the everyday lives of Black people who have arrived in the city and built a precarious life there, out of the Great Migration. (My own great- grandparents were among them.)  And the book concludes with poems that explore the aftermaths and repetitions of the 'Riot' across the 20th century and into the 21st. The blurring of past and present is part of its power.
This is a book of questions, anger, respect, and compassion. I'd love to see it adapted for the stage, just as Claudia Rankine's "Citizen" was. For all its literary virtuosity (which relies on the print medium) there's such a compelling oral, and visceral, quality to the book that it almost demands that live people visibly connect their voices, and bodies, to the people speaking through this book.
Reach writer McKenna Zacher at arts@dailyuw.com Twitter: @mckennazacher
Like what you're reading? Support high-quality student journalism by donating here.