For a relatively small venue, Washington Hall was crowded on the night of June 16 as fans gathered to listen to Kishi Bashi (stage name for Kaoru Ishibashi) perform on tour for his new album "Omoiyari."
The album is inspired by Ishibashi's visits to the Japanese concentration camps during World War II and their parallels to the injustices and human rights abuses happening today in the United States.
Traditionally, the violinist, singer, and beatboxer has been known for creating one-man symphonies using a loop pedal in live performances. On his new album and at this concert, however, Ishibashi stepped away from the loop pedal to feature a number of ensemble members for an even fuller orchestral sound.
Two of these ensemble members performed as the opening act: Takénobu. Consisting of cellist Nick Ogawa and violinist Kathryn Koch, the duo seems to draw heavy influence from Ishibashi's earlier work, using the same technique of a loop pedal to create almost symphonic folk music. Their performance of five songs, including a cover of Pixies' "Where Is My Mind," stunned the audience almost as much as the next performances by Ishibashi and the rest of the ensemble that they joined afterwards.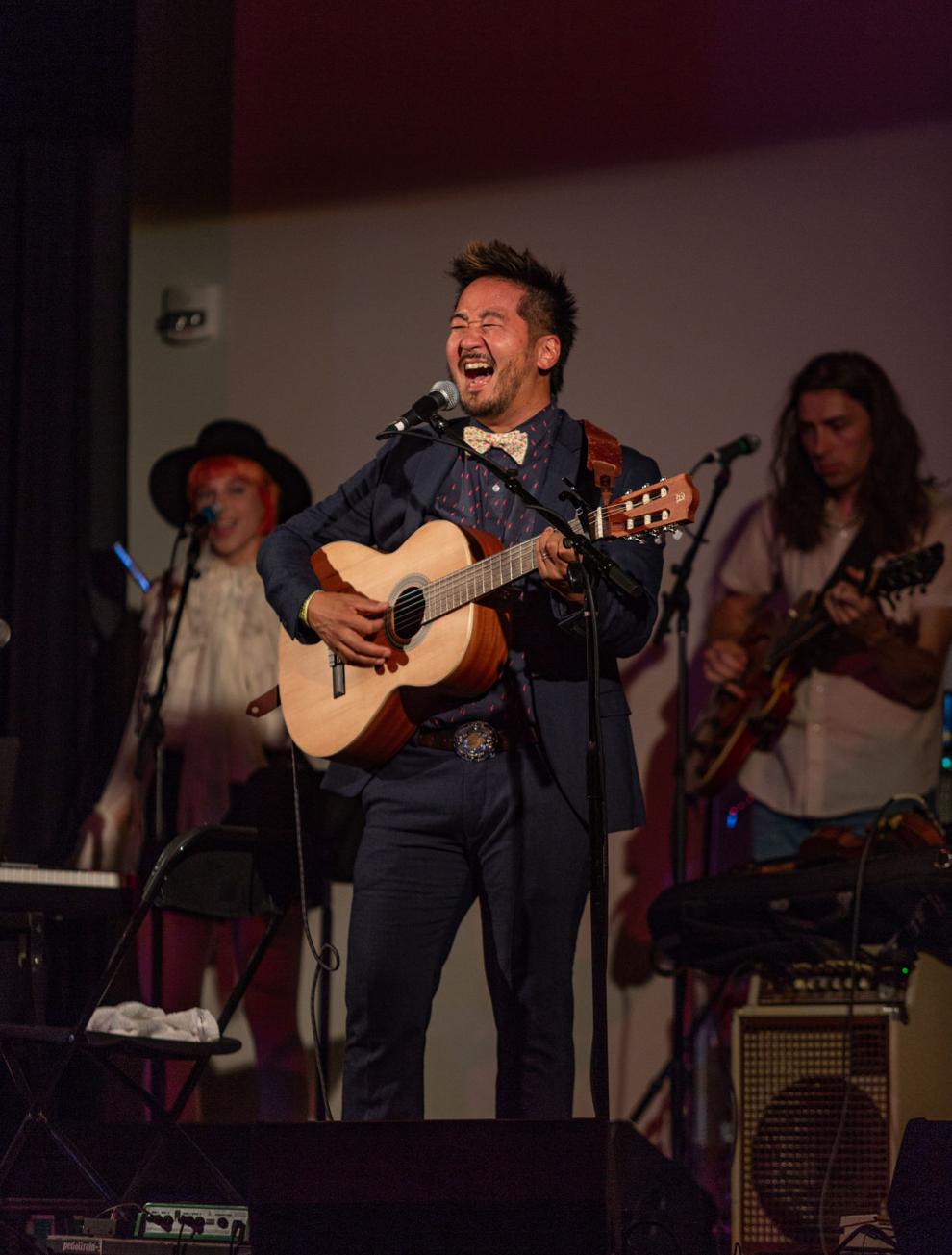 Somehow, even though the performances were more distributed among the whole ensemble rather than performed solely by Ishibashi, they were still just as spectacular to witness in person as his solo performances. This can be attributed to the immense energy exuded by the group; "Omoiyari" is already beautiful as it is, but the ensemble made it even more captivating by adding fervent improvisational sections to various songs.
At the end of the concert, Ishibashi and the ensemble stepped off the stage and into the center of the audience to perform three final songs for the encore. Audience members remained hushed throughout the first two songs, which were performed without microphones. There is something about being fans of a lesser-known artist that brings us closer together. This especially rang true when they sang along to the third and final song, the old fan favorite "Manchester."
Ishibashi joked that due to the universal themes of the album, "Summer of '42" could really be about the year 2042 instead of 1942 (the year Japanese internment began), and I could easily see why. As the government continues to detain thousands in a manner comparable to Japanese-American internment, I can only hope that the warning Ishibashi has carried on this tour — that "history doesn't repeat itself… but it often rhymes" — will reach some ears and hearts.
Reach writer Natalie Rand at arts@dailyuw.com. Twitter: @n_rand_
Like what you're reading? Support high-quality student journalism by donating here.