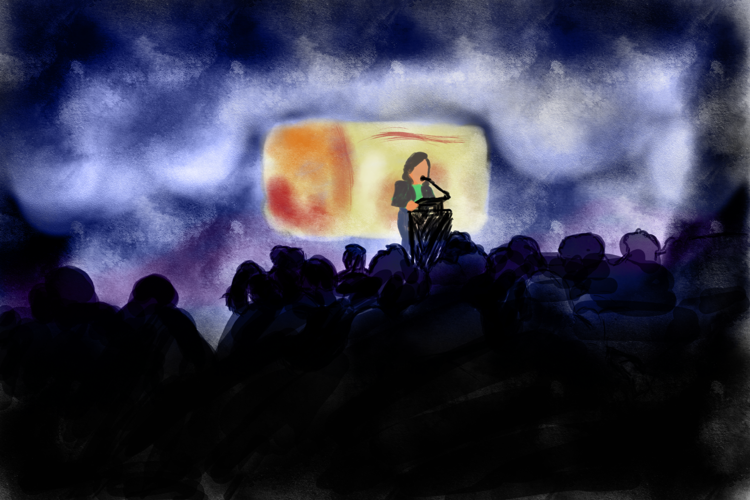 Disclosure: I was hired as an assistant director for "A Small History of Amal, Age 7," a co-production between Pratidhwani and Forward Flux Productions, in June 2018.
Mr. Andersen, my sophomore English teacher, once described names as the first possession you ever receive. It drove home another lesson my Abu taught me: never let anyone give you a nickname; your name is who you are and where you come from, and that is enough for everyone. For someone with a name like mine, it's been a very powerful lesson.
That's what drew my attention to "Storywallahs," first after seeing it in the Pratidhwani email list, and then again as a pitch for Arts & Leisure. (As an arts journalist and a working artist, my life is prone to some weird crossovers.) It's an open mic-style event for South Asians to come and share a brief story relating to the theme for the evening.
After an almost three-year absence from Seattle, "Storywallahs" was brought back this year at Hugo House as part of the South Asian Lit Fest by Tasveer, along with co-sponsors Pratidhwani and KUOW, under the theme "What's in your name?" "Storywallahs" also marked the debut of the Tasveer Youth Collective, an outreach program for South Asian youth ages 11-17, in the form of a workshop taking place before the actual open mic.
I sat in a small classroom full of Desi kids who could have easily been my cousins. I'm not sure how I got roped into doing the activities, but I somehow wound up brainstorming colors, animals, and movements we could associate with the name of a young boy who bore an uncanny resemblance to my younger brother.
The workshop was led by Seema Bahl as well as Ashraf Hasham, executive director of the Vera Project. They'd developed a curriculum before the event began, but found themselves improvising as the kids got invested in what they were doing, particularly at the beginning of the session when they were given the chance to talk about their names and what came with them — the etymologies, the histories, the mispronunciations, the memories of nanas and nanis and dadas and dadis.
It struck me that I'd never really seen anything like this. The closest things I could think of were the dawats I'd go to with the other Desi families my parents knew — a place where I could hang out with other Desi kids. But those were a lot less formal, with more mixed age groups. They were never something like this, in a class of mostly preteens.
This was by design. Talking with Seema and Ashraf at the end of the session, they told me they'd both seen a need for that age group to be allowed to engage with the challenges that came from navigating white spaces as brown kids, especially in a rapidly changing American paradigm and with unabashedly South Asian names. "With a unique name like Barack Obama, anything can happen," Ashraf said.
The actual open mic, naturally, began late. Behind me, I heard an old white man talking on the phone a few minutes before the introductory address: "I'm at a lecture." It amused me. Perhaps the presence of Cynthia Anderson, an academic advisor for the UW CHID department and the first performer for the evening, lended a superficial resemblance to a professor standing at a podium in front of a crowd of eager students.
But what comes to my mind are the faintest recollections of Choddha August picnics my brother and I would get dragged to as kids, where Pakistanis from all across whichever state we were living in at the time would come together on the independence day of our bloodlines to celebrate — in dance, in songs, in poems, in stories.
Cynthia Anderson was born Mumtaz, a happy baby girl given up for adoption in 1977 Pakistan. By 1980, she was Jodie, a name given to her by the orphanage because it'd be easier to get a child adopted with a less Pakistani name. When she was taken in by an American family, they gave her Cynthia, simply because they liked the name.
"I am Mumtaz, I am Jodie, I am Cynthia, I'm all of these — these are all who I am, but I have to be true to all of them in order to be who I am right now," she said. "So I can't forget about Mumtaz, I can't forget about Jodie, who lived in the orphanage waiting to get adopted, and I can't forget about Cynthia, who has become what I am now because of all of these people."
But grappling with these things in a public forum like "Storywallahs" was something that took years of preparation and support, especially from her close friend (and fellow UW professor) Dr. Anu Taranath, who I also happened to sit behind during Cynthia's piece. Her cheers rang loudest when Cynthia finally took the stage.
The stories told that night will soon be released as a podcast on the KUOW website. They're poignant, funny, cute, sober, insightful. They're all remarkably human, but more than that, they're all unabashedly Desi.
Reach reporter Shahbaz Khan at arts@dailyuw.com. Twitter: @JadeMoonSpeaks
Like what you're reading? Support high-quality student journalism by donating here.