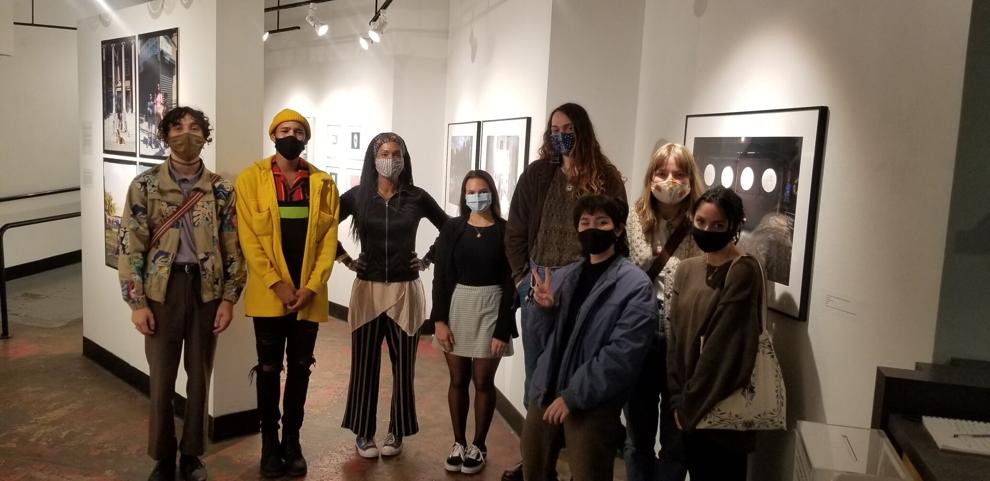 For contemporary artists to disrupt the narratives that dominate museum spaces — which are rooted in colonialism, racism, and patriarchy — their ideas must be communicated to the general public. This is where museum education and interpretation come in.
In fall 2020, the ART 496 museum guide program, a year-long paid internship at the Henry Art Gallery promising 60 hours of work per quarter, began its pilot year of exploring the power of community-based practices. 
Berette Macaulay — an artist, curator, writer, and UW MA cultural studies graduate — leads a cohort of eight students from a broad range of humanities majors who will engage in three consecutive quarters of training to lead interactive tours for the Henry's current and upcoming exhibitions.
Blending both theoretical and technical aspects of study, the three-part curriculum has the interns learn and discuss contemporary art in an active, fun, and socially conscious way. The weekly meetings take up topics ranging from the politics of archive and display to the art of accessible public speaking, as well as community intervention in the museum and the strategy of scripting a visitor-centered tour. 
"The learning style is so decentralized, and it was a lot more open to discussion and intimacy between different interns," Em Dickson, a second-year art history and English major, said. 
Operating in what Macaulay calls "salon-style learning," the course brings students with different knowledge and experiences together in a space of genuine and generous intellectual exchange on issues in the art world, with little mediation from instructors.
"It feels like there's room for mistakes, for discomfort and dealing with that discomfort," Rosa Lasley, a third-year cinema studies and comparative history of ideas major, said. "There's such a culture of 'let's work through it.'" 
Even though classes have been taking place virtually, the space made available for student agency offsets Zoom fatigue and allows the interns to care about one another, while having reciprocal and responsible conversations in a world full of uncertainties. 
"Basically, this [program] is structured from instinct, from heart, from social justice intentions within an institution," Macaulay said.
Museum education and public programs are conceptualized around the idea of making history in collaboration with communities, instead of merely being about them. Inviting voices from the community into an institutional space is an active resistance against often unchallenged myth-making.
One of the training objectives for winter quarter, according to Macaulay, is to "create tours that make sure the audiences are centralized to what they are learning." Through exercises like Pecha Kucha — a form of visual storytelling and presentation that uses twenty 20-second slides — and designing mock tours, the interns can familiarize themselves with shifting communication strategies that cater to a host of different demographics. 
"A big part of this internship that I think has been the most beneficial to me, personally, is just learning how to use language as a tool of not only effective communication, but also as a tool of meaningful conversation," Cassidy Correia, a senior majoring in international studies, said. 
Other students spoke highly about how the museum guide program has shaped their college experience in terms of major, course selection, and career path. For Dickson and Lasley, both of whom aspire to work in a museum setting, this program offers them a wonderful glimpse into how museums operate on the inside. 
"Something really cool that we've started to be able to do this quarter is sit in on the Henry general staff meetings," Lasley said. "So I feel like there's more sense of community with the people I am working with." 
However, the professional skill set and cohort that students build through this internship is not limited to the art field. 
"Having the space has been really instrumental in just finding my way and voice at UW to figure out who I am," Correia, who is someday hoping to work in a human rights-related field, said. 
Reach writer Fiona Ye at arts@dailyuw.com. Twitter: @Campfiion
Like what you're reading? Support high-quality student journalism by donating here.