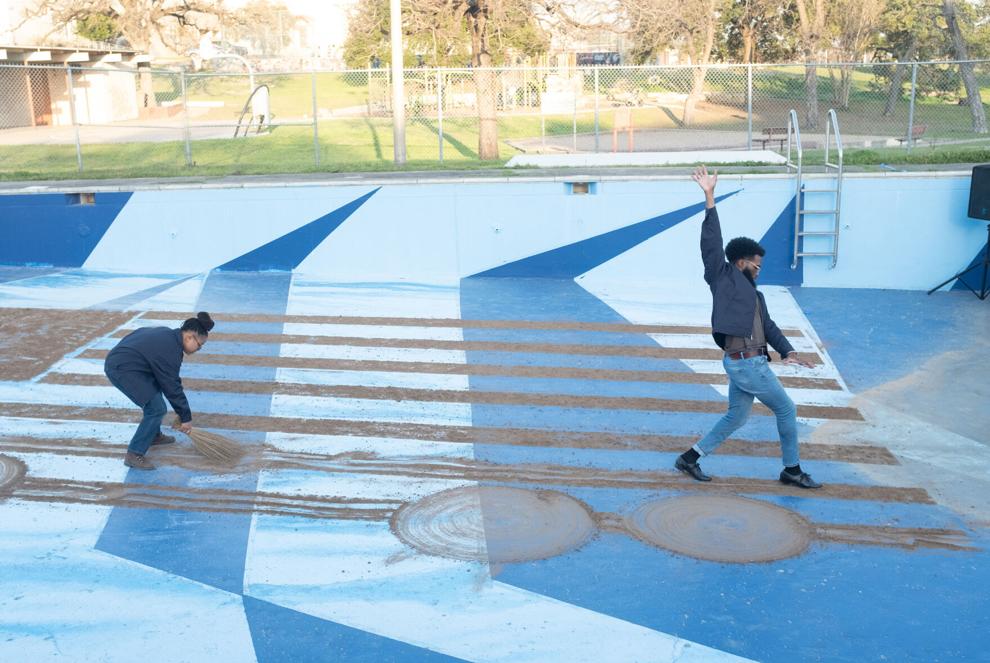 The 2021 Jacob Lawrence Legacy Residency, hosted by the UW Jacob Lawrence Gallery (JLG), was awarded to Ariel René Jackson for their "film-based multidisciplinary practice," according to a press release. Each year, the JLG invites a Black artist to develop work that will then be showcased during Black History Month in February.
Jackson's art incorporates land and landscape as an "internal representation" of historical and modern thought. The artist uses sculpture, video, and performance as means of conveying "themes of loss and transformation" within their art.
The residency project will be a drone-shot video featuring interdisciplinary tap dance artist Michael J. Love. Love will perform an interpretive dance to a musical score inside an empty pool in the back of the George Washington Carver Center in Austin, Texas.
Jackson said that this video will explore ideas of lineage and generational change, centering on the transformation of the American flag using soil. The JLG will also feature Jackson's two-dimensional art pieces.
"[Love] will basically be choreographing to a score where he will be moving through strips of soil that will create the shape of the flag, transforming it," Jackson said. "The 2-D work on the panels is going to be my own interpretation of the flag shifting."
This is not the first time the two artists have collaborated. Love was featured as a performer in Jackson's previous projects "All I See Is Blue" and "Carver's Message in Blue," which tackled similar themes of Black identity and possibility.
"This specific piece is really about intersecting the past with the present and future," Love said. "Using the format itself to sort of evoke past Blackness and Black tradition, thinking about how it exists now and how it should kind of exist in the future."
While movements like Black Lives Matter have increased the visibility of Blackness for white America, Jackson and Love want to emphasize that racism is not a new concept to digest or fight against; the struggle has always existed for Black communities. The artists incorporated historical themes within their works to showcase the longevity of racism in the United States and around the world.
"There are all these markers that are exclamation points of the systemic racism that is happening around you," Jackson said. "This work is a continuation of that moment where I became aware of what I think a lot of people are becoming aware of right now."
Art institutions like the JLG have facilitated programs and residencies that uplift Black voices and artistry, but according to Jackson and Love, it can be hard to discern whether that representation is genuine elsewhere. The artists are thankful for this surge in interest, yet a fear for many Black creators is that this institutional investment in Black media will fade when it no longer serves as a talking point for activism.
"I think it definitely is important to have these programs because a lot of people are, for the first time, opening up their eyes to how Black people have been historically marginalized in many ways," Love said. "Black voices should be listened to and funded, especially when it's already so hard to be an artist."
Through their multidisciplinary work, Jackson wants to create an experience that shifts the perspective of non-Black people and provides safe spaces for the Black community. Jackson also said they want to present their art in ways that would withstand the test of years of cultural appropriation and theft.
"[Love] and I are experimenting with, essentially, creating a new culture," Jackson said. "We are doing this by intersecting traditions that have been rendered obsolete, that have been rendered too painful to look at. It is an act of revival."
Due to COVID-19, this year's residency will be hosted remotely, but the JLG will feature Jackson's video and panel art in its showroom for all of February 2021.
Reach contributing writer Kimberly Quiocho at arts@dailyuw.com. Twitter: @kimq125
Like what you're reading? Support high-quality student journalism by donating here.