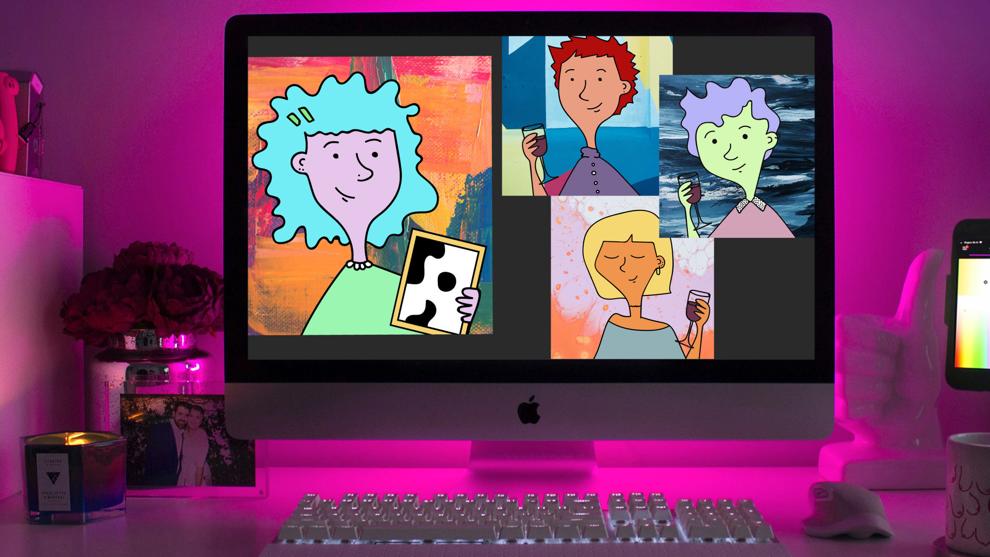 Every year UW's School of Art puts on an exhibit in the Jacob Lawrence Gallery to celebrate the work and accomplishments of its graduating seniors. This year, the opportunity of celebration, like many others in the light of COVID-19, was moved from the blank walls of the iconic gallery to the computer screen.
The exhibit, given a title for the first time ever, "A World Becoming With," will be launched on the School of Art's website June 12 and will feature the work of 60 graduating seniors. Inspired by quotes from Donna Haraway and Octavia Butler, the virtual gallery will look at interdependence and what the pandemic has taught us about it.
"I think one of the great lessons of the virus is the fact that we don't live in bubbles, our actions do affect one another, and co-authorship is important in deciding what comes next," Emily Zimmerman, the director and curator of the Jacob Lawrence Gallery, said. 
It didn't come as a surprise to the graduating seniors when it was announced that the exhibit would be conducted virtually, but art seniors like Ryann Funk were still excited to have the opportunity to present their last projects of their UW career. As part of the School of Art's honors program, Funk is creating a digital magazine-style photo book based on her own self-reflection entitled "Art Heaux."  
"Of course I would've loved to get the experience of the whole process of finalizing projects and attending exhibition openings in-person with the rest of my cohorts, but this doesn't make it any less special," Funk said. "With an online exhibit our work will be much more accessible to people everywhere and has the potential to reach audiences an in-person exhibition could never have." 
The sudden move online has changed students' preparation for the gallery; some seniors have seen the circumstances as an opportunity to branch out creatively, whether it be producing art at home away from the school's studios and equipment, or taking on a whole new practice.
Anna Fotheringham, a senior in the art department who has been working on an abstract oil painting for the exhibit since March, has seen the transition to online as a way to explore new ideas of presentation that wouldn't traditionally fit in a gallery setting. 
"It's something I'm still thinking about," Fotheringham said. "How I can use this online virtual gallery as a way to produce and present something I normally wouldn't be able to if it were just on a white wall."
Fotheringham said her project already had underlying themes of isolation and absence prior to the pandemic, but feels they are much more present in the current situation. 
Through these times of uncertainty, the school continues to do everything they can to help students prepare for their presentations. Faculty has hosted online workshops to replicate what students would have learned in the process of an in-person gallery, such as how to document 2-D and 3-D work, how to hang it, and how to pack it. 
The school has also promoted the exhibition by featuring student work, as well as a set of creator interviews, on the Jacob Lawerence Gallery's Instagram. 
"We tried to make the best of the situation to think about how we might replicate some of the benefits the exhibition would offer," Zimmerman said. "I have so much admiration for the students who are weathering this situation so bravely."
To graduate in such an unprecedented time can usher in feelings of confusion and anxiety. However, due to the support from the school, these seniors have found the silver lining in their situation.
"Graduating at this time certainly feels anticlimactic," Fotheringham said. "It's something no one could have imagined. I think all we can do is take it in stride and utilize it as something to give us creative freedom in some sense, allowing us to think even more creatively than normal."
The exhibition is scheduled to launch June 12 and will stay on the School of Art's website for the next five years as the artists venture off into their careers and lives after graduation. There will also be a print publication featuring all of the artist's work. 
Reach writer Maya Tizon at arts@dailyuw.com. Twitter: @mayacruz_
Like what you're reading? Support high-quality student journalism by donating here.