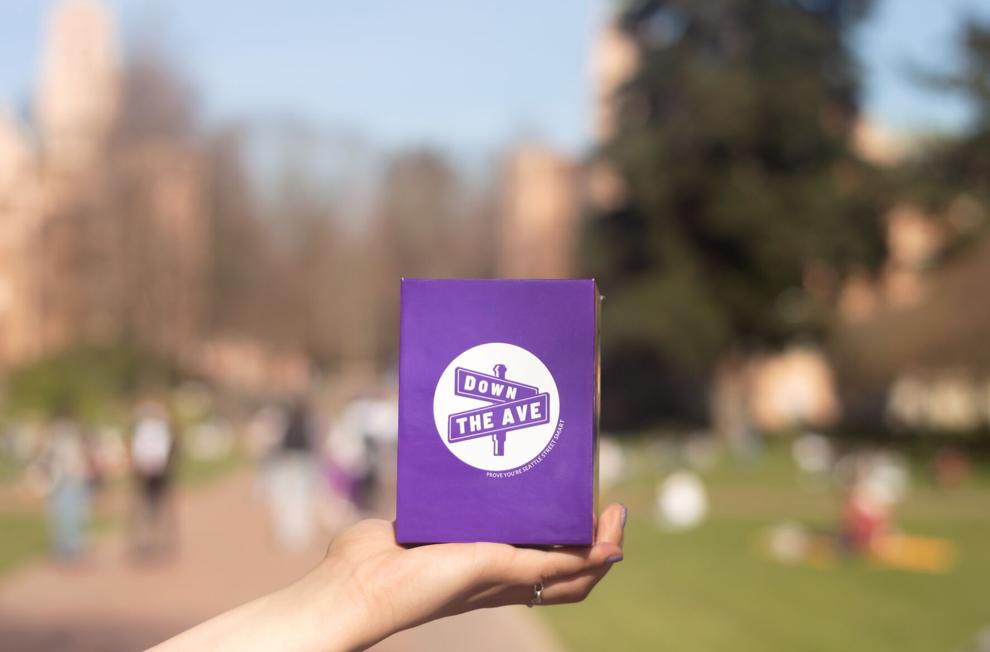 As part of the Buerk Center for Entrepreneurship Creating A Company program, a group of UW students developed an interactive card game that caters to fellow students and Seattle locals. Down the Ave, named for University Way's colloquial moniker, features 45 question cards and 255 answer cards inspired by the infamous game, Cards Against Humanity.
With a variety of fill-in-the-blank cards, Down the Ave developers sought to create a relatable, interactive experience that unites both UW students and alumni who have been unable to enjoy Seattle life to the fullest during the pandemic. The game also includes resources that make it more accessible for those less knowledgeable of the Pacific Northwest college experience. 
"The card game is open to those with Seattle knowledge, but a lot of the content is specific to UW in Seattle," Sarah Cabarteja, Down the Ave's CEO, said. "There is a term sheet within the instructions that actually give more details on some of these locations specific to UW, in case people who are not necessarily part of UW want to play so they can understand the game better."
The team has been designing and working on Down the Ave since January, with the help and mentorship of UW professors. The game concept stemmed from the team wanting to create an activity that could foster connections during quarantine game nights and serve as icebreakers in post-pandemic times. 
"Some of us are seniors, and we were pretty bummed that we would have to spend our last few quarters online and not really experience on-campus life again," Cabarteja said. "We wanted to bring back a way that people could enjoy the college experience while away from the actual campus."
According to the vice president of product Rahma Kamel, designing the game was the most fun, but also the most time-consuming part of the process. Though it was difficult for the team to adjust and plan for the game's launch during the pandemic, they were able to launch the company website in April and gained a bit of traction, with over 100 units sold.
"We made sure everyone's voices were represented, because we're creating a game for the UW students and culture, so everybody needed representation," Kamel said. "There were a lot of really long sessions where we would sit together on Zoom and see whether people would understand certain references. There was a lot of process of elimination, but we are really happy with the [current selection of cards] we chose."
Down the Ave plans to develop the game further, with expansion packs targeting smaller niches within the UW community.
"We're thinking of doing expansion packs, potentially through different departments within the school, such as a STEM pack or something even specific to Greek Row," Cabarteja said. "We're exploring our options and seeing what might get the most attention and popularity."
The Creating a Company program gives students the option to buy the company rights post-graduation. The Down the Ave team, which is mostly made up of graduating seniors, is still deciding whether to move forward with the company for a longer period of time.
"We are really hopeful that we'll be able to continue the project [post-graduation]," Kamel said. "There are some logistical things that we'd have to figure out with the school and figuring out which of our group mates are going to want to go forward. We've put a lot of time into it, and it has become one of those things where you don't really want to let it go quite yet." 
Playing Down the Ave can be a welcome distraction from the loneliness of quarantine, embodying a time capsule of life before the pandemic.
"As a graduating senior, it's difficult not to dwell on all of the experiences I've missed out on during the pandemic," vice president of sales Zoë Thompson wrote in a press release. "Like most students, I miss campus. I miss my friends. I miss in-person graduation, club events, and house parties. Is our game going to fix all that? No, but it can bring together students who have been apart for far too long, remind them of all the good — and bad — moments they shared, and provide some much-needed relief."
Down the Ave is available for purchase on its website. The team is hosting a free game night at the outdoor plaza in the intersection of the Ave & Northeast 43rd Street on June 4. 
Reach writer Kimberly Quiocho at arts@dailyuw.com. Twitter: @kimberlyquiocho
Like what you're reading? Support high-quality student journalism by donating here.