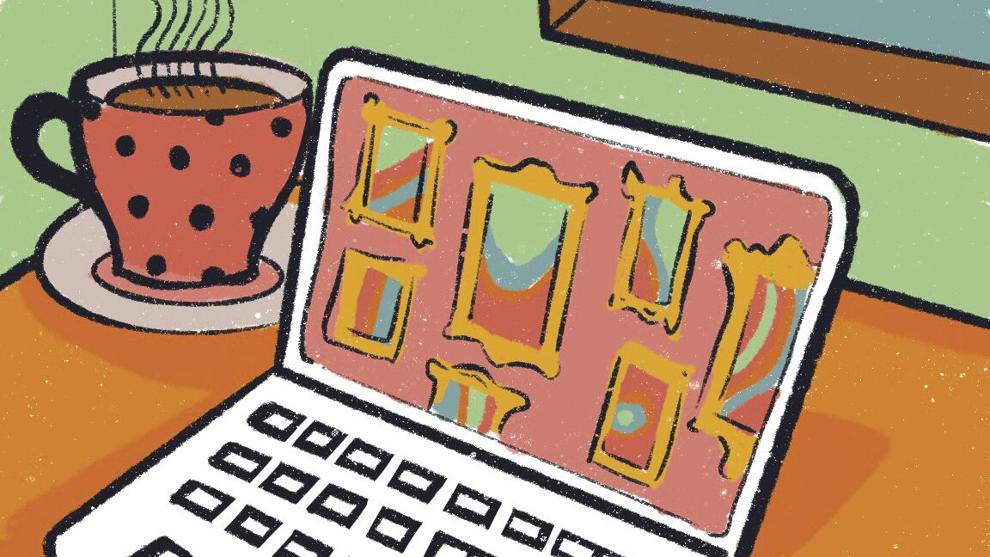 Parnassus — the oldest cafe on campus tucked away in the basement of the Art Building — has found new life online through the efforts of four UW students. Closed to visitors since March, the cafe's rotation of student art exhibitions will now be featured on a new website. Launched Jan. 17, the first exhibition, "Life in Quarantine," will showcase student art created during quarantine and will run for about a month. New exhibitions are expected to be posted each month thereafter.
"I think our main goal, like just a collective goal, was really to help build the creative community at [the UW]," project co-founder and junior Ashley Tseng said.
Tseng is joined by fellow juniors Yerin Yang and Jentzen Mooney and sophomore Anna Shi.
The idea for an online gallery was initially conceptualized by Yang, a transfer student majoring in interdisciplinary visual arts, who was interested in curating the Parnassus gallery in its physical location. Despite the cafe's closure, Yang wanted to maintain a space where students could showcase their work. With Mooney's support, the students reached out to The School of Art + Art History + Design's advising office for assistance.
Academic adviser Elizabeth Copland and program coordinator Katie Twiss helped Yang and Mooney recruit other interested students. Tseng's prior work as a curator for Parnassus and Shi's experience in graphic design and illustration made them valuable additions to the team. 
With the help of Copland and Twiss, the online gallery became a Student Voice Project (SVP), a collaborative program between students and advisers in the School of Art geared toward professional development and community-building.
"The goal [of an SVP] is absolutely to give students the administrative control and power," Twiss said. "The gallery and the cafe has always been student-run [and] student-curated, and so the spirit of that is very much so important to this online version."
Tseng, Yang, Mooney, and Shi hope that the online gallery will serve as a space for continued growth within the UW arts community.
Without the constraints of the cafe's physical space, the website will allow the gallery to showcase more works in each exhibition than ever before. The art will also be archived on the website, making it available for public viewing beyond the initial exhibition. 
The project members emphasized that art submissions are open not only to art students, but anyone who is interested in creating and displaying their work. 
"I think it'd be great if we could encourage more people to just create art … even if they're not professional artists or art students," Tseng said. "I love seeing submissions from other students throughout the UW, because pretty much anyone can make art."
Moving forward, the online gallery hopes to expand the scope of the art in its exhibitions, with a particular interest in exhibiting mediums such as music or performance not yet seen in the physical cafe space. Smaller exhibitions showcasing multiple pieces from a single artist are another opportunity that will be made possible through the website. 
The gallery also hopes to feature student work completed in art classes at the UW, in order to highlight the endeavors that don't often get to be seen in a public display. Highlighting this art will introduce other students to art classes at the UW and hopefully increase engagement with art department offerings.
Although the project was born from circumstances caused by the pandemic, the group hopes to continue maintaining and expanding the gallery, even after the eventual reopening of Parnassus.
"We're hoping that this continues on into future years," Tseng said. "We definitely want this to be something that can be handed off and people are interested in continuing."
Submissions are open and welcome to all UW students. Questions or submissions can be sent to parnassusartgallery@gmail.com.
Reach contributing writer Taylor Zachary at arts@dailyuw.com. Twitter: @trzzachary
Like what you're reading? Support high-quality student journalism by donating here.