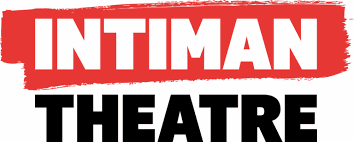 On Feb. 23, Seattle's Intiman Theatre  hosted a Black History Month conversation over Zoom titled "Black Theatre Beyond the Politics of Representation." The event, hosted by Intiman board Chair Jasmine Mahmoud, with panelists author Stacie McCormick and playwright Wind Dell Woods, explored questions surrounding Black representation and Black theater as a space for liberation.
When connecting theater and race, Mahmoud began with a discussion of blackface minstrelsy. Performed by white people creating their own offensive representations of Blackness, blackface acts became one of the most popular forms of live entertainment by the 19th century, setting a precedent for perceptions of Black people's roles in theater. 
"What does it mean for Black people, Black actors, Black theater artists to have these burdens of representations placed on their bodies, because of this long history of racial representation?" Mahmoud asked.
Woods recalled his early years as a playwright, when there was a representational void in Black perspectives, and mentioned the polarities between prominent playwrights August Wilson and Suzan-Lori Parks. Currently, more voices and diverse Black experiences exist alongside their predecessors and take a broader approach to revising older traditions, Woods said.
Woods, however, is skeptical that the use of race as a commodity in the world of theater will change easily. He has observed the consumption of Black culture without gain or substance — or in other words, the dominant culture's "philic bond to Black style and aesthetic, and its phobic response to Black politics, suffering, and demands."
To counter this, institutions must demonstrate a commitment to anti-racism, with serious and sustained efforts for equity. Woods describes this action as the "philosophical and political difference between looking at Black people and looking with Black people."
McCormick echoed the sentiment that artistic representation that hinges on tokenization, where Blackness is simply "added," cannot transform the status quo. She quoted Angela Davis when denouncing superficial inclusion, suggesting that this results in "a difference that makes no difference."
McCormick also focused on the push against formulaic depictions or monolithic narratives of the Black experience that are recognizable to audiences. Referencing her book "Staging Black Fugitivity," she observed that pursuing liberation through the stage has been a consistent theme for contemporary Black playwrights.
In writing "Staging Black Fugitivity," McCormick analyzed the rise of using slavery as a genre to articulate contemporary Black consciousness and ideas of freedom. She found that Black playwrights were breaking the formula by not adhering to familiar expections of a "slavery story."
"You go into the theater expecting a particular kind of story about slavery," McCormick said. "But you come out having been shifted, having been provoked … That kind of intervention is what we've seen Black playwrights do in an ongoing way."
For example, Lydia Diamond's play "Harriet Jacobs," mentioned in McCormick's book, tells the story of a woman's escape from slavery and illustrates slavery's horrifying legacy. The playwright employs an all-Black cast, even to depict white characters, using the genre of slavery to allow audiences to examine and critique the politics of race and casting in theater. 
The expectation to continually portray a certain type of Black oppression stifles playwrights and traps performers into a cycle of familiarity and particular representations of Blackness, McCormick said. 
Mahmoud also introduced the interpretation of Black theater as a "civic project" which expresses the ways that citizenship and civic promises have not been fulfilled, while at the same time creating a sense of cultural belonging.
To McCormick, theater is a space that can critically interrogate freedom and citizenship and bring meaning to Black citizenship. Woods described this process as a re-creation of experience through fragments, or shining light on things long forgotten — specifically, Black citizenship's relation to the dominant order of what it means to be American, which is itself rooted in anti-Blackness. Black theater, Woods said, can explore the alternatives of being American without being anti-Black.
McCormick also described theater as a space for anti-racism work through civic engagement. However, she recalled writer Toni Morrison's lamentation about her novel "The Bluest Eye," that people "were touched, but not moved." 
"We, in the theater, need to be looking at how to move people rather than touch them," McCormick said. "They can come into the theater and absorb trauma, but what do they do with that energy after the performance is over? Do [they] take it in and consume it, or are [they] actually enacting a kind of anti-racist praxis beyond it?"
This audience reaction — of being touched, not moved — is what McCormick described as "the politics of visuality, a result of" the violent gaze upon Black theater. According to Woods, white audiences often experience sentimental reaction without critical thinking, which, as a result, almost "pleasurizes" Black suffering. Therefore, artists must not only create works for the stage, but develop interpretations for them as well, and in doing so, embed that perspective within the audience, Woods said. 
Similarly, McCormick expressed the need to disrupt the idea that Blackness is knowable, which can be achieved by not sanitizing Black issues, by forcing alienation and discomfort, and by bridging the distance between the audience's gaze and the work itself.
The refusal of commodification, McCormick said, would be the path to liberation.
Reach writer Jessica Wang at arts@dailyuw.com. Twitter: @Jssica_vv
Like what you're reading? Support high-quality student journalism by donating here.