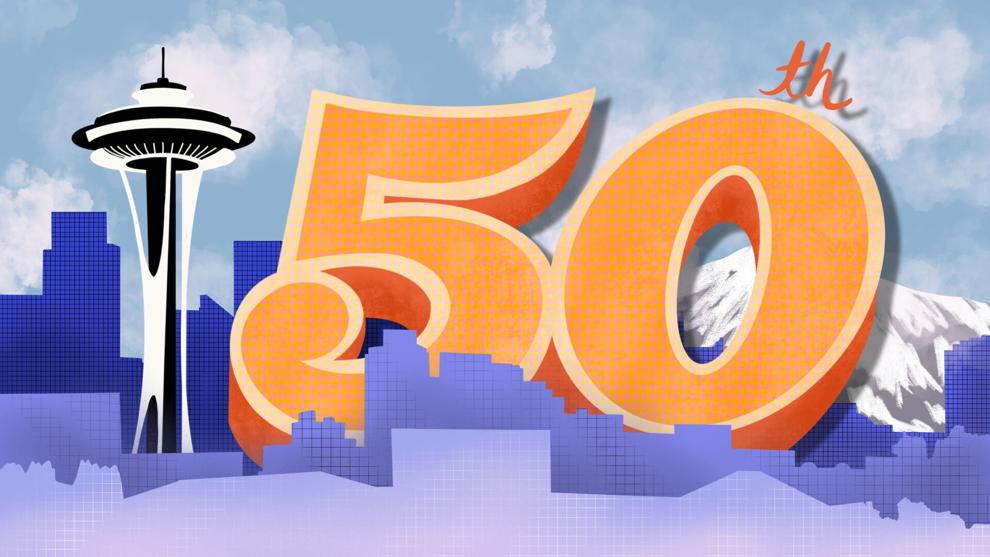 Celebrating a rich history of 50 years, this year's Northwest Folklife Festival will take place May 28-31. Hosted virtually on the From Home to Home platform, the festival features over 120 performances from Pacific Northwest artists, as well as over 32 interactive workshops, according to the press release. 
Community discussions, family-friendly activities, and live interviews round out an exciting Memorial Day weekend, all accessible from the comfort of home. There is no entry fee, although Northwest Folklife encourages attendees to give a daily donation of $20.
Attendees can also browse through a Virtual Marketplace featuring over 75 small local businesses selling everything from skincare products to Russian-style dumplings. Commemorative 50th anniversary memorabilia bearing the logo and poster designs of this year's festival is available for purchase at the online Merchandise Store.
Founded in 1971, Northwest Folklife held its first festival in 1972 and has since maintained its mission of "preserving cultural arts, bridging connections to heritage and identity, and cultivating the ever-evolving traditions of the Pacific Northwest," according to the organization's website. The yearlong theme or "Cultural Focus" that accompanies this iteration of the festival, "50 Years of Northwest Folklife: A Look Back, A Look Ahead," centers on the past, present, and future role of folk culture in our lives and community and occupies a special "Celebrate 50" page of photos and reflections on the website. 
Sheree Seretse said she performed at Northwest Folklife for the first time in 1973. The Anzanga Marimba Ensemble, which she founded and directs, has been at the festival off and on since 1987 and performs traditional and contemporary marimba music, primarily focusing on that of Zimbabwe, she said. 
"We're always received very well by audiences, and just the free spirit and free energy that environment has just makes it celebratory each and every time," Seretse said. 
According to Seretse, the marimba is a wooden xylophone found all over Africa. Traditionally, the wooden keys were placed over gourds with holes covered by spiderwebs to amplify the sound, although the gourds and spiderwebs have since been replaced by more durable PVC pipe and a cellophane-type substance, she said.
Anzanga will be performing on the livestream "50 Years of Folklife" channel Saturday, May 29, at 4:05 p.m. Despite performing virtually, Seretse said the group hopes the same danceable, moveable quality of the music will come across to audiences as if they were in person. 
They represent one of many musical groups scheduled to perform at the festival. Some, like the Strikes A Bell singing group, invite direct audience participation, adding another level of interaction and community to the screen-bound festival. You can sign up for some of the festival's participatory dances and workshops beforehand on their website.
Storytellers make up another category of artists. Sarah Comer said she has typically been involved with performing fiddle music or organizing the fiddler showcase in the past. This year, however, she has leaned into the storytelling side of her career by taking part in a ghost stories showcase. According to Comer, there will be three other tellers sharing their stories via pre-recorded videos. 
"I think folk art is extremely important to the human experience," she said. "In stories, I think we communicate things that are universally true. Experiences that are individual are given a place in which we can experience them communally." 
While it might not seem intuitive, storytelling involves significant performer-audience interaction, and the absence of those small moments of feedback has felt very different while recording, she said. 
At the same time, Comer said she was extremely glad that Northwest Folklife made the right decision to go virtual, especially because of the intergenerational spread of COVID-19 and the varying health risk of members in the folk art community.
"There's very much an open door policy for people to come in and to be a part of this and to feel connected to something and to find a sense of community," she said. "I think that the folk arts help connect us in that way and I think that this huge time apart has taught a lot of us what huge value there is in that." 
Reach writer Julia Park at arts@dailyuw.com. Twitter: @thejuliastory
Like what you're reading? Support high-quality student journalism by donating here.