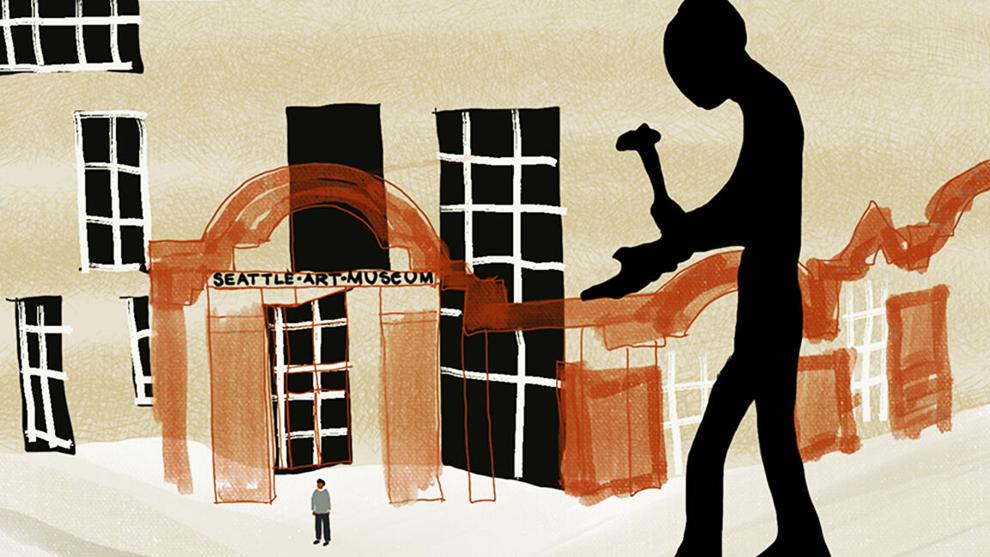 Juliet Sperling, an assistant professor in art history and the Kollar Endowed Chair in American Art, has cultivated a spring 2021 seminar centered around artist Jacob Lawrence's multi-panel narratives of American history, with the goal of deepening student appreciation of his contributions to 20th-century art.
ART H 400 A: Art and Seattle: Jacob Lawrence is expected to look closely at Lawrence's vast collection of work. Lawrence was previously a professor of painting at the School of Art + Art History + Design and is the namesake of its Jacob Lawrence Gallery. According to Sperling, Lawrence's oeuvre is heavily influenced and shaped by the city of Seattle.
"Anyone who works or studies at the UW is linked to [Jacob Lawrence's] artwork and his story," Sperling said. "Understanding that artwork and that story more fully will enrich our time here."
Beyond the objectives of a standard art history course, Sperling said she wants students enrolled in ART H 400 to "leave with a deeper understanding of Jacob Lawrence's legacy at our university and in our community."
Students will engage with course content through original research and review of a digital publication spotlighting work made during Lawrence's time.
The course takes inspiration from the themes and questions generated by the upcoming Seattle Art Museum (SAM) exhibition "Jacob Lawrence: The American Struggle," which opens March 5.
"We'll intersect with the exhibition in concrete ways; for instance, by examining specific works in the show and meeting with one of the curators," Sperling said. "We'll also expand beyond it to examine Lawrence's art historical importance from other angles."
According to SAM, the exhibition "reunites Lawrence's revolutionary 30-panel series 'Struggle … from the History of the American People.'"
"When [Lawrence] was planning his major projects like the 'Migration Series' or 'Struggle: from the History of the American People,' he started by diving into archival research," Sperling said. "He would synthesize all of those primary sources and plot out the narrative like a storyboard. He wanted his viewers to be able to see America's past, their past, from new angles and perspectives."
Sperling, like Lawrence, is a historian and teacher. She credits Lawrence with influencing her approach to educating people on American history. 
"He knew that making history accessible and refusing to reproduce the same dominant narratives over and over was an effective way to reach people who might not otherwise feel included, or implicated, in those stories," Sperling said.
According to the course syllabus, through the review of "key artworks, art historical scholarship, and primary sources from local archives," students will study and gain knowledge of Lawrence's work "as it relates to topics including race, regional experience, artistic networks, abstraction and modernism, narrative, history, and legacy."
"A big part of [understanding Lawrence's artwork and story] is learning about his art historical significance, which will be a major focus of this class," Sperling said. "It also includes examining the major issues and dynamics that shaped the 30 years he spent in Seattle; for instance, the student protests of the late '60s and early '70s and the formation of the Black Student Union that laid the groundwork for his hire."
Sperling said she plans on introducing the course with an essay by Steve Locke titled "I, Too, Sing America," (after Langston Hughes' famous poem "I, Too"). 
"I read [the essay] for the first time only a few months ago, and haven't stopped thinking about it," Sperling said. "It's very powerfully written, and teaches the reader so much about Jacob Lawrence and why his work is so important today in only a few pages."
"Jacob Lawrence: The American Struggle" will be on display at the SAM from March 5 to May 23 in the Simonyi Special Exhibition Galleries.
"We're so lucky to have this exhibition here in Seattle for the next few months," Sperling said. "Seeing the 'Struggle' series together like this may be a once-in-a-lifetime experience."
Reach contributing writer Niv Joshi at arts@dailyuw.com. Twitter: @niveditajoshii
Like what you're reading? Support high-quality student journalism by donating here.