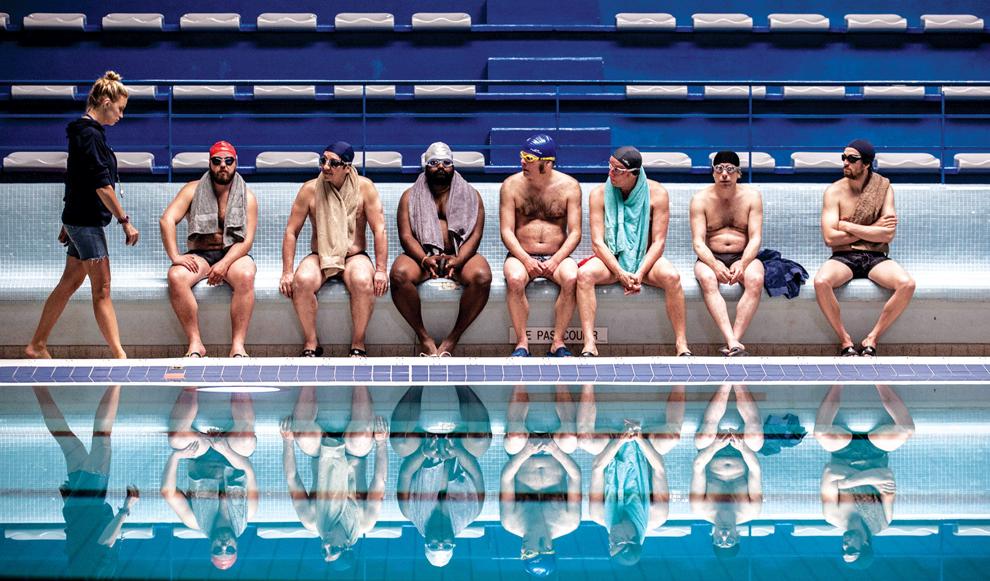 "Sink or Swim," known as "Le Grand Bain" in its home country, is a French film directed by Gilles Lellouchethat is showing at the Seattle International Film Festival this year. The film tells the story of a group of middle-aged men who suffer from depression and who work together on a male synchronized swim team.
Though the plot sounds promising, the film comes off as predictable, awkward at times, and moderately weird. IMBD classifies the film as a drama, comedy, and sports story, which it is, but for a movie about guys trying to stay afloat (both literally and figuratively), it sinks pretty hard.
The plot is simple: the characters are depressed, they bond over being on the team, they decide to enter the world championship when they're nowhere near ready, they get a new, more intense coach (cue training montage), they go to the competition, they win, and all of a sudden their depression is gone and their life problems are fixed. It's hard to distinguish this film from almost every other sports-team underdog film, besides the fact this one is about male synchronized swimming.
The acting is good and the characters are relatable, but the repetitive scenes of dialogue really make the film hard to watch. There are multiple scenes where the team is just sitting in the locker room and talking about their problems. While this is great for character depth, it happens almost every other scene in the first two acts and just gets old and boring.
Another issue with this film is the lack of diversity. There is one person of color among the main cast and he only says two lines, which the characters on screen didn't seem to understand. Furthermore, unlike every other character, there are no subtitles for him (the movie is in French with English captions), so it seems like the only person of color in the film is being played for laughs. It's interesting to see the clash of cultures, but this moment is a prime example of what is probably highly comedic in France but completely falls flat here.
The film isn't all bad. It does have some great moments of comedy and shows great depth in the characters' struggles. During the final performance at the world championships, the videography and choreography are amazing. There are many shots throughout the film that go in and out of the water, creating an interesting effect and allowing the audience to see the nuances of what the characters are doing to keep their bodies in formation.
However, as much as the videographers tried, they simply couldn't save the predictable plotline and dialogue-heavy script. If, perhaps, this type of movie is more your scene than mine, this is definitely a movie to go see. It is playing at the SIFF Cinema Uptown on May 17 at 6:30 p.m. and at Shoreline Community College on May 26. If this type of story is not your cup of tea, you can give it a hard pass.
Reach writer Zach Jablonski at arts@dailyuw.com. Twitter: @ZachJablonski14
Like what you're reading? Support high-quality student journalism by donating here.